7 Organizations Validating the New Approach to Enterprise Communication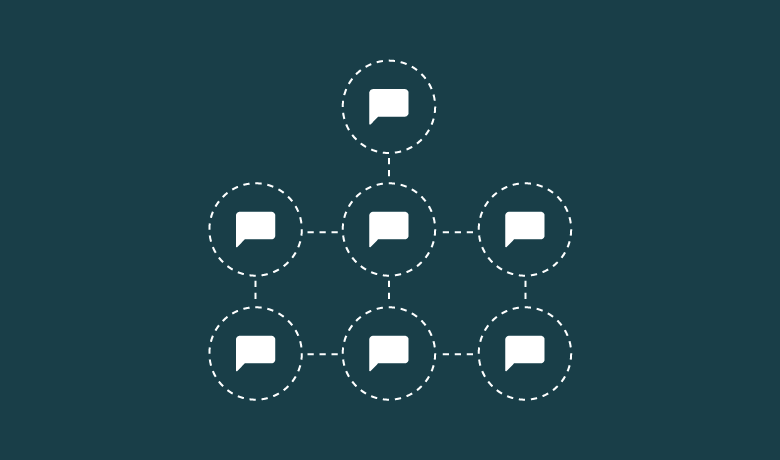 2016 was a tipping point in the world of workforce dynamics. Millennials began to replace Baby-Boomers in the workplace, bringing along with them new and diverse ways of thinking into management positions. At the same time, Generation Z started to move towards the professional world, perpetuating this evolution of professionals and technological innovations. With these transformations, a strong and thoughtful enterprise communication strategy remains an essential part of building a productive, efficient team.
Today's business solutions need to be faster, more effective and increasingly innovative in order to keep up with modern demands. Effective communication can be (and often is) the force helping to enrich the lives of employees – leading to a 40% increase in customer satisfaction, 36% rise in company performance and 30% more profitability.
Building and maintaining a strong internal communications strategy, especially in the enterprise space, is no longer just an afterthought of external communication. Instead, it's a key business function designed to align your entire organization. We're going to look at some of the brands helping demonstrate the value of clear enterprise communications and identify ways to follow their lead.
1. USAA
A key element present in the most successful enterprise communication programs is speed. In order to reach and influence an expanding workforce of various generations, companies need to think beyond regular methods of information distribution and be more strategic about capturing their employees' attention.
USAA recently overhauled their enterprise communication strategy after discovering the majority of their 30,000 employees had less than 8 minutes each day to catch up on company news. After researching the needs of their workforce, USAA prioritized solving this gap in their business model. Through the use of social engagement and a stronger content development team, USAA cultivated an 8.9% increase in employee engagement.
By ensuring that employees had access to information they needed most (and could access it the most efficient formats), USAA created a more productive and engaged workforce. For most companies looking for enterprise communication solutions, speed means targeting operative updates and using new technologies to create a simpler option for accessing information.
2. Aflac
Most businesses know that the key to employee happiness, reduced turnover and higher engagement is opportunity. This point is further proved in the 48% of employees who believe that investing in more professional development is one of the most important things any business can do to maintain loyalty.
When Aflac's employee engagement survey for the year showed that workers were desperately searching for more career advancement solutions, Aflac started to think about what it could do to make its employees happier – ultimately leading to the creation of the Career Success Center.
The Career Success Center is staffed by a team of HR experts focused on helping individuals within the Aflac team understand more about the promotional process and jobs within the company they might be qualified for. Since it launched in May 2014, the Career Success Center has surveyed nearly 600 employees in more than 1,000 development sessions, 35% of whom have now been promoted or moved into positions more suitable for their skills.
3. Bayer
Feedback is critical when dealing with communication in the enterprise space. According to a study by PwC, 60% of survey respondents want to receive feedback daily. This percentage rose to 72% for employees under the age of 30. Unfortunately, many businesses struggle to find the time to supply the feedback their employees crave.
In order to identify a solution for this internal disconnect, the Bayer Corporation built a more sophisticated internal communications program. In this solution, the team spoke to employees and asked how they would prefer to receive information about the company and performance in the business.
Sometimes the best solution is also the easiest, and simply opening the lines of communication between leadership and employees can make a significant impact on the workplace. Asking employees for feedback about business performance and overall communication preferences, as Bayer did in the example above, can help companies construct more efficient ways for connecting with staff in a way that suits the needs of both.
4. Coca-Cola
On average, only 45% of US employees believe that their senior leaders inspire confidence and trust. Today's workforce is constantly searching for more transparent companies with authentic personalities and strong stories. When it comes to engaging new employees, one of the easiest ways to implement authenticity is with employee content creation.
Coca-Cola accomplished this through their brand advocacy program, Coca-Cola Ambassador, which helps to facilitate communication about business-facing issues between employees and internal and external stakeholders. This dedicated program makes it easier to create and amplify a unified voice throughout the business.
Employees are quickly emerging as the strongest and most important voice in business. With social advocacy programs, your workforce can share ideas and spread news around the entire world with the click of a button, increasing brand reach and awareness to potential talent, prospects, customers and more.
The voice of an employee carries more authenticity than any other method of communication, receiving 8x more engagement on social over a brand's.
5. IBM
In their latest transformation from a hardware and software based portfolio to a cloud-based and cognitive solutions brand, IBM used "cognitive build" as a solution to establish a clearer workplace culture for employees. The company, now more than a century old, brought its workers together in a challenge asking them to evolve alongside the business, embracing new work methods and facilitating an employee-inspired cultural change.
In Spring 2016, more than 275,000 employees took part in an 88-day journey of learning-by-doing. The experience involved next-gen work methods, an introduction to IBM Design Thinking and a collaborative environment where IBM staff could come together to help the entire brand evolve. The results were incredible, with nearly 72% of the workforce participating in the challenge.
Given that 19% of executives believe new hires leave a business due to problems with organizational culture, implementing positive workplace changes can be key to enterprise communication success. Team events and training sessions, such as the one used by IBM, can help to spread ideas within a brand and help employees feel as though they have a bigger part in shaping the future of a company.
6. BUPA
According to recent studies, turnover rates in modern businesses are increasing, costing the American economy as much as $3 billion every year. Millennials are particularly susceptible to job-hopping, and nearly 40% stated they'd be willing to change roles within the next two years. If you want to keep hold of top talent, it's critical to focus on putting employee happiness above all else.
BUPA recently leveraged their enterprise communication strategy to exemplify their devotion to employee satisfaction. The company was looking for a way to raise the profile of health and well-being benefits offered to employees – a team that's often working on the frontline of patient care in the health sector.
To improve the benefits they were offering to employees, BUPA didn't just implement new bonuses and higher wage packets. Instead, they conducted a week-long campaign for #Happiness, which asked employees about what types of things would make them feel happier at work. This promoted a deeper conversation between executives and employees about how they could improve workplace satisfaction – and with this valuable information, they were able to do just that.
7. British Red Cross
Establishing purpose is an important part of enterprise communication and engagement solutions. About 73% of employees who feel that they're working in a "purpose-driven" company are engaged in their position, compared to only 23% of those who do not.
When beginning the launch of a new corporate strategy, British Red Cross knew they had to convey the meaning behind their new initiative to 4,000 employees and 26,000 volunteers around the world. They knew that communicating purpose to team members had to be simple, personalized and engaging – and it needed to have this effect right out of the gate. As a result, the company decided to condense the 150-page document detailing their new strategy into a road-map towards business success.
The finished result was a central vision outlined in a range of engaging formats, including posters and videos. The user experience was simplified and a "meeting in a box" feature was implemented – a strategy involving four 1-hour video sessions for team meetings which enabled them to distribute complicated information in a more digestible format.
It's important for enterprise organizations to think carefully about the different vehicles available for distributing information, and then strategically select the best fit based on the complexity of what needs to be conveyed to employees.
Improving Your Enterprise Communication Strategy
More and more companies are beginning to realize that how a message is communicated is just as important as the content of the message itself. A strategic and organized approach to enterprise communication can give your organization the advantage it needs during times of workforce growth and technological development.
When communication solutions work well – especially in the enterprise space – employees gradually become so deeply attuned to the business that they can tell your company story on your behalf, allowing you to reach new levels of authenticity and brand reach.
Aria is the Marketing Strategist for Bambu by Sprout Social. With a background in Content Marketing/SEO, she has an affinity for all things inbound. When not generating many leads, you can find Aria at a concert, cheering on the Cards or wandering her beloved Chicago neighborhood, Wicker Park.
7 Organizations Validating the New Approach to Enterprise Communication
Written by Aria Solar on August 09, 2017