5 Companies That Have Mastered the Art of Social Recruiting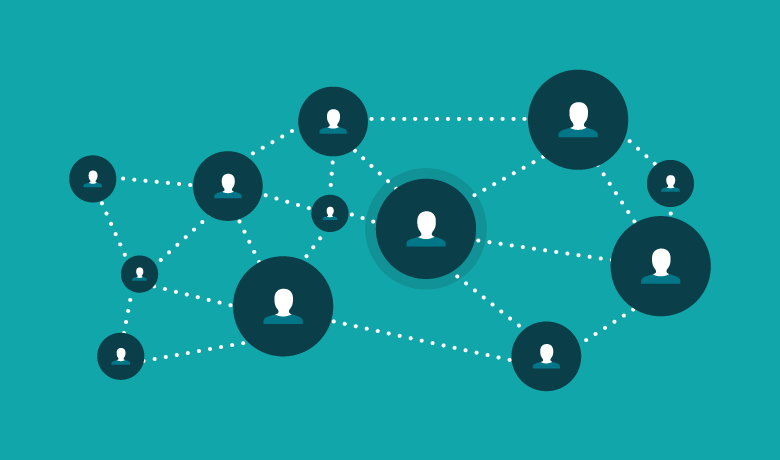 In today's climate, most job seekers assume their public social profiles are fair game for recruiters and hiring managers to check out as part of the hiring process. And they're right–60% of today's companies use social profiles to see what a candidate is really like in real life; they're seeking qualitative information you can't glean from a resume to ensure a strong cultural fit. But it's not just the job seekers' profiles under increased scrutiny.
Candidates, now more than ever, are using social media to evaluate a company's "employer branding" – the outward perception of the company's culture, values and employees. In fact, 9 out of 10 candidates are more likely to apply to a job when it's from an employer brand that is actively maintained.
It's no wonder companies are making the move from "career" pages to the more appealing – and revealing – idea of "culture" pages. Emphasis is placed on features like employee profiles, sneak peeks into the work environment and real-time responses, in lieu of robotic job listings.
A significant 59% of companies are investing more in their employer brand compared to last year. This includes assigning dedicated employees to populate the company career page with entertaining, company-culture-related content, as well as fast, thorough responses to all reviews and inquiries. It's certainly an ambitious undertaking but these five companies are totally nailing it, with impressive results.
1. Marriott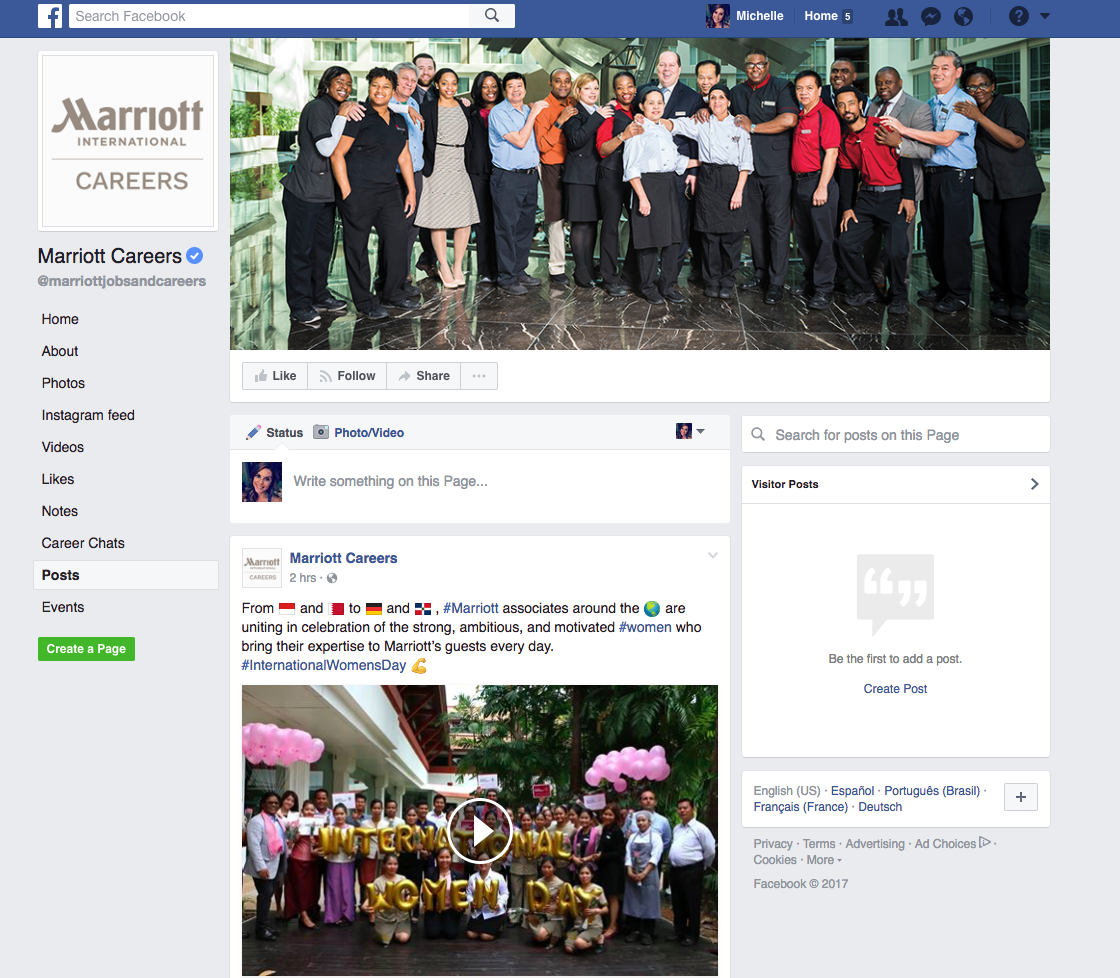 Marriott's career page has 1.2 million likes – 4 times more than Facebook's own. Its most notable feature is the "Career Chat." Candidates can ask questions about working for Marriott and receive real-time answers from employees, identified by their first name to personalize the interaction. They also regularly highlight various employees' personal achievements and success stories. These efforts help to humanize the process and provide job seekers with an insight into what it might be like to work for their organization.
Keys to Success:
Create a level of honesty and transparency through Q&A
Personalize your candidate interaction
Regularly recognize employee achievements
2. Intel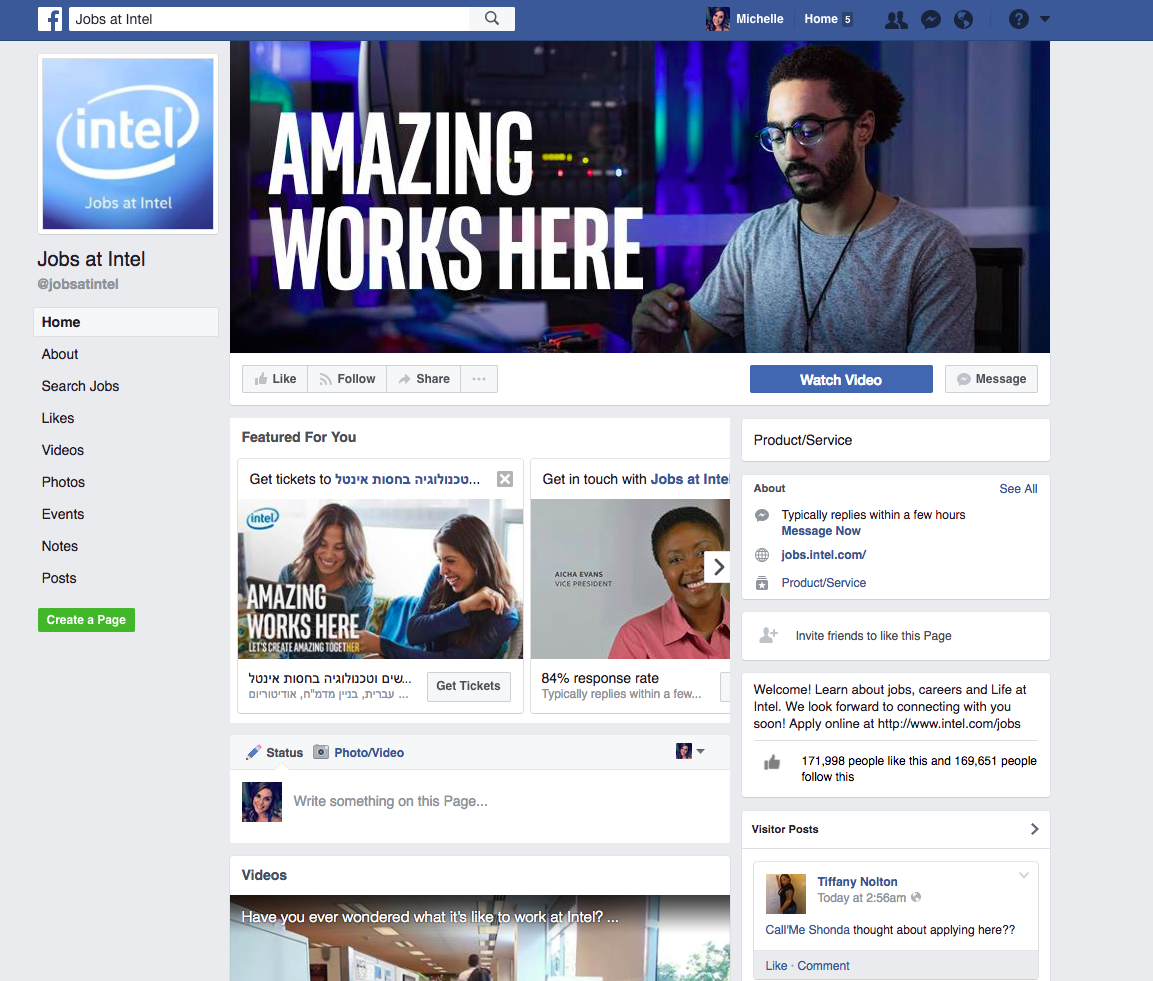 Intel has suffered from a common challenge of large companies: appearing untouchable.
"What we found from candidates was that we were largely seen as a closed-off company," recalls Sejal Patel (@smileysejalee), a social media strategist with the Santa Clara-based chipmaker. "Few people outside Intel knew what it was like to work here."
In addition to developing a strong presence on social media across several platforms like Facebook and LinkedIn, they also aim to keep a steady, open dialogue with job seekers. They've even gone as far as implementing a "no comment left behind" policy that ensures recruiters are responding to every inquiry or question with a personal response.
Keys to Success:
Maintain an approachable presence on social media
Create an open dialogue on your page
Respond to every candidate quickly and thoroughly
3. Sodexo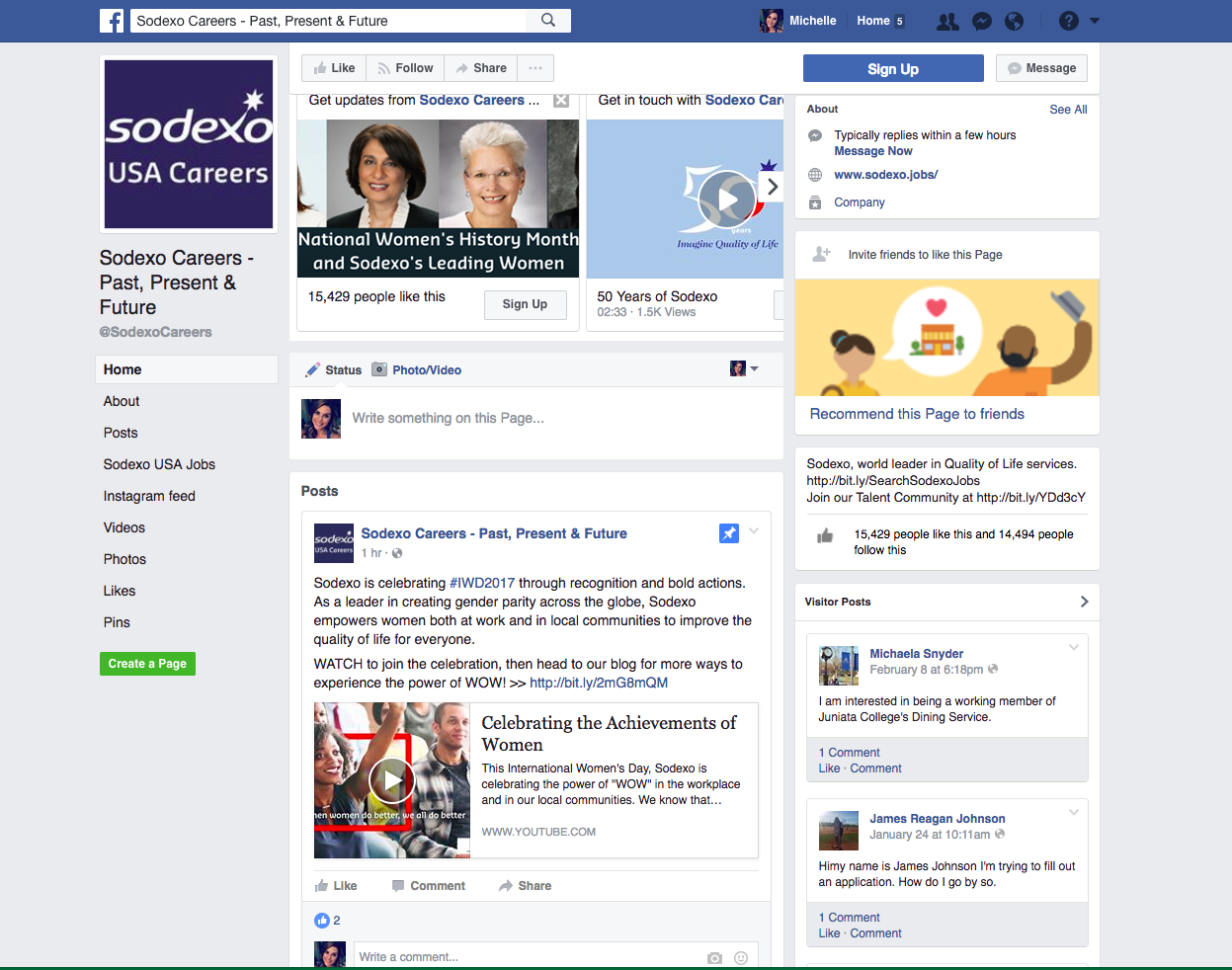 Despite being the world's twentieth largest employer, Sodexo struggled with brand recognition. They looked to social media to help spread their company name and values, and to educate potential candidates on the wide range of available job positions.
Sodexo reports that nearly half of their current employees used the company's social platforms, which include a popular blog and mobile app, to either find their job or to prepare for their interview. The company credits the marked improvement in candidate quality and employee engagement to their increased social recruiting resources.  
Keys to Success:
Establish a candidate-focused approach
Use resources such as a blog to better educate and prepare candidates
Capitalize on mobile to meet talent where they are
4. Zappos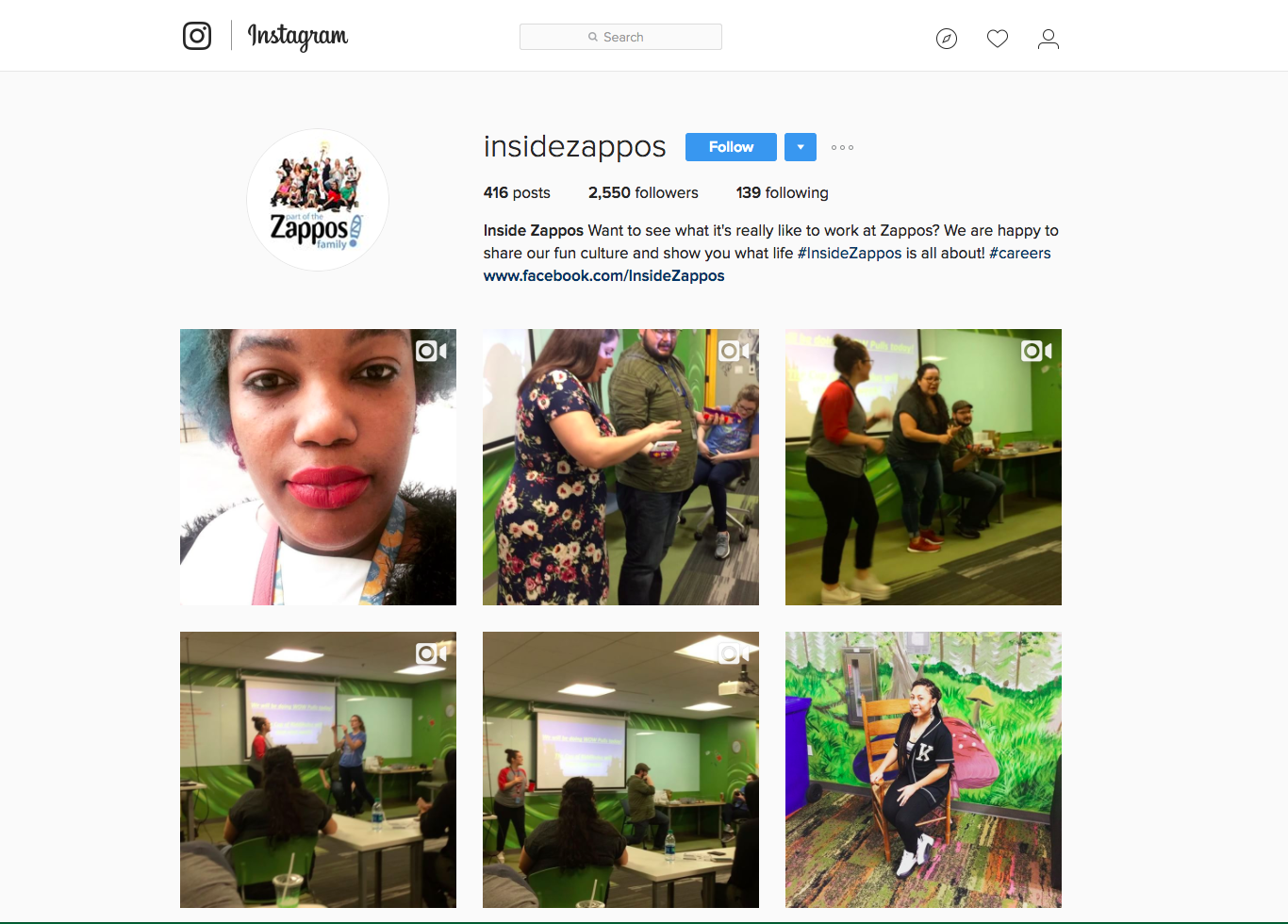 Back in 2014, Zappos made internet headlines when they decided to do away with job postings all together. Instead, they spent months building up a cross-platform social presence with their "Inside Zappos" pages. There they share information and news regarding company culture, campus, events and employees.
Interested job seekers are known as "Zappos Insiders" and can sign up to talk to recruiters in a more real, informal process. This allows both parties to get acquainted and evaluate each other for a potential fit.
According to Stacy Donovan Zapar, lead social recruiter for Zappos, "Instead of reviewing applications all day and sending countless sign-off emails, our recruiters are focusing on proactive sourcing, driving people to join our Insider program, having two-way conversations, meeting people, networking, chatting with Insiders, answering questions, engaging on social media, employer branding and proactive pipelining so that we know EXACTLY who we want to interview once a position becomes available."
Keys to Success:
Recruit proactively–don't wait for top talent to come to you
Create a network of talent using relationship-based recruiting
Identify candidates with the company culture in mind, not just open positions
5. UPS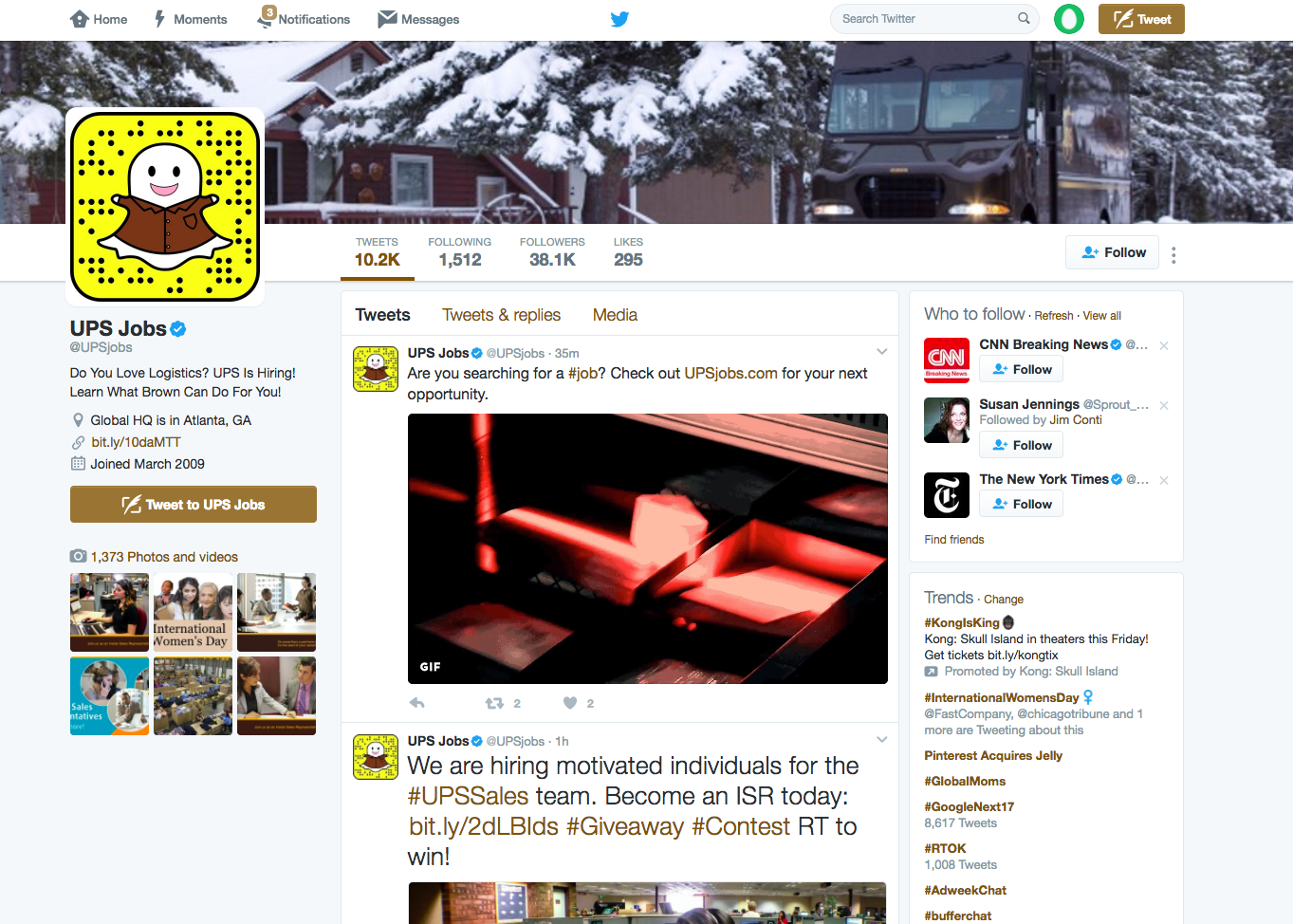 Named one of the Top 50 Recruiters on Twitter, UPS is considered one of the best in the business of social recruiting. The company's career pages on Facebook and Twitter focus heavily on highlighting employee humanity and diversity with personal videos and stories. They also engage with their followers by posing daily questions and discussion topics, and are highly responsive.
Keys to Success:
Storytelling & job postings
Lean on employees to showcase company culture
Engage with candidates on a daily basis
Not only does social media recruiting improve the candidate experience, but it's also proven to deliver results for the companies themselves. More than half of all recruiters rated candidates sourced from social media as "highest quality." Social networks make it easier for employers to actively seek out the type of candidates whose qualifications fit the bill, as opposed to trying to find the qualified needle in the resume haystack.
Social is also the perfect place for current employees to share job openings with a broader range of trusted connections. "Candidates sourced through referral channels are hired more quickly and are more likely to be a long-term fit for an organization." A good employee advocacy program and the right tools to implement it can mean the difference between a long and painful hiring process, and a quick and painless one.
Jim Conti Jim Conti leads Sprout Social's ambitious talent team. Affectionately known as the "Cruise Director" while in the office, Jim can be found exploring the streets of Chicago and planning his next international adventure when not growing and caring for Team Sprout. Give him a follow Find Jim Conti on Twitter
@SproutJim
.
5 Companies That Have Mastered the Art of Social Recruiting
Written by Jim Conti on April 03, 2017