10 Reasons Why Brand Ambassadors Are So Important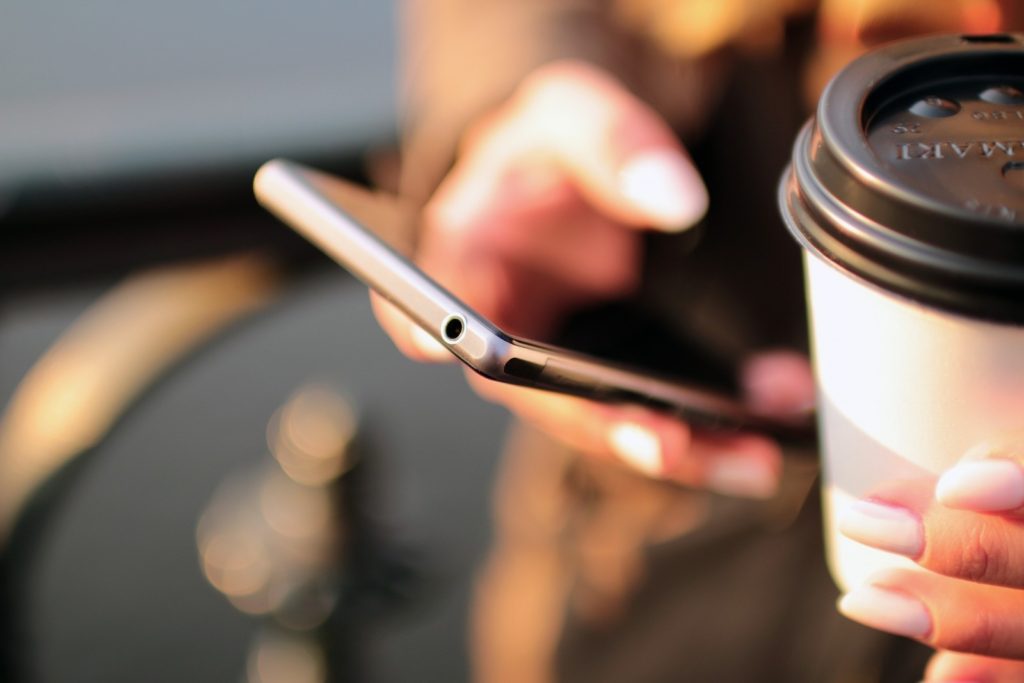 As with any business, your marketing efforts are essential to meet and exceed your goals. With so many different methods of marketing out there, it's important to realize that one of your most valuable assets is something that you already have. In fact, you may even have them under your own roof–these are your brand ambassadors.
Brand ambassadors are one of the most influential and positive types of marketing that any business can get their hand on, and for good reason.
In the following article, we will go over what makes a brand ambassador and why they are so valuable to maximize your brand reach and exposure to garner a much larger social audience.
What Is a Brand Ambassador?
Brand ambassadors are individuals who are hired by or simply represent a company and their brand in a positive light. They are people who are as passionate for your brand as you are and whose values align with those of your brand.
Essentially, brand ambassadors are individuals who talk about your brand in a positive way and do so in front of their own audiences. These audiences can take the form or friends or family, or more notably, their social media audiences.
The best brand ambassadors are the types of people who live and breathe your organization and endorse it wholeheartedly. They provide credible and trustworthy promotion to your brand, or to a product or service that your brand provides.
One of the key elements of a successful brand ambassador is their ability to use promotional strategies to strengthen customer-brand relationships and ultimately influence an audience to buy what it is that you're selling. By utilizing or implementing a brand ambassador program, you can increase brand awareness and product reach. This will directly affect your bottom line by giving just a little effort and monetary investment.
Why Are Brand Ambassadors So Valuable?
There are many reasons why brand ambassadors are such a valuable and efficient part of your marketing strategy. Here are 10 of the best reasons why you should be investing in brand ambassadors to represent your business:
1. They Will Increase Your Brand Reach
Whether you are a startup or an established company, your posts on social media have a limited amount of reach. This holds especially true because business pages have seen a dramatic decline in organic reach in recent years.

This means that your social media updates will only reach a small portion of your audience. This is where your brand ambassadors come in.
A great reason to should start with your employees as your brand ambassadors is that they already live and breathe your brand. Couple that with an average of 846 connections a piece, and you have a recipe for success. Through the use of an employee advocacy tool such as Bambu, you can worry less about getting your message out through your brand page because your employees sharing content can take care of that for you.
Whenever you post a new blog or a launch a marketing initiative, you can have your employees exponentially increase its reach by seamlessly distributing content through a centralized platform that connects directly to their Facebook, LinkedIn or Twitter profiles.
If you employees are thrilled about your company and what you're doing (which they should be), they can help spread the word about all the exciting things you are doing to their own audiences This dramatically increases brand reach and exposure in the process. Interested to see your employees can be for your brand? Check out Bambu's Social Media Reach Calculator.
2. Brand Ambassadors Humanize Your Brand
Companies, especially enterprises, have thousands of employees staffed over many offices and sometimes, throughout the world. This makes human-to-human contact a tough feat to carry out. While it may seem like an insurmountable task to personally reply to every brand inquiry or question posed through social media, people expect it. This is where brand ambassadors can help fill the void when you or your employees may not be able to respond right away.
Your ambassadors can help your brand building efforts by taking on the duties of someone in your marketing department. They can even act as a sales representative on your behalf and do it all without receiving any monetary compensation from you (although free swag and pre-launch offers do help).
Through the use of their social media profiles, brand ambassadors can help act as a representative of your company and help live the brand promise your business offers in your absence.
3. Brand Ambassadors Are Essential to Your Online Reputation
Reviews are critical to your business. Whether you like it or not, people are constantly posting about you on one of the countless review sites. And this is important because reviews matter and they ultimately have an impact on your bottom line. A Harvard Business Review study recently found that a one-star boost in a Yelp rating led to a 5%-9% increase in revenue.
You don't really have a way to filter out all your bad reviews, but there is a way to influence it. This comes in the form of your brand ambassadors. They are the ones who you can count on to leave good reviews to counter a bad one. They are essential to painting your brand in a positive light and may mean the difference between a customer choosing a competitor over you.

4. People Trust People
Trust is essential when trying to form any kind of relationship with your consumers. Compared to a decade ago, mass advertising does not work as it used to. It not only had a smaller reach, but people trusted it less. A recent Nielson survey found that only 33% of consumers said that they trust paid advertising, but 92% trust recommendations from a family member or friend.
These recommendations can directly translate into sales. Another study from ARAnet found 59% of people consult friends and family for purchasing decisions. Your brand ambassadors have a powerful voice within their own social communities and can directly influence the purchasing decisions of another.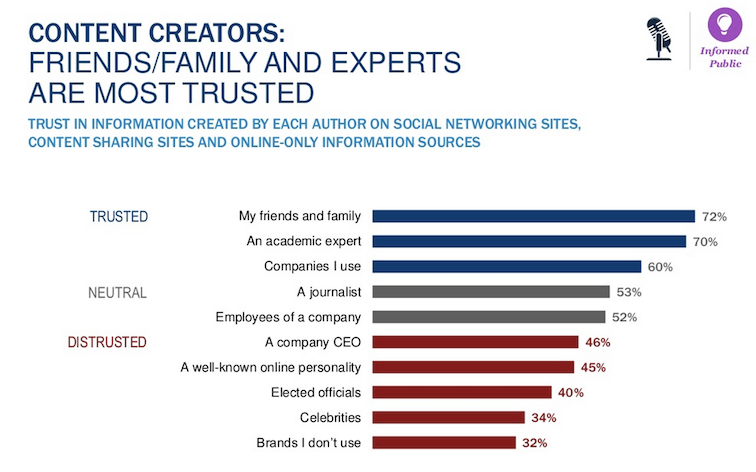 Source: Edelman Trust Barometer
5. The Power of Many
If you're like most traditional businesses, your doors are usually open from 8 a.m. to 5 p.m. This does not mean people stop talking about your business after 5 p.m. Actually, there is a continuous discussion going on about your brand outside of regular office hours and brand advocates can play a pivotal role in jumping in those conversations on your behalf.
Having an army of ambassadors, whether through your employee advocates outside your walls, can be extremely beneficial when it comes to engaging with customers at all hours of the day. This lets you manage real-time customer service and your community as a whole.
6. Your Brand Ambassadors Will Love Your Brand Even More
Studies have shown that your customers can contribute to their own satisfaction through participation in your brand. This is called the "Loyalty Ripple Effect." This means the more they participate with your brand, the more they will love it and be that much more of a brand ambassador.
Eventually others take notice of these behaviors, causing higher brand reach and exposure and keeping your current brand ambassadors engages with their brands.
7. Brand Ambassadors Provide Positive WOM Marketing
It's no secret that positive word-of-mouth marketing is beneficial to your brand. What most brands fail to realize is that most WOM conversations are positive. In fact, research from the Keller Fay Group discovered only 8% of brand conversations being truly negative.
Additional research also shows that positive word-of-mouth marketing is more credible than the negative. When people hear something positive about a brand, they tend to assign a high credibility to it. This is why having brand ambassadors can spread the good word about your business effectively while motivating others.
8. Ambassadors Can Drive Traffic to Your Site
According to one of the most popular CMS platforms, WordPress, there are 59.3 million new posts each month. Additionally, 409 million people view more than 22.3 billion pages each month. Chances are a few of your brand ambassadors own their own blog and may even be talking about your product.
Take advantage of this and ask them to link back to your site. This will help increase views on your site and possibly help your brand's SEO ranking with positive inbound links. This is one of the easiest, most cost effective ways to get some extra eyes on your website without you or your team having to do a lot of legwork.
9. Your Ambassadors Are Where You Aren't
As with any business, expansion is always on the minds of top ranking executives. Many marketing departments start locally or within the general region they operate in, and then expand outward. Procuring brand ambassadors who may be in regions you are looking to expand in can be a great way to build hype and brand awareness in a place that you haven't operated.
10. They're Cost Effective
While huge celebrity endorsements can come bearing a substantial cost, brand ambassadors usually do not.
They are already excited and passionate about your brand and will be ecstatic at the chance to formally represent your brand. It's important to understand they do come with a cost–this can be in the form of free swag, pre-launch offers, exclusive perks and discounts. While some may do it for free, it's important to realize not all of them will.
So how can you get started building a team of amazing brand ambassadors to represent you both on and off the internet? It's important to first roll-out a brand ambassador program with the people who already live and breathe your brand: your employees.
After that, it's as simple as putting a call out in your monthly newsletter or having a call to action on your website where interested parties can sign up. Make sure you screen your potential candidates for being a good fit with your brand so maximize their impact and efficiency but don't hesitate to think big!
Andrew Wasyluk is a social media expert, developer, Twitter fanatic, and founder of Socialeyze, a social media consulting firm based in Boulder, CO. When he isn't scrolling through his Twitter feed he can be found playing guitar, exploring Colorado, and laughing at his own jokes. Find Andrew Wasyluk on Twitter
@socialeyze
.
10 Reasons Why Brand Ambassadors Are So Important
Written by Andrew Wasyluk on June 20, 2016