Utilizing Your Employees In Your Branding Strategies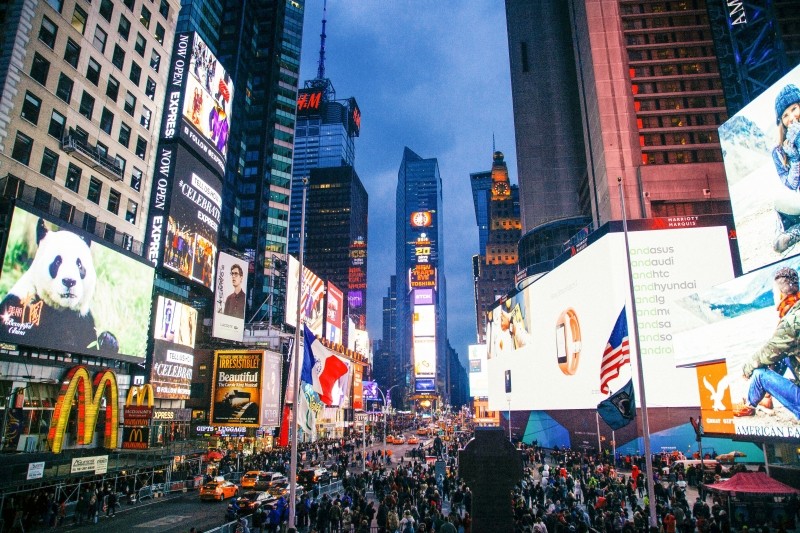 Your brand is one of the most important aspects of your business. Well-thought-out branding strategies are important for companies of any size. From the single-office tech startup to the global enterprise organization, most business owners understand the importance of branding. However, many neglect spending the necessary time planning comprehensive brand strategies. This only causes their business to suffer in the long run.
In the following article, we will take a look at what goes into branding strategies, why having one is important and how you can utilize your employees by turning them into brand ambassadors to promote your brand through digital channels such as social media.
What Is Brand Strategy?
Brand strategy is a comprehensive long-term plan, which develops your brand and helps you achieve specific goals. When we talk about branding, we aren't just considering the name of your business. The logo, packaging methods and color palettes of your website are not the only important thing. While these things are incorporated with branding, they only constitute the bare minimum of what your brand strategy should represent.
Your brand is a culmination of the intangibles that lives in the minds and hearts of your consumers. It's a set of ideas and emotions associated with your company. It's how your customers perceive your business as a company product or service. To build positive perceptions of your company, branding strategies should guide interactions and communication with consumers.
What Makes Up Branding Strategies?
The best branding strategies combine a mix of rational and emotive elements that work in unison to make a brand stand out, connect them with their audience and foster brand engagement. To help you understand what many marketers consider more of an art than a science, we've identified seven key components that make up a branding strategy.
1. Identify What Your Company Is Beyond Your Product
You and all of your competitors have the same thing in common–you sell similar products or services. In order to ensure your business stands out from the crowd, it's important to find what makes you unique. Then you can incorporate that into your brand strategy. Identify one aspect of your product or service that you feel represents your brand and integrate that into all aspects of your brand communication.
For example, Apple Support is all about simplicity and the removal of complexity from people's lives. Their posts are always going to be straight to the point and this rings true with the majority of the content the company releases.
Brands like Chipotle are known for their ability to offer high-quality food at a reasonable price. Chipotle continues to push the same style of content of fresh ingredients to their customers. Both Chipotle and Apple Support have identified what their brand equals and have used it as the foundation of their branding strategies.
2. Consistency Is Key
Once you have decided your core brand attributes, make sure it's clear throughout all brand communications. You don't want share content that doesn't relate to or enhance your brand. With every piece of content, ask yourself if it adds value to your business or if it aligns with your company's core values.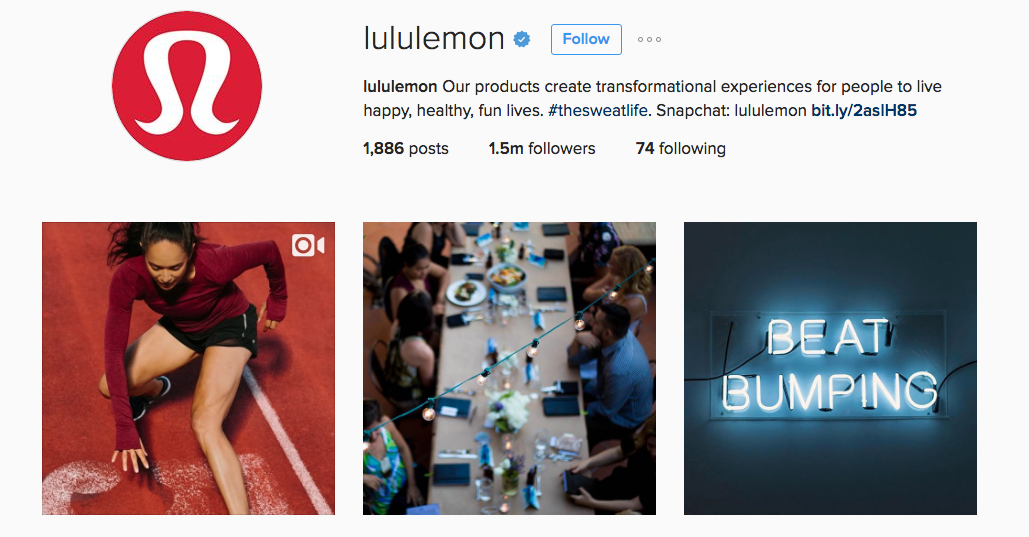 While pictures of cute puppies may put a smile on your fans' faces, they most likely have little to do with your organization. Being memorable is great. But if people can only recall animals pictures and not your product or service, then it's time to reassess your content. That's why Lululemon does a great job at keeping a consistent brand identity across social platforms.

Consistency is essential for internal communications as well. It's a great opportunity to remind and reinforce your core message and underlying your brand values to your employees. Continually doing this helps strengthen your company culture. It also further ingrains your core values with your employees.
3. Connect With Your Audience
This is by far one of the most important parts of a good branding strategy. By finding ways to connect with your customers on a deeper level, you can increase customer engagement and create valuable and sustainable relationships. While this is a very powerful part of branding strategies, it's not the easiest thing to do.
To get you thinking about some ways to emotionally connect with your customers, we shared a few methods where we've seen success:
Talk directly to instead of at your customers: You want to craft your messaging, so it appeals to many, but only speaks to one.
Make customers feel like they belong to a tight-knit group: People love exclusivity. If you have something valuable to offer which they can't find anywhere else, you'll see your audience come back again and again.
Interact and listen to customers: Too often brands fail to hear what their customers have to say. Be the business that not only listens but acts on information.
Develop a personality for your business: People tend to gravitate toward companies they perceive to have a personality and a unique voice.
4. Encourage Your Employees
Employee branding can be a powerful part of your overall branding strategy. Employee branding strengthens the psychological connection of your staff to your brand. It also molds the behavior of your employees so they emanate your brand's identity in their everyday behavior at work.
Using an employee advocacy program can be one of most effective methods for generating buzz and increasing brand recognition. A Hinge Research Institute and Social Media Today survey of 588 professionals found 79.1% of respondents who had an employee advocacy program saw an increase in brand visibility. Additionally, 65% of respondents saw improved brand recognition, while 33.7% had better brand loyalty.
Many employers hesitate to hand the reigns over to their employees on social media especially in industries like finance and healthcare that have strict compliance issues. Through the use of a social media policy, employee training and an employee advocacy platform like Bambu, which was developed with these issues front of mind, these obstacles can be overcome.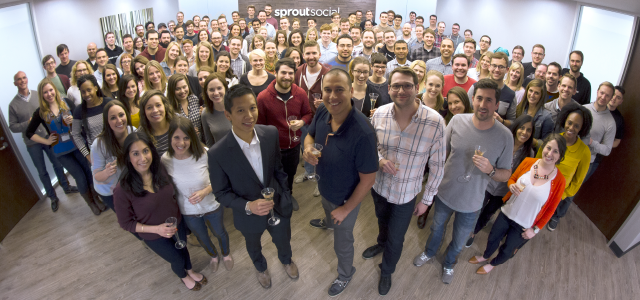 5. You Have to Be Flexible
Flexibility is an absolute must when it comes to any branding strategy. In this fast-paced digital world, businesses must be willing to adjust accordingly. Doing so allows you to continue to be relatable and relevant.
If what you are doing is not working anymore, don't be afraid to go in a different direction. What worked in the past may not work in the future. Be willing to engage your fans and followers in new ways. This can help you connect with new customers and remind current ones why they like your brand.
6. Make Sure to Measure
With any marketing, it's important to measure your success (or lack thereof). The same holds true for your branding efforts. Identify some KPI's to monitor and continually assess your efforts to see if what you are doing is working. If your branding strategies fall flat, don't get discouraged. Keep testing and adjusting until you find something that resonates with your audience and provides you with a positive ROI.
Why You Want Employees as Brand Ambassadors
Involve your employees in your branding efforts. They live and breathe your brand and employees are best suited to remind your customers what you stand for and who you are as a brand.
From a marketing perspective, your employees are one of the best assets you own. They have two key characteristics that your brand might struggle with: trust and reach. According to the 2015 Nielsen Global Trust in Advertising report, 83% of people trust recommendations from people they know over any other form of advertising. Potential customers seeing posts from the social feeds of your employees are more likely to consume, engage with and ultimately re-share.
The cumulative social reach of your employees is also much greater than your brand pages alone. Enterprise organizations might scoff at this notion, but it's true. Let's say you employ 10,000 individuals and have 3 million followers between your social media pages.
If you were to implement an advocacy solution like Bambu, you could increase your social reach by 282% (8.46 million). Interested to see what kind of reach you could get by implementing an advocacy platform? Head over to our free reach calculator and find out.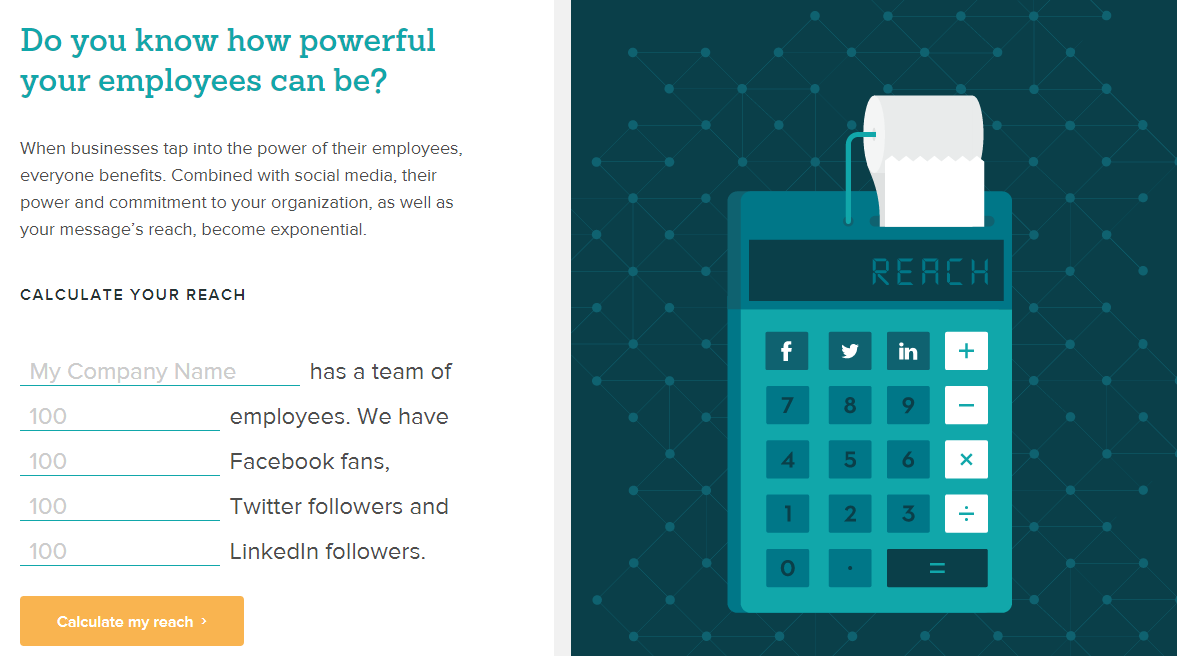 Having your employees be active on social media and share content about your business can foster employee engagement while actively promoting your company's values, mission and goals every time they post on social media.
How to Turn Your Employees Into Brand Ambassadors
Engaged employees are outstanding sources for brand ambassadors. To help you along in turning your employees into brand ambassadors, we've put together a few easy tips to help you get started:
1. Encourage the Use of Social Media
If you're an employer who restricts employees from using social media, that is going to make it very difficult for your employees to become brand ambassadors. Through the use of a social media policy, you let employees know what's expected of them when they represent your business online. Make sure your policy empowers them instead of restricts them as this will allow employees to be more engaged in your advocacy program.
2. Keep the Lines of Communication Open
Your employees want to hear from higher levels of the organization. Keeping communication clear and consistent is one of the top components for the creation of brand ambassadors. Because there are so many digital channels where information can be shared, make sure you utilize a variety of different networks. If you're an enterprise organization, chances are not everyone is going to read an email or join a company-wide meeting.
A great feature of Bambu is having the ability to pin a story to the top of a user's feed. This keeps the content there until you un-pin it, placing the information you wanted to share with your employees in an easy-to-find place with high visibility.
3. Keep It Simple
You'll find that a significant percentage of your employees won't want to find content or write copy associated with your company values and employees. Instead, make it simple to share curated content for your employees.
Bambu makes this easy by allowing users to be designated as "Curators" or "Employees." Curators do exactly that by curating content. Contributors can grab content from anywhere on the web and push it out your employees (or teams of employees) to share. When your employees share content, they can edit the copy that will be shared with the post on every platform they have connected.
Some companies want to have a consistent voice on every social media platform. Have your curators lock the post text before they share it with the employees.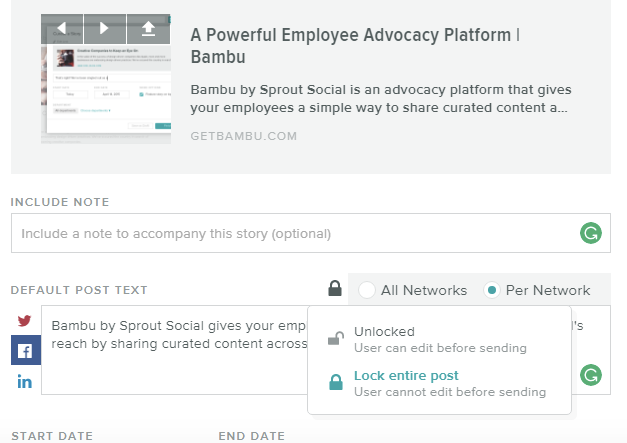 4. Provide Employees With Training
Even though social media platforms are some of the most visited websites on the internet, you may have employees who don't feel comfortable with it. By helping your employees navigate the various social platforms, you assist them to become more at ease and boost their confidence.
Bambu provides multiple in-depth training meetings and full on-boarding support to help get your program started. We also provide ongoing support in the forms of frequent meetings to share best practices and program performance, guidance for increased adoption and our premium customer care and technical support.
5. Measure & Reward Success
When your initial team of brand ambassadors becomes more comfortable and active on social media, it is important to measure your results. Bambu provides in-depth metrics on each within the platform in an easy-to-digest report. If you notice something that is working well or someone who is performing better than expected, make sure to recognize it. You can even gamify your efforts with a reward system. This keeps your ambassadors involved with the program and can attract other employees into the program as well.
Next Steps
There is no better PR than a group of employees who are as enthusiastic as you are about your business, product and services. These are the types of employees you want advocating on behalf of your brand as a brand ambassador. Your customers are on social media so utilize your brand ambassadors and reach current and potential consumers in a way that wasn't possible before.
Andrew Wasyluk is a social media expert, developer, Twitter fanatic, and founder of Socialeyze, a social media consulting firm based in Boulder, CO. When he isn't scrolling through his Twitter feed he can be found playing guitar, exploring Colorado, and laughing at his own jokes. Find Andrew Wasyluk on Twitter
@socialeyze
.
Utilizing Your Employees In Your Branding Strategies
Written by Andrew Wasyluk on August 08, 2016