How to Improve Communication in the Workplace
Communication in the workplace is a part of our daily lives. We communicate with co-workers the second we arrive to work and before we leave for the day. Many of us would consider ourselves experts at communicating since we do it every day. But just how effective are you at openly communicating in your workplace environment?
In our rapidly-changing digital world, communication looks astronomically different than it did 20 years ago. Although there are countless forms of communication in today's world, it's still an essential part of how we conduct business. If you ask people their definition of "effective communication," you're almost guaranteed to get different answers. These differences can make it difficult to establish effective communication in the workplace. This is why we've put together some helpful tips on managing and improving employee communication to work more as a cohesive unit.
What is Communication in the Workplace?
Communication in the workplace is a transfer of information through conversation whether it's verbal or nonverbal. These types of conversations can be through email, by phone or through word of mouth.
Communication is a fundamental part of a successful workplace as it permeates every facet of business. This is why it's crucial that communication within your organization and the communication skills of your employees and management are effective. Here are six benefits of effective communication in the workplace:
1. Builds & Maintains Relationships
Each encounter your staff has with one another helps build relationships. Without effective communication skills, it can be difficult to cultivate productive inter-organizational relationships.
2. Makes Innovation Possible
Innovation happens when employees feel comfortable communicating and conveying new ideas to others. When people within your organization are communicating effectively, it opens the door for cooperation and innovation. Without the proper workplace communication skills, your staff may find it hard to convey ideas to their team or to management which can hinder the advancement of new ideas. It's also smart to host hack weeks or hackathons to get employees focused on different areas and ideas. Anything to drive innovation is a great start.
Countless hours of brainstorming, coding and design all come down to this! #SproutHackWeek presentations start now! pic.twitter.com/Ug9LnxeEPC

— Sprout Social (@SproutSocial) December 18, 2015
3. Creates Team Cohesiveness
When open and honest communication in the workplace is encouraged, a more collaborative and productive team environment can emerge. Good communication can also help build morale and employee satisfaction. When your employees are well-informed with the company's overall vision, they tend to feel more secure in their positions.
Additionally, this sense of security helps stay longer at their current place of employment. Regular communication such as employee recognition can lead to improved work ethic once employees are consistently reminded of their achievements. This will also help them feel like they are working toward a common goal.
4. Helps With Employee Management
It's an absolute must that management are effective communicators. Without communicating effectively with the team they manage, they are unable to inform them of their responsibilities and what is expected of them. Good communication can help management build better staff relationships through understanding personal goals that your team may be working toward and providing constructive feedback that will assist staff in their daily roles and responsibilities.
5. Allows Organizations to Better Scale
Bad communication can lead to the demise of any organization. Without effective cross-departmental internal and external communication, organizations will have a difficult time scaling their organization. When effective communication is implemented, it can lead to higher levels of productivity and can stave off unnecessary delays in the implementation of new policies and procedures, making it easier for companies to grow at scale.
6. Ensures Transparency
Transparency is pivotal in any successful organization and is easily achieved when all parts communicate effectively with both internal and external resources. This type of effective communication helps build trust in your brand and services with your consumers but more importantly helps build trust that employees have in higher echelons of management.
Effective Communication in the Workplace Tips
Now that you know why communication is such a fundamental part of any successful organization, you may be wondering what are some ways you can improve it. There are countless ways to do this, but the following are our 15 favorite ways for effective communication in the workplace:
1. Implement an Employee Advocacy Solution
By implementing an advocacy solution like Bambu, you can easily distribute curated content to your employees that's best suited for them. Bambu allows for improved workplace communication through a robust internal communications platform that allows for both internal content (content only meant for employees) or external content (content employees can share) to be seamlessly distributed in real time to entire teams of employees. This way you can send the right message to the right employees at the right time.
2. Regularly Check in With Employees
If you aren't already doing this, it should be on the top of your radar. Checking in with employees is essential, whether that's meeting with them in-person or online. Your employees want to be heard, and inviting them to discuss their thoughts on their daily routines, tasks or projects, you allow them to feel heard and validated. As Intermedia Solutions discovered, more senior-level employees want higher engagement, but don't follow through with it themselves. Starting the conversation is one of the easiest ways to improve internal communications throughout your entire organization.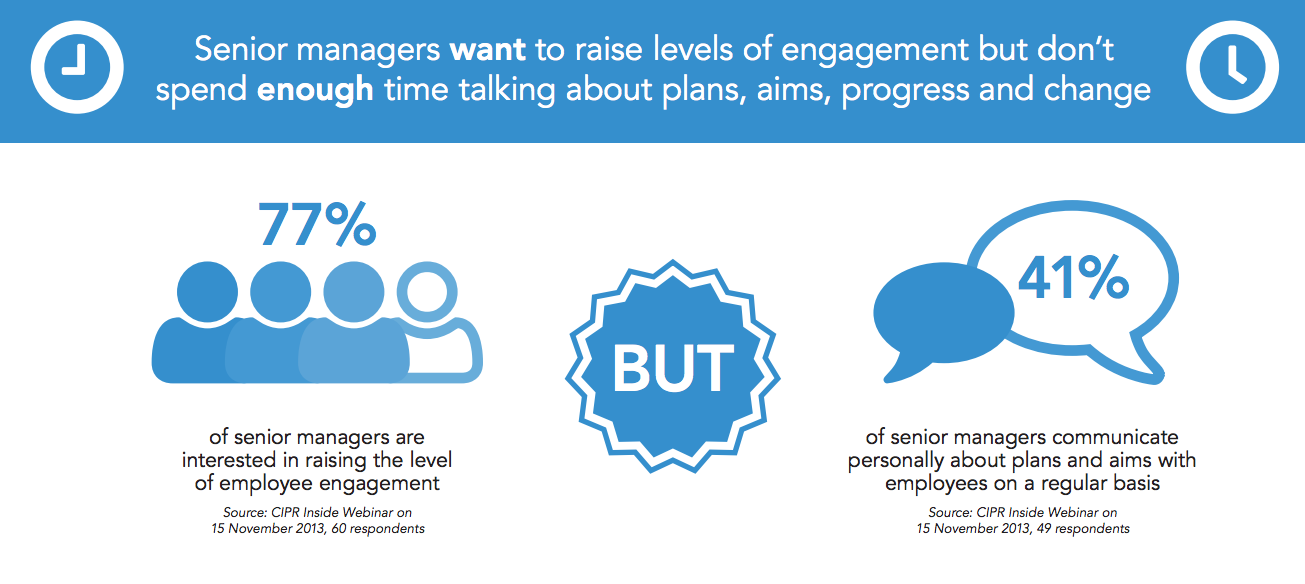 3. Make Internal Documents Easily Accessible
For any employee new or old, it can sometimes be a challenge to get access to key documents that inform them of policies and procedures for your organization. Making these documents easily accessible is a great way to keep the lines of communication clear, and for newer employees, it can help them learn the ropes of your organization and give them a better idea of how it operates.
4. Put It in Writing
With the sheer volume of communications that occur on a daily basis in any workplace, it can sometimes be difficult to keep track of everything. Putting things is writing is one of the best ways to ensure your employees understand a directive without misconstruing things. Use tools like Google Docs or Trello to summarize key points from team meetings or if working on an individual level, follow up with your employee via an email so they can refer to it if they need. Remember to live by the mantra "if it's not written down, it doesn't exist."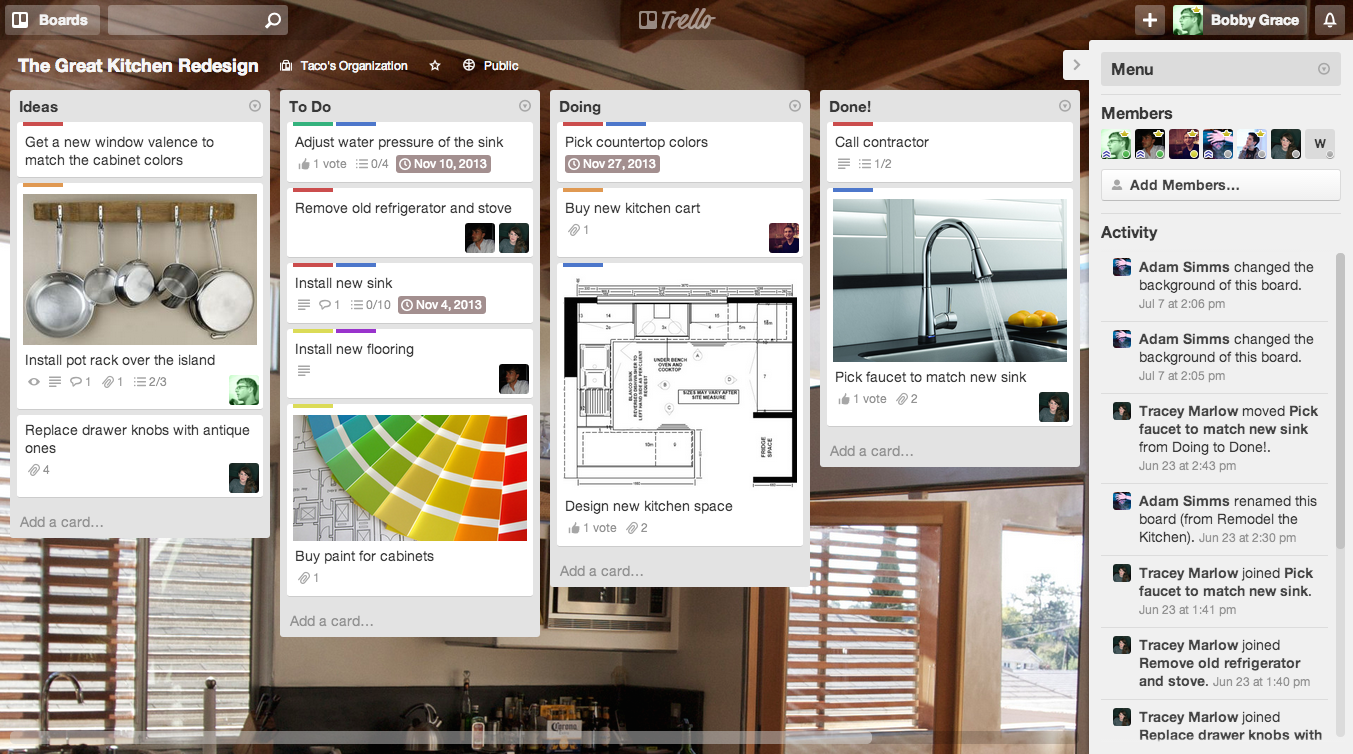 5. Strengthen Employee-Manager Relationships
In many organizations, there is an employee-management hierarchy. This is where employees simply report to management with status updates of projects or tasks they are working on. While in the past this may have worked for many organizations, it doesn't promote collaboration between different echelons of management and it can actually hinder progress. Employees shouldn't necessarily work for management; they should work with management. By encouraging a more collaborative environment between management and staff, you'll effectively increase communication and build stronger relationships between your staff and their superiors.
6. Place a Strong Focus on Company Culture
Your company culture should be the focal point of your organization. Your employees should live and breathe your brand and embody everything that your brand stands for. By placing a strong focus on your company culture, you can make employees feel more connected to each other and to the brand itself.
There are some great ways to build up culture in your workplace and doing so can make employees feel more comfortable in their environment and with their colleagues. Make sure to reiterate your business's core philosophies on a regular basis to continually instill the foundation of your company culture for all your employees.
7. Utilize Social Media
For many organizations, social media can seem like the wild west–a lawless, free-for-all landscape that allows employees to say whatever they want whether it's good or bad. But if you're not utilizing social media for your business, you are missing out on a tremendous opportunity to boost brand awareness, drive sales and increase recruitment capabilities.
Need a new job & like free coffee? We're hiring good folks over here. #coffeejobs https://t.co/Vf2jBADbIA pic.twitter.com/8LvbhKshIB

— Stumptown Coffee (@stumptowncoffee) July 6, 2016
With a proper social media policy in place, you can improve workplace communication and aid your business in a variety of ways. By allowing employees to like, comment and share with one another's posts, you quickly enhance employee engagement and foster meaningful, work-related conversations.
Bambu makes this process hassle-free by connecting with your employees' Facebook, Twitter or LinkedIn accounts. This allows employees to share content directly from the platform. It also provides detailed metrics on who is sharing what and what types of content are performing best.
8. Keep An 'Open Door' Policy
Many employees, especially in enterprise organizations, feel apprehensive about communicating with high-ranking managers and C-level executives. Because of this apprehension, employees may not feel comfortable bring up important issues or concerns. This ultimately blocks the flow of communication. Having an "open door" policy where employees can bring any issues to the attention of management can be extremely beneficial for fostering effective communication in the workplace.

9. Foster Employee Engagement
Employee engagement can take many forms, from team-building activities to something as simple as providing healthy cafeteria and vending options within your office. By focusing on employee engagement, you not only increase employee satisfaction with your workplace, you also enhance internal communication.
When employees feel more comfortable in their environment and with their peers, they are more likely to have more open lines of communication with each other. Looking for ways to keep your employees engaged? Check out 33 employee engagement ideas you should be using at your workplace.
10. Send out an Internal Newsletter
Many times in large organizations, it can be hard to keep tabs on what's going on within different departments. By utilizing an internal newsletter, you can ensure every employee is kept up to speed about any news, developments or recent happenings. Keeping employees informed helps with transparency and can get your staff more involved with cross-departmental happenings.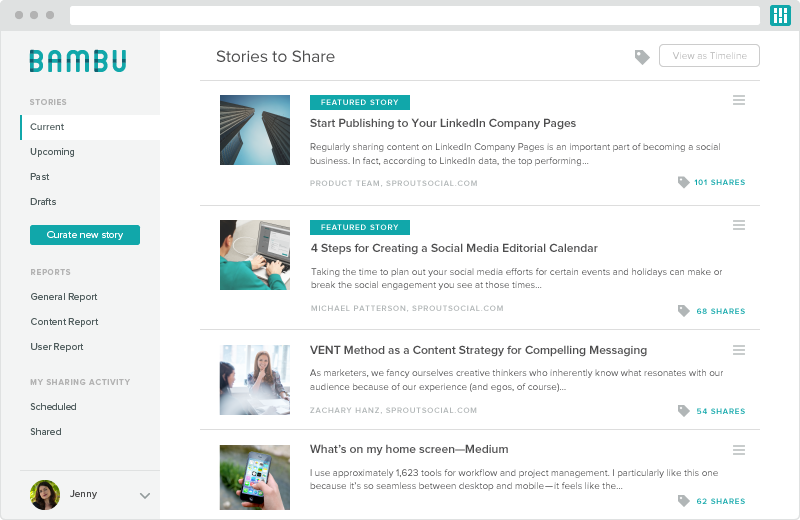 11. Encourage Your Employees to Get out of the Office
It's no secret that being stuck in the office for prolonged periods of time can have some serious negative consequences on your mental and physical health. By promoting your employees to take regular breaks and get outside for a quick walk or some mindful meditation, you not encourage a change of scenery, but you allow their brains to access what it called a "diffuse mode."
This diffuse mode allows them to solve new and challenging problems. By giving them a regular reprieve from staring at a computer screen, you can better foster team collaboration, communication and ultimately innovation.
12. Allow Water Cooler Chat
For many managers, water cooler chat can seem like a waste of valuable time and resources. It's completely natural for employees to talk bout their home life or what they did over the weekend. Instead of being chastised, it should be encouraged. Employee mingling is essential to building positive relationships with coworkers. If you see employees talking about something other than work or having a heated debate about a sporting event–just remember, it's actually a good thing.
13. Schedule Regular Team Meetings
A regularly scheduled team meeting can be a great way to remind all of your team members about the current status of projects in the works. It also allows for open communication between team members and management and can do wonders in building team unity. Try to have a daily or weekly team meeting at the same time each day or week and put it on everyone's calendar. If your team is spread across different offices around the globe, hold your meetings via teleconference or over the web so everyone can participate.
14. Utilize a Suggestion Box
This is a pretty old-school way of improving workplace communication, but it absolutely works. You need to realize that some employees may be shy or uncomfortable bringing up issues to management directly. Having a virtual or physical suggestion box lets employees anonymously comment on things they'd like to see improved.
Something as simple as a suggestion box can vastly help communication in the workplace. Make sure to take action on the suggestions or your employees will find that their opinions and ideas are not valid. If this happens, employees will be more hesitant to bring up future issues, effectively barring any communication that they'd want to have.
15. Celebrate Your Employees & Their Achievements
With the hectic schedules that most executives have, it can be hard to set aside time to recognize your employees and their teams for all the hard work they do. It's imperative to take a moment and celebrate what your employees have achieved and do it in a public forum. It's almost certain that you'll be able to compile data that shows the increase in performance and productivity that improved workplace communication can produce. Let your employees know how much of an impact open communication has had on your entire organization and celebrate a quick win with your employees.
In Conclusion
Effective communication in the workplace can mean the difference between a good and a great organization. It allows for the free flow of information between employees and departments and can help foster innovation and team collaboration. Improving communication in your workplace can be a time-consuming process, but you'll be pleasantly surprised by the results it has on your entire organization.
Andrew Wasyluk is a social media expert, developer, Twitter fanatic, and founder of Socialeyze, a social media consulting firm based in Boulder, CO. When he isn't scrolling through his Twitter feed he can be found playing guitar, exploring Colorado, and laughing at his own jokes. Find Andrew Wasyluk on Twitter
@socialeyze
.
How to Improve Communication in the Workplace
Written by Andrew Wasyluk on July 11, 2016