Some would say content marketing is the true backbone of any Employee Advocacy Program, as it should be. The content you provide to your advocates ties back to other marketing campaigns your brand executes.
It's all about content.
That's why it's important to understand how other content marketers approach content creation and distribution. Because one of of the many questions content marketers ask themselves when creating content is, "How do I get people to actually share this content on social?"
It's a valid and important question when thinking through your content distribution strategy. That's why we spoke to a true expert on the subject.
Introducing Shayla Price.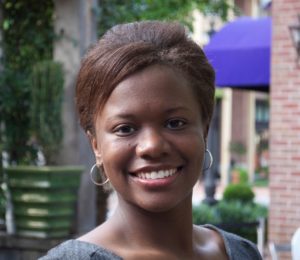 Shayla Price is a highly respected B2B content marketer who helps organizations with marketing, strategic planning and professional development. In addition to her regular contributions to major media organizations like Entrepreneur and Huffington Post, she also has worked with past clients such as SessionCam and Yotpo.
She is an expert in the world of content marketing. In this article, she gives us her thoughts on everything from content creation all the way to distribution:
How did you get into content marketing?
A few years ago, I stumbled upon blog posts from the Content Marketing Institute. The field intrigued my desire to do something different with my background in marketing, nonprofits and law. From that point, I began enrolling in free courses, earning certifications and accepting a few side gigs.
Fast forwarding to now, I create customer-focused content, develop editorial workflows and layout programming schemes for B2B tech companies. My bylines reside on popular blogs like HostGator, Shopify Plus and Kissmetrics.
Content marketing is a dynamic sector with the potential to impact many people. I'm proud to call myself a content marketer.
What are the biggest challenges you face today as a content marketer?
Creating engaging content is one of the biggest challenges faced by content marketers. With increased competition, we are always seeking to deliver 10x content that grabs the audience's attention and moves them to take action. Writing 12 lists posts back-to-back isn't helpful for individuals seeking in-depth, how-to content.
To overcome this issue, it's important to understand the target market's behaviors, habits and intentions. Then we can determine how to convey value in a manner that suits their learning style. It's not enough to practice storytelling; we must be vigilant in our approach to meet readers' needs.
What's the process you go through when creating content for very targeted audiences/personas?
When creating blog posts, I reexamine my buyer personas to gain knowledge about the target market—their actions, interests and demands. Then, I study the analytics of past posts that met previous benchmarks and when available, I read blog comments written by readers.
For the writing portion, I gather lots of data, images, expert quotes and examples for the audience to consume. I also consider how each piece of content will be promoted after it's published.
Lastly, I rearrange the content like pieces of a puzzle. As a writer, I control the rhythm of the content and must decide when and where to place specific sentences, statistics and screenshots.
How do you typically promote a piece of content once it's been published?
Promoting content is just as important as creating it. Depending on the type of content (infographics, videos, blog posts, etc.), my promotion efforts include email outreach, community forums and social media. I also advise my clients to send emails to their subscriber lists and invest in Facebook ads when necessary.
It's also essential to execute a promotion plan over a few weeks to give your content longevity. Reexamine SEO strategies to earn more organic search results and don't be afraid to improve headlines after publication to attract more people.
Here are a few tool recommendations:
How do you try to ensure that content will be something that people want to share on social?
Each social network is different. So, I take that notion into account when promoting content on social platforms. I avoid any networks that don't cater to my audience. If my readers aren't participating, I won't engage either.
Sharing on social is all about experimenting with the text, timing, call-to-action and imagery. So, I test several variations to decide what's working and what's not.
Social media centers around reciprocity. I consider how I can support my audience, and I engage in conversations by mentioning, commenting, liking and sharing other people's content.
How do you think an employee advocacy program (or influencer program if you're unfamiliar with employee advocacy) can benefit a content marketing strategy? For example, how do you leverage other people's social connections to extend reach?
Employee advocacy programs strengthen a content marketing strategy. Employees are valuable assets to every company, and their influence is significant to the vitality of the brand.
By leveraging employees' social connections, brands can increase their exposure, build brand awareness and possibly generate more revenue. A well-executed employee advocacy program serves as a competitive advantage in the marketplace.
For these types of program to flourish, workplace culture is a priority. Disgruntled employees aren't the best brand ambassadors; therefore, continue to support your employees' needs.
What metrics should you be looking at to prove success for these types of programs?
Success is determined by a brand's goals. Figure out what you want to achieve before you decide to measure it. A few critical metrics include the percentage of employees sharing content, which contributors are generating the most engagement, and what type of content is shared the most.
Create a framework to gauge the highs and lows of your employee advocacy program. It'll help determine where you need to focus your attention. Plus, metrics are useful when persuading stakeholders.
Are there any industries, verticals, etc. that you feel would benefit most from an advocacy and/or influencer program?
The higher education sector would benefit most from an employee advocacy program. Oftentimes, universities tout the achievements of current students and notable alumni.
It would be nice to hear and read behind-the-scene stories from professors. Why do they enjoy teaching? What excites them about a new semester? And why do they continue to practice their craft at a particular institution?
Students interact with professors on a daily basis. We need to listen to why professors support their employers.
Have you ever been a part of an advocacy and/or influencer program? If so, what was that experience like from the influencer perspective?
From the influencer perspective, it's an exciting opportunity to promote content from a well-respected brand. You learn more about their goals and how they plan to accomplish them.
The best influencer programs set clear expectations for the participant. The person knows what she will be doing and how each activity should be completed. To avoid brand fatigue, teams should only ask influencers to stay active for a specified period of time.
And then, there's the perks! From cool swag to social recognition, it's key to know what compels the influencer's involvement. How will they benefit from the program?
Lastly, what are the most important things for content marketers to pay attention to in 2017?
In 2017, content marketers must pay attention to episodic content and user-generated content.
We live in the Netflix era where content is offered in seasons. Work with your team to create your own TV-style content that keeps the consumer interested in reading or watching the next "episode." This strategy involves better storytelling, more planning and probably a few sleepless nights.
UGC shouldn't be randomly posted to websites and social networks anymore. Brands are responsible for connecting their UGC to sales funnels. Use your reviews, pictures and five-star ratings with a purpose to drive leads for your sales team.