You've got mail.
According to experts, we'll be sending an average of 246 billion emails a day by the time we reach 2020—enough to overwhelm even the best of multitaskers.
Your employees don't have the time required to sift through all of this extra clutter in their inbox, which is part of the reason why companies are turning to streamlined technologies and collaboration tools to reduce the noise. While chat tools and internal comms technologies multiply by the day, they're far from the functionality to fully replace all forms of business communication—including the corporate newsletter.
In fact, many organizations believe that we'll still be looking at company newsletter examples decades from now. That's because effective teams need a way to stay connected to the most relevant, and important information in their business.
The corporate newsletter is just one element of a stronger internal communication strategy. When used correctly, it builds a stronger, more engaged community of employees. Failure to implement the internal newsletter properly could result in just louder noise and more unopened messages in your employees' inboxes.
The Modern Newsletter: Why We Need New Newsletter Examples
Research from the McKinsey Global Institute indicates that productivity in the workforce improves by around 25% in organizations that have highly connected employees. McKinsey also notes that a 25% higher productivity level could equate to increased revenues as significant as $1.3 trillion per year.
It's obvious that internal communications are critical to the success of any venture. The trouble is, the previous "one-size-fits-all" strategies are no longer enough to get the job done—70% of employees in a Survata study said that they crave better communications at work. There's no doubt that this number will continue to grow as the workforce becomes more dispersed and mobile.
Today, your in-office teams work alongside global colleagues, remote workers and contractors from dozens of digital avenues. It's no wonder the corporate newsletter is so important—it helps to bring all of these dispersed teams together with one hub of useful information. The right employee newsletter examples work because they give your staff access to critical information in a simple and easy-to-access format.
Used correctly, your newsletter can:
Reduce workplace turnover
Improve employee advocacy
Deliver better experiences for customers
Enhance collaboration opportunities
Improve engagement and productivity
So, how do you design a newsletter that speaks to your employees?
10 Steps for Creating a Compelling Corporate Newsletter
Great communication might be an essential component of a successful workforce, but it's not easy to implement.
The corporate newsletter is regularly overlooked or ignored by the average employee. After all, your employees are busy optimizing your business and doing what it is they were hired to do, meaning if employers want information to earn the attention it deserves, it better be compelling.
Let's take a look at a series of steps, and informative company newsletter examples that you can use to enhance your communication strategy.
1. Decide if Your Newsletter is Necessary
As mentioned above, the internal communication world is changing. Collaborative tools and chat apps are becoming more commonplace, though only 25% of the workforce believe that these resources have any chance of replacing email within the next five years.
In an age of digital transformation, it's important to remember that your employees want to be kept in the loop. However, a multi-generational workforce means that not all of your workers will necessarily want to communicate in the same way. While some of your employees will prefer to stick to the corporate newsletter for industry updates, other staff members, specifically from the Millennial generation and below, may prefer to get their news from social media and advocacy platforms.
Assessing your workforce and segmenting your email list to suit the communication preferences of your team could be a great way to reduce information overwhelm. For instance, you can send more frequent corporate newsletters to the teams that rely on email for their insights and allow other groups to find their news on social media and other platforms.
2. Develop a Sustainable Strategy
There's more to an effective internal communication campaign than looking at employee newsletter examples and using them as inspiration for your own email process. If you do need to maintain a corporate newsletter in your organization, then you'll need to make sure that your team is getting as much out of that newsletter as possible. For instance, you can give your teams a choice on how they'd prefer to access the content available, which reduces the risk of unsatisfied or under-informed employees.
Though it's easy to get caught up following the best practices of the latest company newsletter examples, remember to speak to your team. The best way to find out what your employees need from your communication strategy is to ask them how they'd prefer to receive and consume the information that's most relevant to them. While some may prefer a monthly email rounding up the most important announcements, others may need more frequent communication.
General Assembly Boston uses a weekly newsletter with a minimal design to provide consistent information to their teams without causing information overload.
It's all about striking the right balance for your company.
3. Provide the Right News and Information
A productive employee is an informed employee.
When you want your workforce to understand and embrace your company culture, it's tempting to supply them with as much information as possible. News that showcases your business values, insights into your brand growth and everything in between seems like useful information at first glance. However, overload your team with too much too fast, and you increase the chance that they'll simply ignore your newsletters.
With that in mind, carefully consider the kind of information your employees will need access to at the end of each week or month. Remember, the information you share should be concise and straight to the point. Focus on what the news means for your staff, and how it benefits them. You'll generate more engagement from your team if they know how accessing this information makes them better at their job.
Remember, diversity is a good way to fight back against information overload too. Don't just send blocks of text in your email. Use interactive buttons, images, videos, links to relevant blog posts and more. For instance:
Let your employees click on buttons to get to the information most relevant to them, instead of pouring it all into one email.
Add visuals to keep the information engaging.
Diversify the way you share data, and make sure that it's easy for any employee to understand the benefits of your corporate newsletter.
4. Be Informative
This may seem like an obvious suggestion for how to improve your corporate newsletter but bear with us. As newsletter tools and resources become more accessible, many companies have found themselves with a huge selection of templates to choose from. When it's easy to design and implement stunning employee newsletter examples, it's easy to get carried away with how your content looks and forget about the information you need to cover.
The easiest way to make sure that you don't veer off track with your newsletters is to start every piece with a solid goal. Think about what you want to achieve, and how you can keep your employees engaged. For instance, you could:
Cover the latest news about your brand, sales, and accomplishments.
Discuss updates from executive teams.
Cover a day in the life of a team member, to draw attention to your valued staff.
Draw attention to an educational customer success story – with actional tips for your employees.
Highlight staff success stories and milestone accomplishments.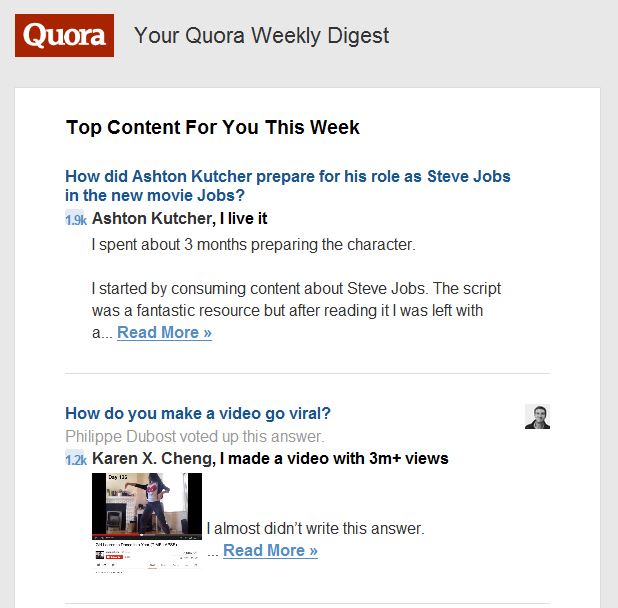 Notice how Quora highlights the "top stories for you" this week in their newsletter. They address the needs of their users instantly and provide them with links to information so that they can pick and choose the content they want to read.
Where possible, try adding social media buttons into your email newsletters, so your employees can share relevant updates with their friends, family, and social networks. This could help to launch a fantastic employee advocacy strategy for your business.
5. Remember your Call to Action Buttons
Many companies make the mistake of thinking that "call to action" buttons and text are things they only need to think about when they're producing consumer-focused emails. However, it's worth remembering that a CTA isn't just about driving your customers to make purchases. Your call to action can also push your employees into doing valuable things for your brand too. For instance, your CTA might:
Ask your staff to share information that they've learned from your corporate newsletter on social media.
Request that employees contribute to a study that you're conducting or fill out a questionnaire that helps you measure engagement or performance.
Encourage people to sign up for a new training session or company initiative.
Though it's tempting to try and get as much action out of every email as possible, stick to one CTA per corporate newsletter. Emails with a single call-to-action increase clicks by around 371%.
One important thing to remember when you're designing your call-to-action buttons and content is that you need it to be as interesting and engaging as possible. Just because you're not writing for your target audience doesn't mean you can resort back to boring "Click here" links.
Take a look at this InVision newsletter for instance. The email features everything from the best content published by the business throughout the week, to their favorite curated blogs. Instead of a dry CTA like "click here," they've used the more interesting "Why so Serious?" on their button.
Using the same strategies for enticing call-to-action copy, you can direct employees towards your intranet strategy, help them participate in referral programs and more. It's all about prompting your people to take that next step.
6. Strengthen your Subject Lines
You wouldn't send a consumer email out with a boring subject line, so why would you do the same thing with your corporate newsletters? Though there's a greater sense that employees are "expected" to read the information that you send them, they won't bother clicking on your content if they're not intrigued by it. After all, they'll simply assume that they can find the information they need elsewhere.
If you want to push true engagement as part of your newsletter strategy, then you're going to need to get creative with your subject lines. For instance:
Draw attention to the most exciting stories in the newsletter (segment this according to each of the teams you're connecting with).
Use the word "You" to address the benefit that the newsletter brings to your employee.
Highlight statistics or other quantitative data that your employees might be interested in.
7. Keep your Corporate Newsletter Clear and Concise
Take a look through the last 6 months of business newsletter examples you have in your outbox. As you read them, do you notice a theme for using too much corporate jargon in your text? IABC suggests that 21% of communicators in the business environment struggle to keep their email language jargon-free.
Your employees are busy. They don't have time to decipher overly-long or confusing email newsletters. In fact, your team will only spend an average of around 51 seconds skimming through a corporate newsletter. That means that you have very little time to capture their attention.
Make sure that the emails you write are scannable and easy to consume. That means adding bullet points, blurbs, pictures, and plenty of white space. In fact, simply treat your email as you would a blog or marketing message.
Remember that you can always include links and buttons to other information if you need to build on your newsletter content. Give your employees the opportunity to choose exactly how much information they need. When assessing your newsletter structure look at:
Whether your call-to-action buttons are easy to see and use (on mobile devices too).
Whether your formatting is clear and purposeful. Choose a legible font, and make sure that there's plenty of white space to break up the content.
Whether the subject line is compelling enough: Just like a consumer email, you'll still need your subject line to be exciting enough to convince employees to click.
8. Segment your Audience and Personalize the Content
We've mentioned above that different people in your team will likely need different things from their corporate newsletter. While your sales team will be thrilled to see your latest figures and conversion rates, things like that won't matter nearly as much to your IT team. Don't make the mistake of trying to shove the same information at everyone.
Instead, think about how you can separate your team into different groups, and create a unique corporate newsletter experience for each of those teams. If you don't have time to write an entirely new newsletter for everyone in your organization, you can always include links to some of the most important information in your newsletter, so your team can choose what they need to read about.
You can use the same strategy for your business to make sure that every member of your team gets the right information in their corporate newsletter. That means your employees spend less time scrolling through irrelevant content.
9. Get your Team Involved
One of the biggest mistakes that companies make with their corporate newsletter is assuming that they don't need to work as hard at communicating with their team, as they do when they reach out to their customers.
Remember, we're living in a world of analysis paralysis, where your employees are constantly overwhelmed and exhausted by the amount of data that's available to them. If you want your workforce to be as productive, efficient, and cost-effective as possible, then you don't want to contribute to their existing feelings of information fatigue.
Think of your employee as just another customer. Give them the same immersive and in-depth newsletter experiences as you would if you were trying to convince them to buy or refer another customer.
Follow that approach, and you not only get happier employees, you also get a team more capable of engaging in employee advocacy too. Get your team involved by:
Allowing them to vote on their favorite new stories, provide feedback on the newsletters they receive or request less of certain types of information
Giving them access to advocacy opportunities through social sharing buttons and pre-curated content that they can access in their email newsletter
Inviting them to take part in regular reviews of the corporate newsletter strategy, so that their email experience gets a little better month after month
Including stories about your staff that highlight how much you respect and value them. Try letting your employees take over your email newsletter one day and share their favorite stories or highlight their accomplishments in an "employees of the week" section.
A corporate newsletter doesn't have to be a mode of one-way communication. Turn your emails into a conversation and discover the benefits it can bring.
10. Keep Working on Your Strategy
Finally, remember that there's no finish line when it comes to upgrading your corporate newsletter strategy. As you continue to learn more about the way your staff engages with their emails, you'll be able to optimize and improve the experience that you give with your newsletter examples.
Remember, employee communication isn't a stagnant concept—it's something that needs to evolve over time. While templates and useful tools can help to keep you on track and maintain brand consistency, don't become complacent in your strategy.
Modernizing your Corporate Newsletter
The age of email isn't over yet.
For internal communication to be effective, the corporate newsletter remains a powerful way to keep your people motivated and informed. However, just like any other engagement strategy, it's important to make sure that you're getting your message right if you want your content to resonate.
With a little luck, the tips and employee newsletter examples outlined above will help you to get the engagement you need. Just remember to keep learning and optimizing along the way.