A Breakdown of the 11 Most Valuable Employee Communication Tools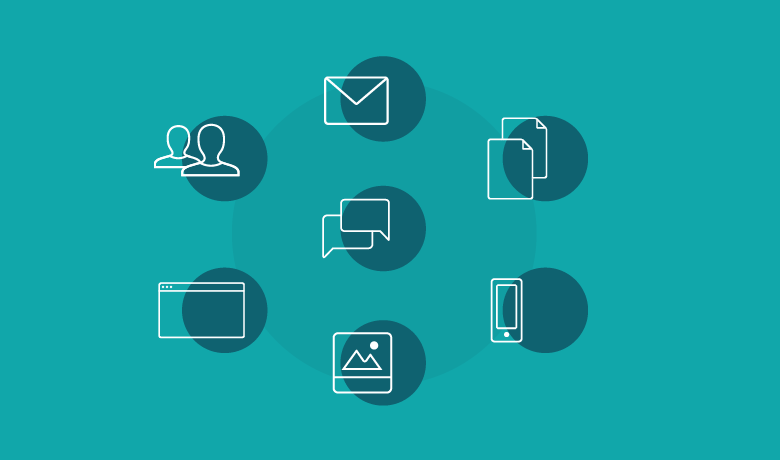 A strong and defined strategy for employee communication is a critical function for any successful organization. It fosters employee engagement, ensures common understanding of strategy and goals, encourages two-way feedback and promotes a positive attitude toward change. A strong employee engagement and communication strategy also creates an environment where each team is enabled to focus on where their strengths are best utilized.
In order to keep employees engaged and informed through regular communication, it's important to have the right methods in place to deliver the right message to the right people at the right time. Fortunately there are a number of tools available that help organizations of all sizes to effectively plan, execute and measure their employee communication and engagement efforts. When implemented properly, these tools can have a significant impact on collaboration, productivity and employee satisfaction.
Below is a list of effective employee communication tools and some of the features they can offer your business. Click on any of the links below to jump to each section, or dive in from the beginning.
Project Management
Trello is a tool to help teams visually manage and organize projects. It works in real-time and is easy for users to quickly adapt to using their drag-and-drop functionality. When a team member moves a card, it moves instantly on each team member's view, no matter what device you use (no need to refresh).
Trello's primary use case is for teams managing multiple projects with multiple teams involved—from one-offs, to ongoing projects, to recurring projects. While it can also be used for personal task management, one of the first (and most obvious) ways you'll recognize value is from the transparency and insight gained into project status.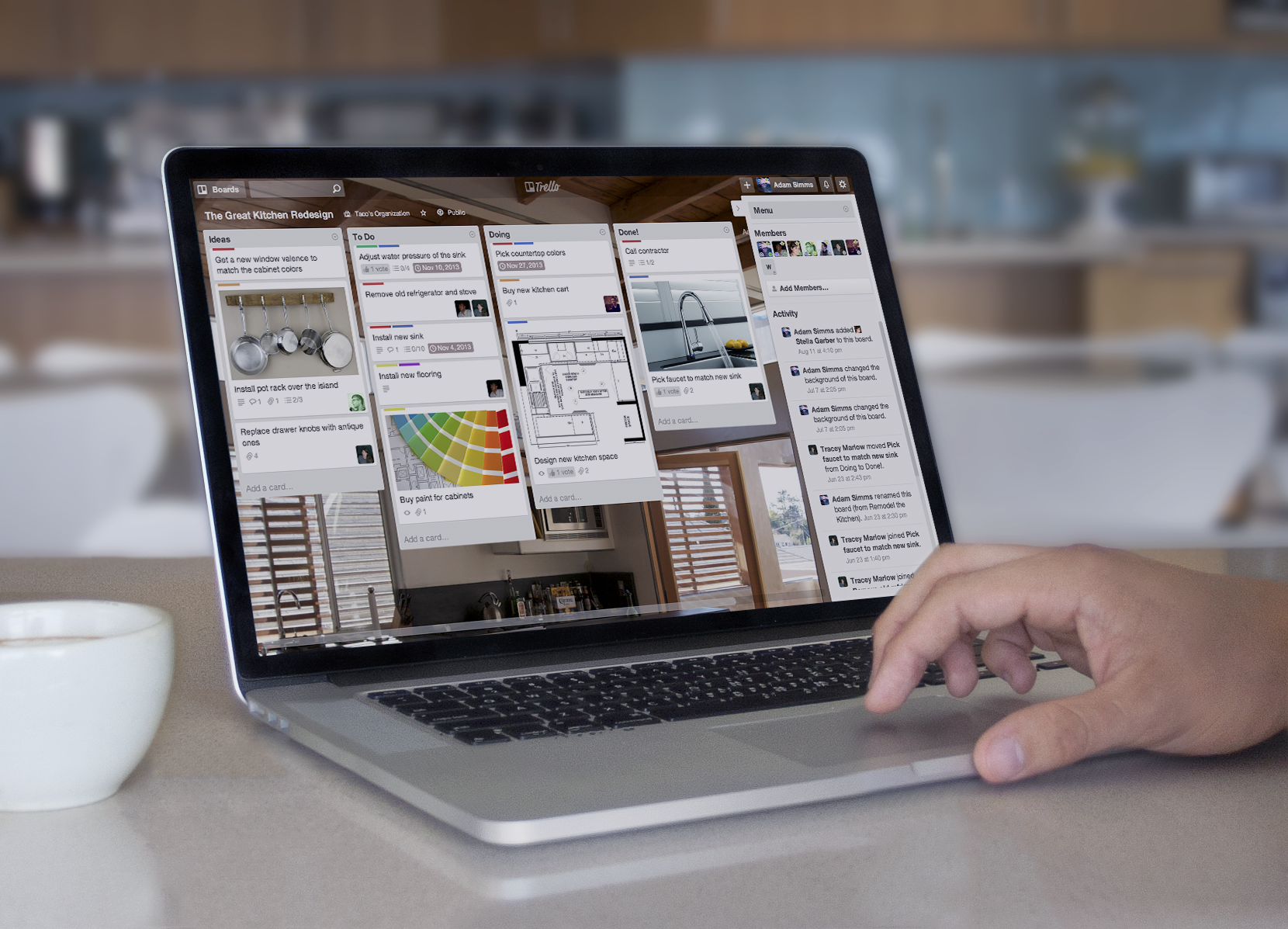 Key Features:
Drag-and-drop functionality to invite people to your board (as many as you need) and divvy up tasks
Notifications that stay in sync wherever you are—in the app, email, desktop notifications, or through mobile app push notifications
Unlimited teams and boards with search, filtering, and labels to make content findable and collaborative
Built-in privacy and security measures with full control over who sees your boards and a secure, SSL/HTTPS connection
JIRA is a project management tool in the Atlassian suite, is designed to help teams track and execute projects in a way that is focuses on workflows. The workflow logic enables teams to visualize the process from start to process so everyone involved can gain into how projects and tasks are progressing. Here's an example of a workflow your team can follow in JIRA Core:
To-do: Assign tasks that need to be completed
In progress: The assignee has begun working on the task
Under review: The task is almost completed and is waiting for approval
Reject: If the task is not approved, it goes back to "in progress"
Done: Task is approved and complete.
JIRA explains, "Getting started is the most crucial step to a project. A good project kick-off ensures that everyone is bought in, understands the goals, and is ready to deliver. As a project manager, a great acronym to remember is HEART [hear, encourage, alert, record, transition]."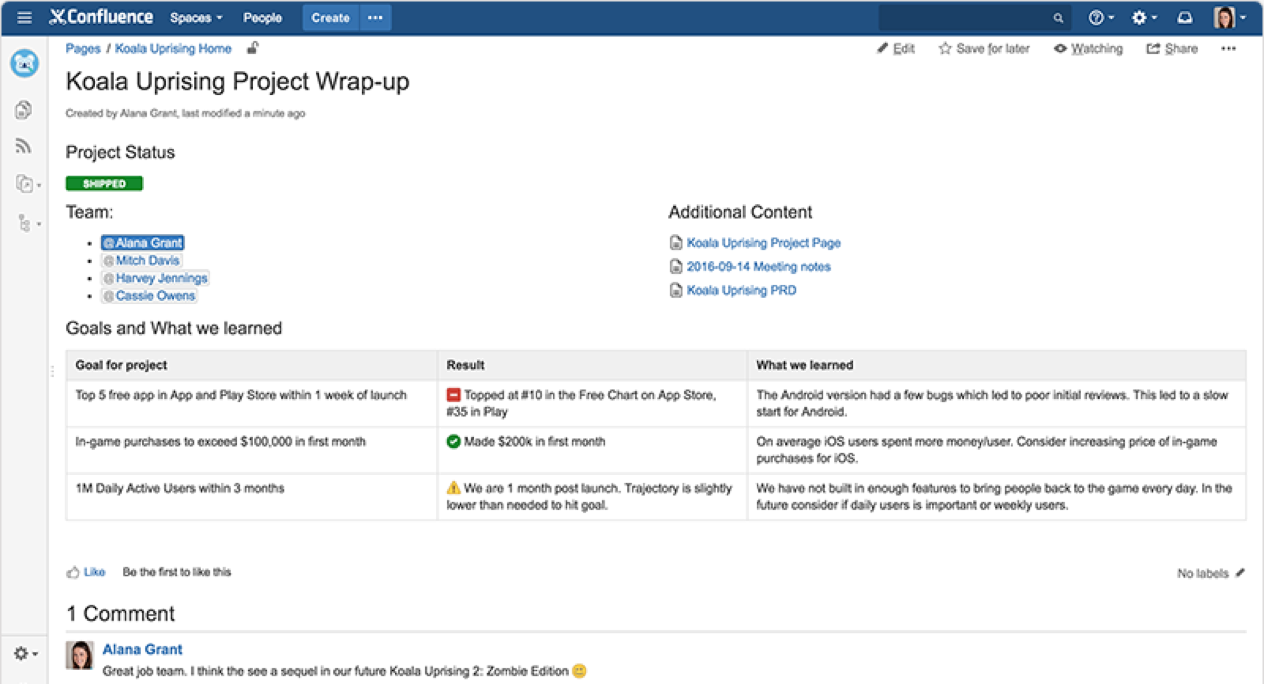 Key Features:
Easy task assignment, enabling you and your team to stay on top of due dates and statuses
Defined workflow management that lets everyone know the steps from to-do to done so that no tasks are left behind
Reporting dashboards to arm project managers with the right level of overview for each project
Seamless Confluence & JIRA integration, designed to work in unison by adding context to each project (housed in Confluence), and the status of the execution (housed in JIRA Core)
Asana is a project management platform that brings clarity to what can be a chaotic process by centralizing tasks, projects, conversations and dashboards in one place. Teams are able to quickly gain insight into current project status without having to schedule a meeting or send an email, as well as visualize the projects that are coming up next.
With Asana, you are also able to turn conversations into tasks right within the app, and push relevant conversations to the right people using the inbox feature. Asana has a clean UI with the ability to easily apply labels that enable you to prioritize what's most important to you.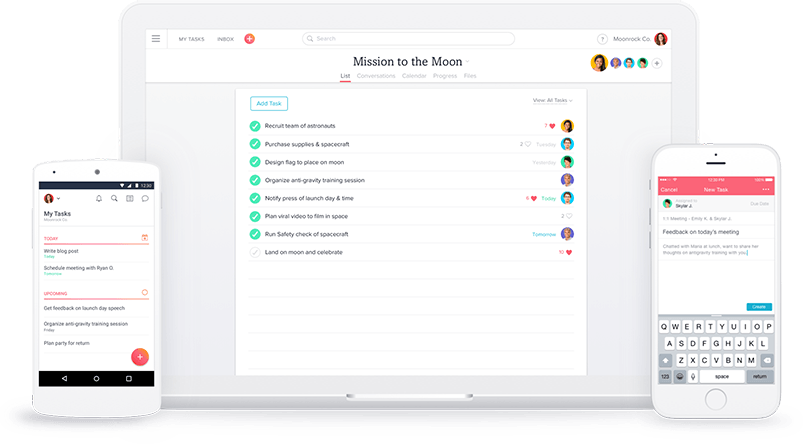 Key Features:
Organize all of your tasks into shared lists or boards for your initiatives, meetings, and programs
Customize fields and searches using Advanced Search (you can also create and save custom views across projects, assignees, and due dates)
Add new workflows to Asana quickly and easily using pre-made templates
Add files from your computer, Dropbox, Box, or Google Drive to any task or conversation
Receive automatic updates about only the tasks that matter to you
Integrations with Dropbox, Microsoft Teams, Jira, Zendesk, Slack, GitHub, and more
Internal Messaging & Meetings
Slack is an employee communication tool that allows for real-time cross-channel communication in order to "make your working life, simpler, more pleasant and productive." In fact, Slack reports that customers have recognized a  customers see an average 48.6% reduction in internal email.
Within the platform, users are also able to easily take a conversation from typing to face-to-face by starting a Slack voice or video call in any Channel or Direct Message. From there, you're one click away from sharing your screen, so everyone can follow along.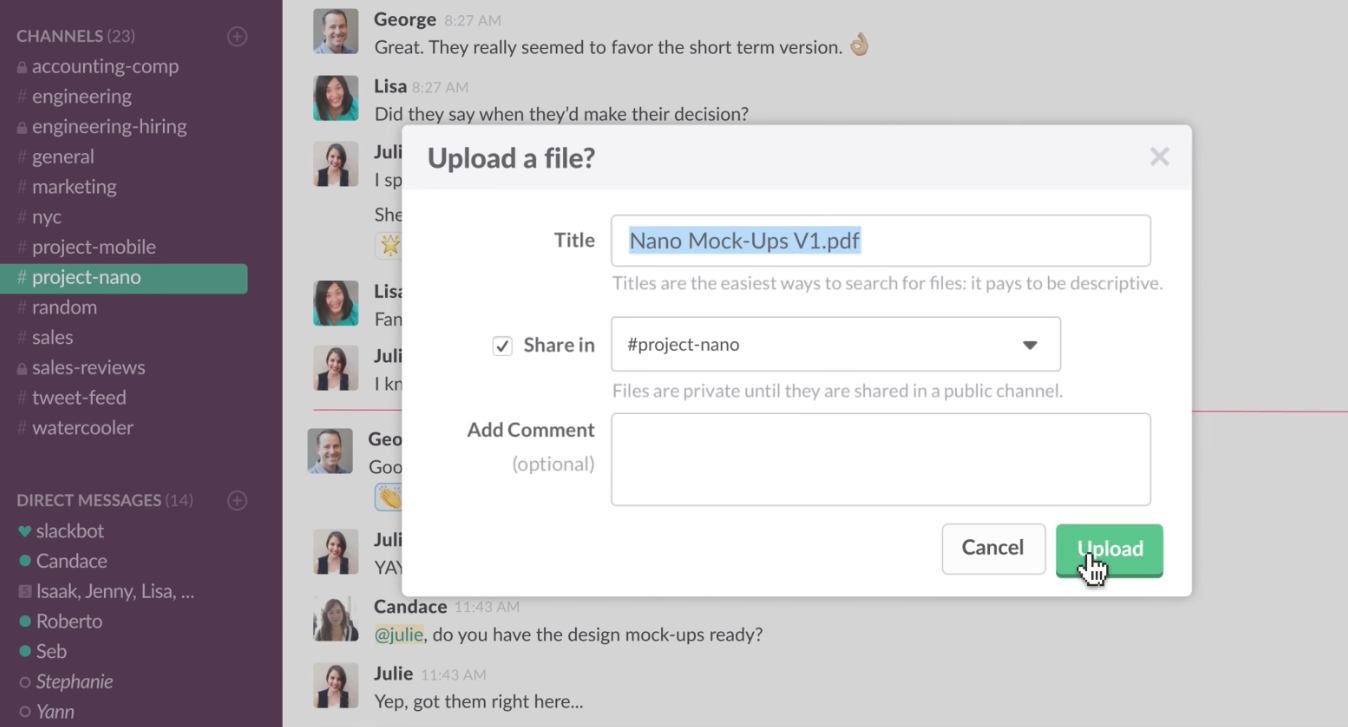 Key Features:
Integration with dozens of services including Twitter, Google Hangouts, Box, SoundCloud, Evernote, Dropbox and Google Drive
Enterprise solution (Enterprise Grid) which brings the power and utility of Slack to larger organizations.
Drag and drop files, images, PDFs, documents,and spreadsheets right into Slack with ability to search, add comments or star for later reference
Group channels, private channels and direct messages to encourage collaboration
Fully native apps for both Android and iOS
Giphy integration which allows for in-stream animated GIFs
Many of us are at least familiar with Google Hangouts, if not frequent users of this key tool in the Google Suite. Google Hangouts makes it easy to quickly jump on a video call for an impromptu meeting, problem solving with a co-worker, or group meetings on a larger scale. You can upload images, screenshots or anything else you might need to share in real-time. It integrates with many other platforms, and just like the other tools in the Google Suite, can be learned in a matter of minutes.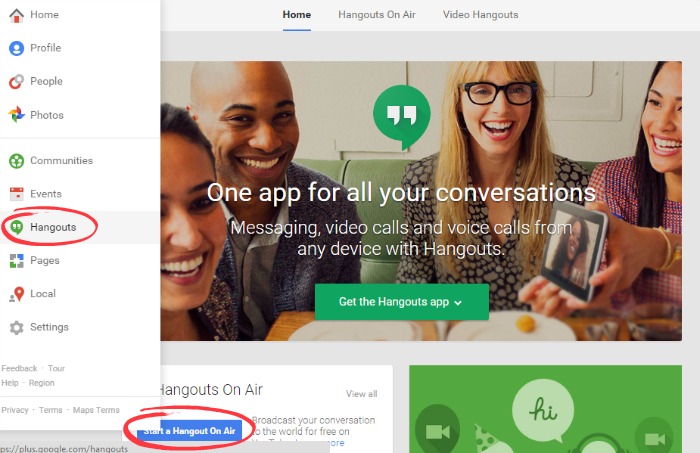 Key Features:
Message a friend or start a group conversation with group chats for up to 100 people
Connect anytime with voice and video calls
Say more with photos, maps, emoji, stickers, and GIFs
Turn any conversation into a free video call with just one tap. Talk one-on-one or invite friends for a group call with up to 10 people.
Stay in sync across your devices (Android, iOS, web) to keep the conversation going wherever you are
GoToMeeting is a platform that enables teams, regardless of size or location, to come together for unlimited meetings using a simple interface. The tool can be used to host internal meetings for remove teams, sales demos, external presentations and anything in between.
Every customer receives a personal meeting room with custom URL, making it seamless to join a meeting anywhere, at anytime. This function helps to create a culture of collaboration using the screen sharing and web conferencing features to work together in a virtual space. GoToMeeting screen sharing allows you to display your entire screen, multiple monitors or specific applications.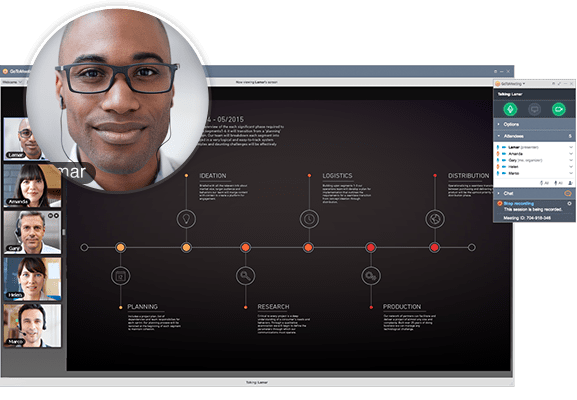 Key Features:
High-quality video with multistream HD technology
Free call recording and integrated scheduling
Automatic bandwidth adjustment
Cloud-based access
Attend meetings from your mobile device by tapping a link in your invitation—the app will do the rest
Safety and security measures, including end-to-end encryption, strong passwords and top-rated reliability
Integrations with Salesforce, Outlook, Gmail, HipChat and more
Employee Communications
Employee communications tools are gaining importance and proving relevance in the workplace rapidly. Bambu enables organizations to raise brand awareness and amplify the power of their message by activating the advocacy component within employees. It's suite of tools make content curation and sharing effortless throughout all levels of an organization.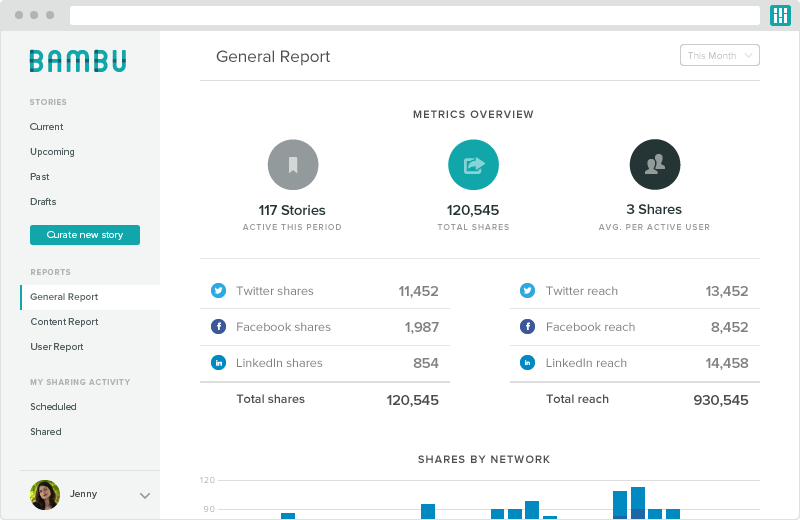 Key Features:
A dedicated advocacy solutions and services team which personally helps you build and implement an effective social advocacy program
Full integration with Facebook, Twitter and LinkedIn
Different roles and teams to ensure employees have access to content that is most relevant to them
The ability to add context to each story by customizing metadata and images
Device agnostic capabilities which allow your employees to consume stories on any mobile device
Full analytics suite which allows you to gain insight into content performance, brand amplification and popular content themes.
Ticketing & Issue Tracking
ZenDesk is a system for tracking, prioritizing and solving customer support tickets. The platform prides itself on building software that makes it as simple and straightforward as possible to track and manage issue tracking. Users are able to initiate process triggered by ticket changes or time-based conditions and take advantage of dynamic request forms to quickly give agents the right context, so they're prepared to offer personalized customer support.
ZenDesk identify their products as solutions that "allow businesses to be more reliable, flexible, and scalable. They help improve communication and make sense of massive amounts of data. Above all, they work together to help turn interactions into lasting relationships."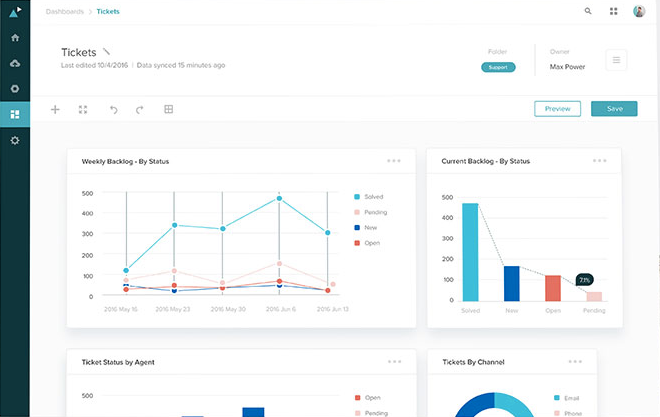 Key Features:
Unique help centers, support channels, and business rules for multiple brands, regions, or products managed within a single help desk
Create and share macros in order to quickly respond with a standard response and set of actions to common requests
Integration with dozens of services including Twitter, Google Hangouts, Box, SoundCloud, Evernote, Dropbox and Google Drive
Localized support content in over 40 languages can be dynamically applied everywhere – automations, macros, triggers, and knowledge base articles
Customizable views so agents can see their queue based on ticket status, assignee, group, or other conditions
In a world where ticketing numbers and automated emails aren't the best way to build strong customer relationships, Help Scout steps in to make each experience with desk software more human and personalized. Users are able to create multiple mailboxes for each shared email address, making it seamless to work across departments or manage several products/brands from a single account.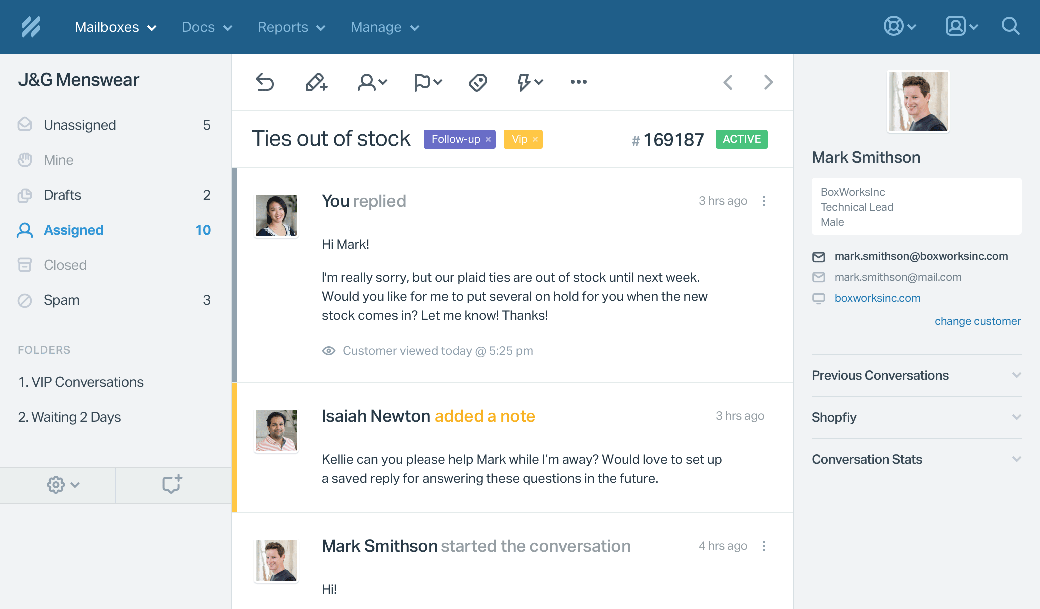 Key Features:
Reporting tools to help measure team performance, spot trends to prevent issues, and monitor customer sentiment
Collision detection to give teams insight into who is viewing or replying in real-time
Tag and categorize conversations or trigger automations
Integration with services like Olark and Snap Engage (along with 50+ others) ensuring every chat is automatically saved and stored in the customer's profile
Two-click access to your most common responses
@mention users in notes to collaborate privately
iOS and Android mobile apps
HR & Talent Acquisition
TINYpulse is an engagement platform that gives business leaders the tools they need to measure and improve company culture. The technology creates quick, one­-question surveys and sends them to employees each week. Employees can respond using the link in their email or mobile apps, and all survey responses are 100% anonymous, so employees can be 100% honest with the information you really need to know.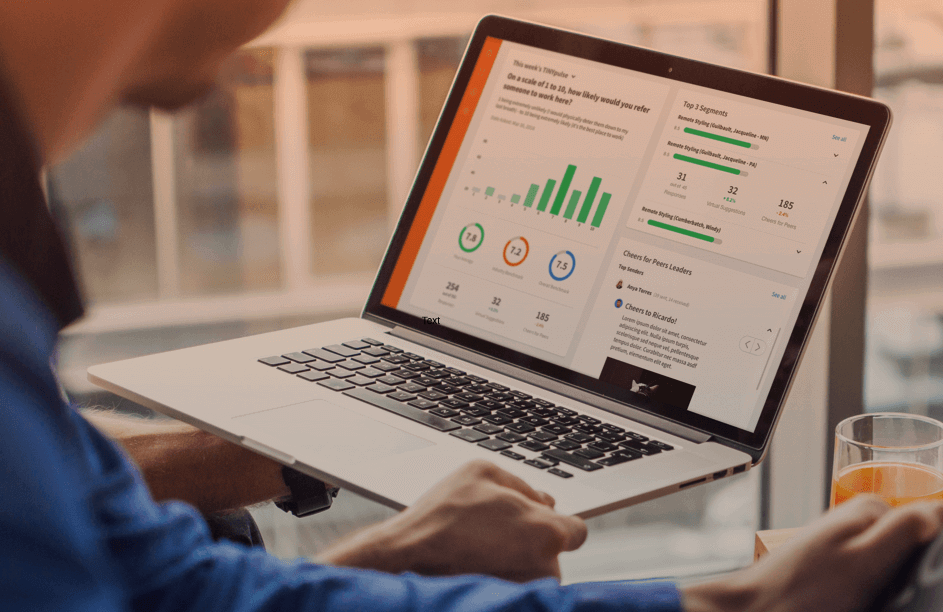 Key Features:
Collect anonymous feedback to gauge employees' true happiness
Built-in peer-­to-­peer recognition (Cheers for Peers) so employees can send kudos to their colleagues whenever they do something great
Virtual suggestion box for employees to voice feedback and offer solutions for any issue that's on their mind
Performance management (TINYpulse Perform) enabling leaders to improve employee performance and achieve company goals
Accessibility anywhere, anytime, with mobile-first technology
Integrations with Slack, Gmail, Microsoft Outlook, Zapier, Salesforce and more.
Small Improvements is an HR platform to help employees grow and succeed in their workplace. HR admins are able to change and combine building blocks to suit their organization's needs, ensuring you they the most out of the platform.
Small Improvements explains, "1:1 meetings, goal setting, and real-time recognition are the heart of a healthy feedback culture. By building these into structured performance reviews and peer-feedback cycles, you establish development milestones. Milestones become calls to action, goals are set, 1:1s scheduled, and the process begins again."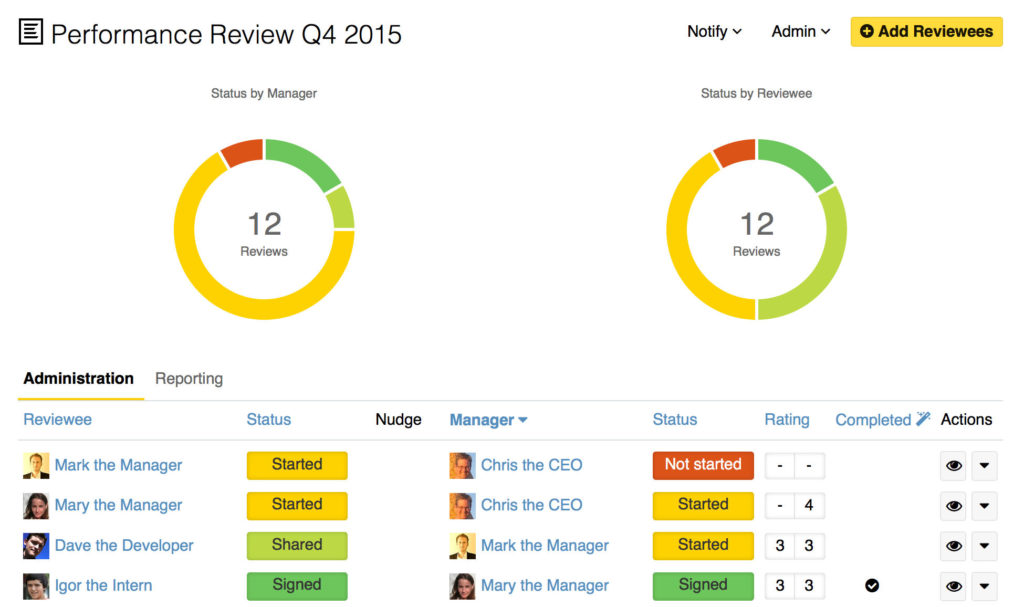 Key Features:
HR & Engagement reporting that enables employers to track progress, power sort content, send reminders and identify areas that require attention
360 degree feedback and performance reviews, with the ability to customize questions, participants and the cadence best suited for your organization
Provide a place for employees to document goals and track their progress over time, relying on immediate feedback as they work
Integrations with Slack, HipChat, Bonus.ly, Google Apps and Outlook
Real-time recognition so co-workers can share feedback at any time
Aria is the Demand Generation Specialist for Bambu by Sprout Social. With a background in Content Marketing & SEO, she has an affinity for all things inbound. When taking a break from generating many, many leads, you can find Aria at a concert, cheering on the Cards (#STL4Life) or wandering around her beloved Chicago neighborhood, Wicker Park.
A Breakdown of the 11 Most Valuable Employee Communication Tools
Written by Aria Solar on June 01, 2017