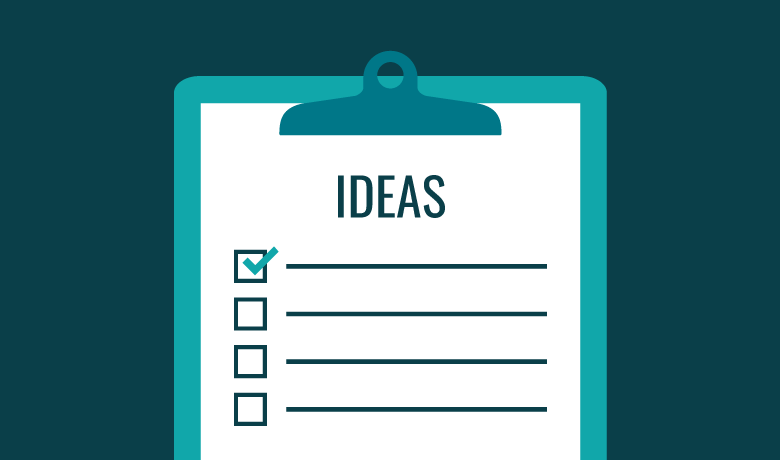 Are your employees engaged? According to a survey from Gallup, chances are a majority aren't. The study found that 36% of female and 30% of male employees are engaged at work. While both numbers have increased from 2012, they're still lower than most companies would like.
If you're looking for tips on how to increase employee engagement, you're in the right place. We've compiled a list of 60 employee engagement ideas to motivate and inspire your team. But first it's important to understand what is employee engagement and why it's such as a vital part of your company.
What is Employee Engagement?
Employee engagement is how enthusiastic, passionate and excited employees are about their jobs and overall company. It also encompasses how much effort they put toward their work and how loyal they are to their organization.
Engaged employees are motivated by more than just money. They feel like a true part of the company and are emotionally dedicated to helping it grow.
Why Employee Engagement is Important
There are several benefits of employee engagement. When employees feel engaged, appreciated and a part of something bigger than just a "job," they're happier and get more done. A study from Gallup found that teams with high employee engagement rates are 21% more productive. Not only that, but a separate report showed investing just 10% more into employee engagement can increase profits by $2,400 annually per employee.
In addition to missing out on these benefits, employee disengagement also puts your company at risk. The Gallup State of the American Workplace Report found companies with engaged employees experience 37% less absenteeism, 90% less turnover and 28% less safety incidents.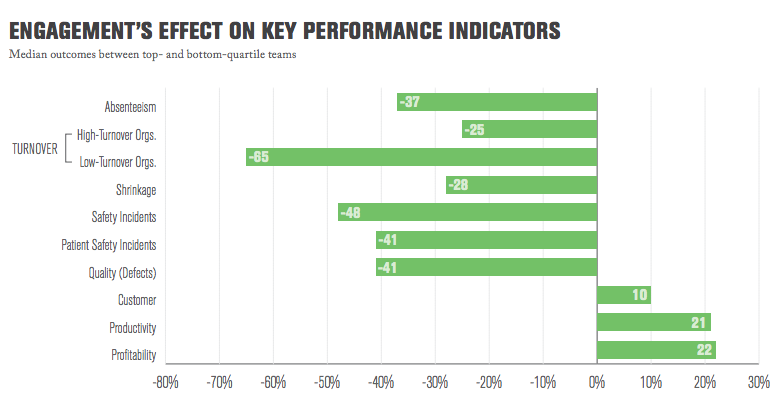 Unfortunately, a majority of US employees don't feel engaged. The same report showed 70% of American workers are either "not engaged" or "actively disengaged" and feel emotionally disconnected from their workplaces.
Knowing the importance of employee engagement is part of the equation. The real challenge is figuring out how to get employees engaged.
Here we've provided 30 employee engagement ideas of our list of 60—to get the full round-up of ideas, click below!
How to Engage Employees
Improving engagement involves a variety of factors. The most important thing to keep in mind is it won't happen overnight. It's more than simply setting up occasional fun activities for employees. Engagement has to become a core piece of your company at every every level.
Read through our list of 60 employee engagement ideas to shift the way your team feels about your company. Click the links below to jump to the area you want to focus on first.
Health & Wellness
In order for employees to be engaged, happy and excited to be at work, they have to feel their best. That extends to both mental and physical wellness. A report published by Humana called "The Wellness Effect: The Impact of Workplace Programs" found a close link between employee engagement and health/wellness.
Most notably, 89% of employees who work in a wellness culture have an improved level of happiness compared to 76% of those who don't. Plus, 67% of employees that work for companies that prioritize wellness say it has made them more engaged in their employer's mission and goals.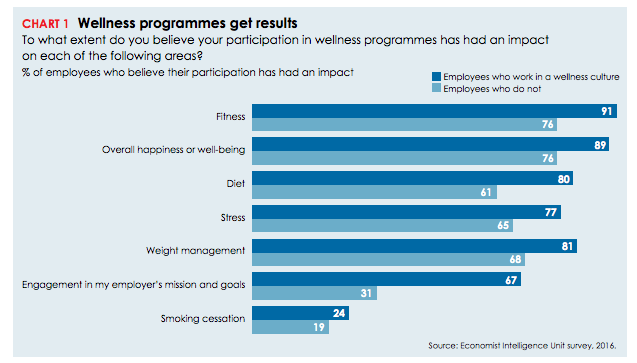 Here are some employee engagement ideas to make it easier for your team to live a healthier and more active lifestyle:
1. Encourage Stress-Relief Breaks
The previously mentioned Humana report noted 77% of employees who work for companies with wellness programs say it helped reduce their stress levels. This is vital considering workplace stress costs employers over $300 billion annually due to:
Accidents
Employee turnover
Lower productivity
Absenteeism
Medical care
One way to fight the effects of stress in the workplace and keep employees engaged is by encouraging everyone to take breaks when they feel stress is getting the best of them. Some of the most successful companies in the world realize the benefits of keeping employees as calm and stress-free as possible.
For instance, Apple gives employees 30-minute breaks every day to mediate in addition to providing mediation rooms and classes. Google and Nike both offer similar perks.
2. Provide Time for Healthy Activities at Work
Activities such as yoga, short walks or even group hikes can be a great way to break up the day. These health initiatives will act as another tool for your employees to de-stress and refocus on their work.
3. Offer Discounts for Gym Memberships & Other Nutritional Services
Your employees might want to live a healthier lifestyle, but the costs might deter them. Gym memberships, nutritionists and other health-related services can be expensive. Partnering up with local gyms, health clubs or meal-prep services is a good way to show your employees you care about their health and also encourage them to live a healthier lifestyle.
Office Environment
It's not easy to feel motivated and excited about your employer if the environment you work in is dark, dreary and filled with negativity. That's why these next few employee engagement ideas are all about setting up a positive environment. A study from Steelcase showed that the office environment is a key differentiator between employees that feel highly engaged and those who don't.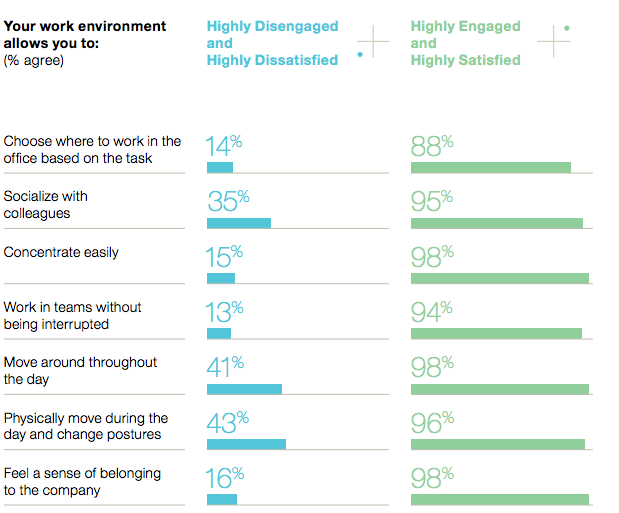 4. Bring in a Motivational Speaker
It might sound silly or like a scene from a movie, but you might be surprised by the effectiveness of this employee engagement tactic. Inviting a motivational speaker to come in and talk to your team can make a world of difference in engagement and morale.
Motivational speakers are more than just the cliche image of a person running up and down the floor with a headset screaming "you can do it!" Look for people within your industry that bring actionable insights to the table, as well as boost your team's confidence and enthusiasm about working for your company.
5. Ditch Traditional Cubicles
Keeping with the theme of open work areas, you should also consider ditching traditional cubicles with high partitions. While cubicles may be good for privacy, they create a closed off environment. There have been multiple studies that show how detrimental cubicles can be for employees.
6. Give Employees Freedom Around the Office
This idea is particularly important if most of your employees work at desks throughout the day. If your team members feel like they're chained to a desk, their performance may suffer. One study found 88% of highly engaged employees have the option to choose where they work within the office based on the task they're performing. On the other end, only 14% of highly disengaged employees have flexibility on where they sit.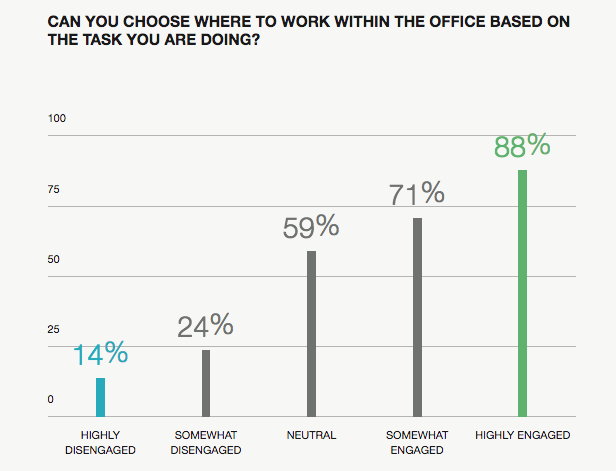 7. Create a Comfortable Workspace
The same survey mentioned above also looked into the comfort level of highly engaged employees compared to disengaged ones. They found that in nearly every category, employees that were highly satisfied with parts of their workspace were also highly engaged. So it's safe to say that a comfortable workspace is one of the key drivers of employee engagement.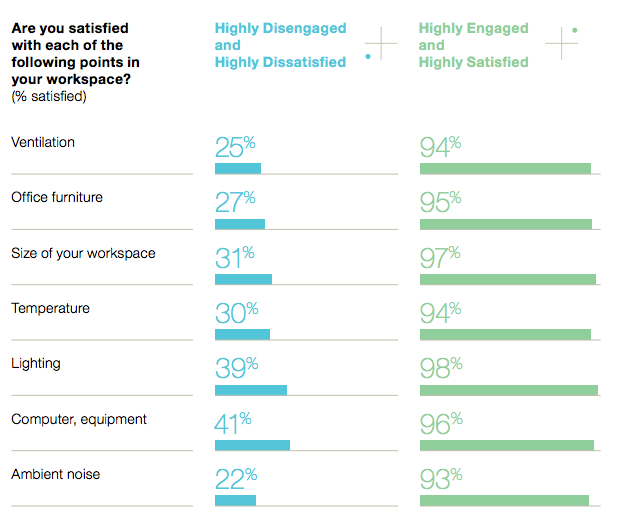 Your office doesn't have to be as decked out as Facebook or Google, but investing in comfortable furniture, quality lighting and reliable equipment can go along way in making employees more engaged.
Hiring & Onboarding
Would it surprise you to know that many of the issues with employee engagement can be caught during the hiring and onboarding process? In addition to ensuring new hires have the technical skills and ability to do the job, it's vital to hire based on company culture as well.
Often times the people highest up on the corporate ladder understand what the company stands for and their key differentiators. But as you move down to more junior level employees, the message isn't as clear.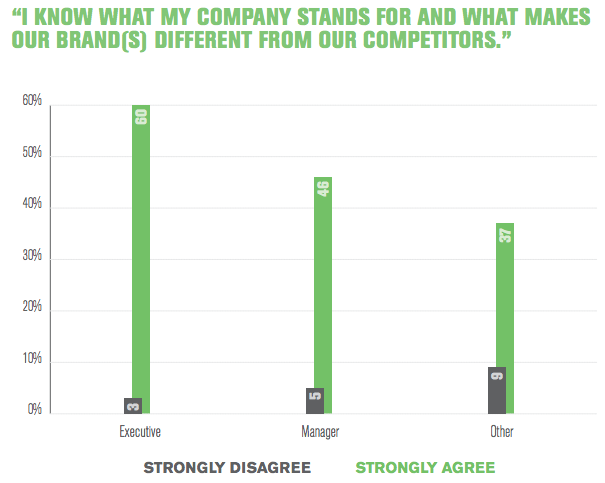 Try these employee engagement ideas to get your team on board in the early stages of joining your company:
8. Explain the Company Culture During Interviews
Continuing from the previous tip, make sure you explain what your company culture is during the interview process. While some prospects will head to your website or Glassdoor to find out what your working environment is like, that doesn't always tell the full story.
Make it clear what your brand is all about and do your best to describe your office culture. That way new hires can get a feel for what it'll be like if they get hired.
9. Offer a Welcome Pack With SWAG
Giving away T-Shirts, water bottles and other SWAG not only helps employees feel more engaged, but it also gives them a chance to show off their company pride. A simple way of doing this is by creating a small welcome package with a variety of clothing and knick-knacks for them to enjoy.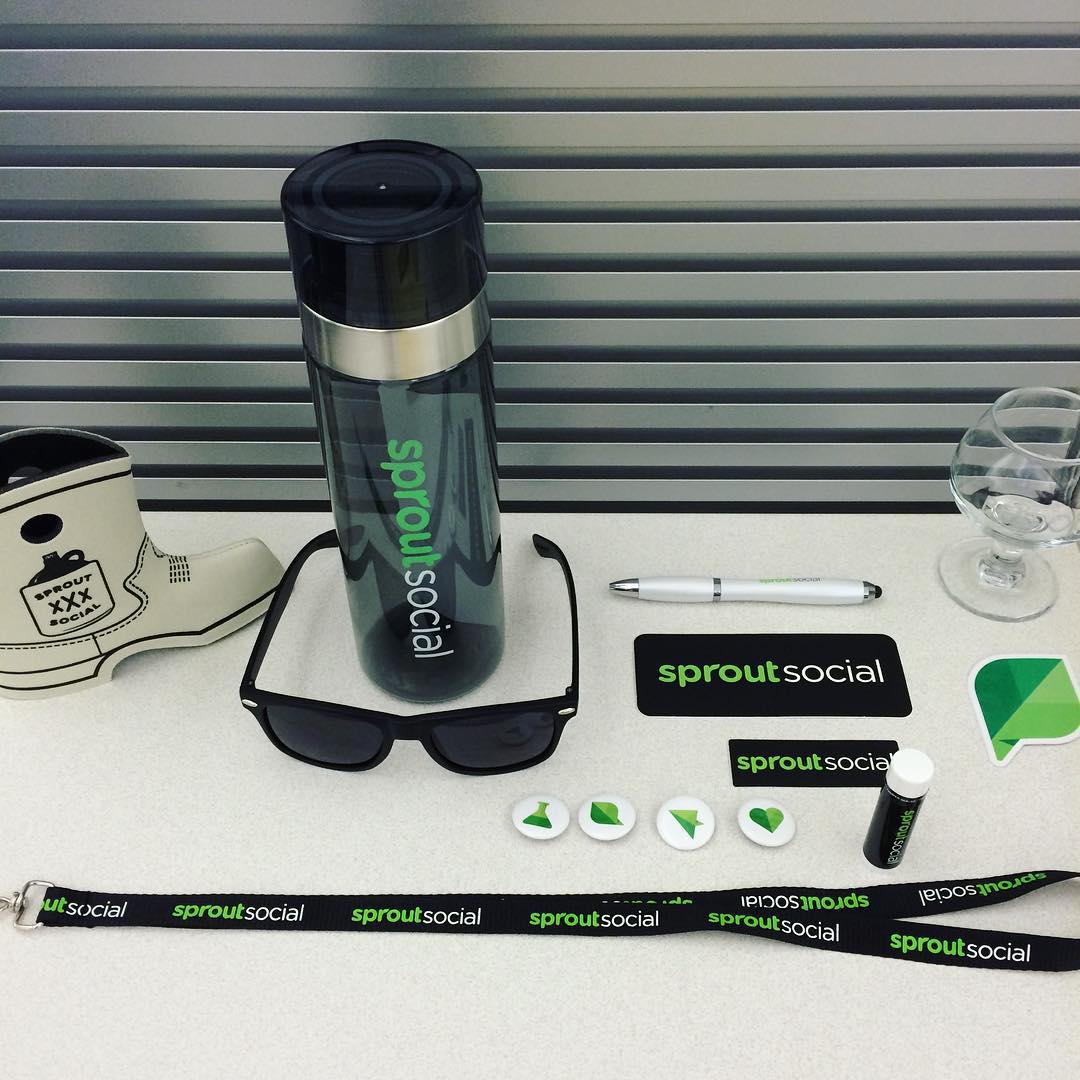 Online Engagement Ideas
Social media has been integrated into nearly every part of our lives, so it shouldn't come as a surprise that it has found its way into the workplace as well. Using social media for employee engagement is still a fairly new practice, but it's having a big impact. According to a report from Altimeter, employees at socially-engaged companies are 20% more likely to stay at their companies and 20% more likely to feel inspired. The result is better employee retention and staff engagement.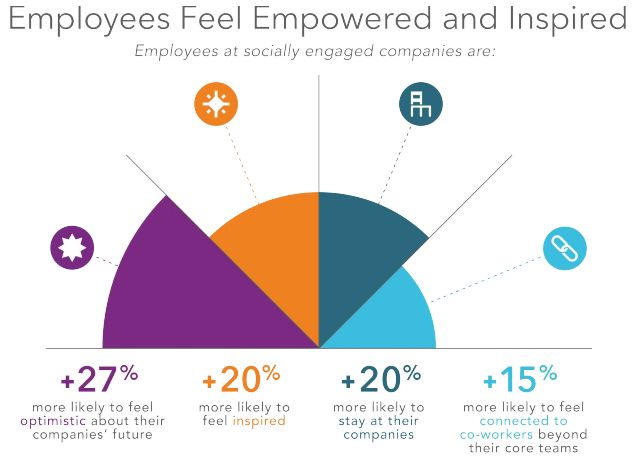 Try these social media and internet driven ideas for better workplace engagement:
10. Have Your Employees Blog on Your Website
Blogs are an easy way to boost employee engagement and employee advocacy. A blog post written by an employee is much more likely to be shared on their own personal networks, which gives your content much more visibility. The graphic below illustrates the impact of getting employees to share your content versus relying strictly on your own brand's distribution channels.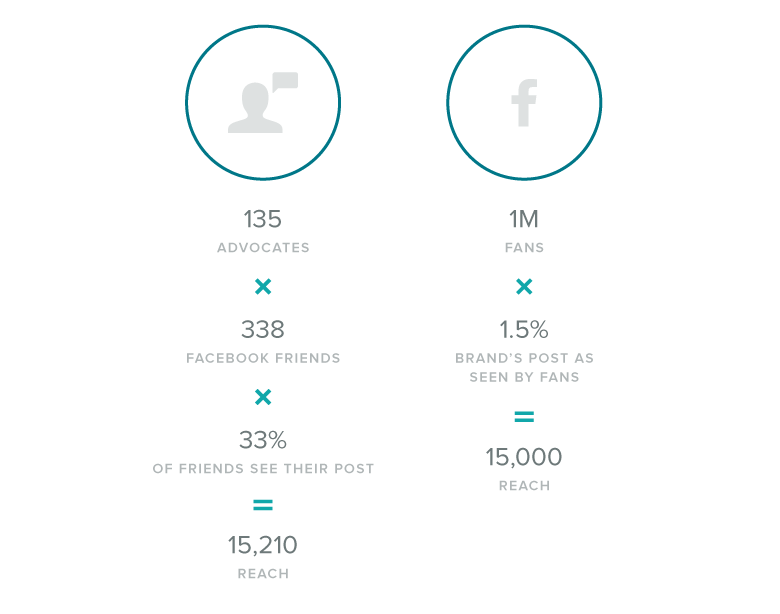 Another benefit is it helps you with fresh, recurring content on your website. Use employee engagement tools like Bambu to make distribution and consumption of employee-written content a seamless and easy process.
11. Utilize an Employee Satisfaction Survey
Want to know if your employees are happy or engaged with your company? Ask them.
Employee satisfaction surveys are an essential tool to gauge how happy or unhappy your employees are with the company, their peers and their work. They allow your employees to give honest and comprehensive feedback to the management team. After the surveys are taken, it's important to analyze the responses and address any issues that present themselves.
If you need help coming up with effective employee engagement survey questions, check out our handy the template.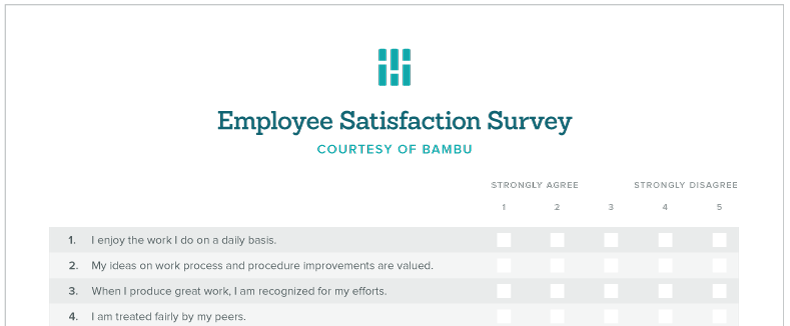 12. Curate & Share Content Meant for Your Employees
It's almost a guarantee that a majority of your employees are on one of the major social media platforms. Capitalize on this and curate content that your employees would love to share. Pick a few employees who are already "champion advocates" and put them in charge of curating content for the rest of your employees to consume and share. This is an easy way to get employees and whole departments involved in your social media marketing strategy while bolstering employee engagement.
In our employee engagement study, we found that employees are willing to share your content. However, 21% don't go through with it because they don't know if their company wants them to share.
Company Culture
Steelcase's study showed some interesting data about how company culture impacts employee engagement.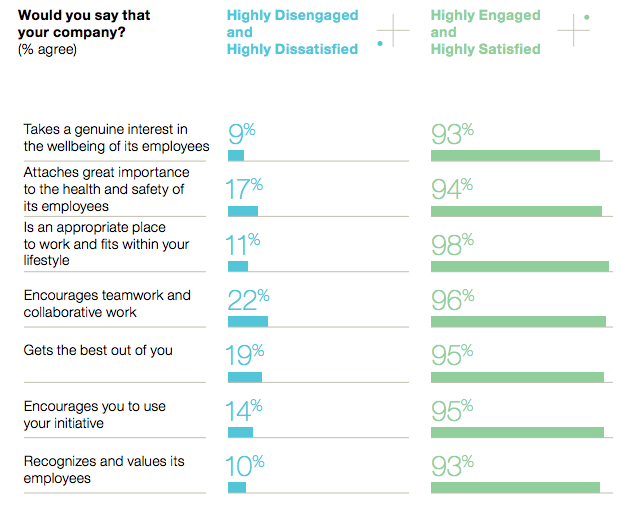 Workplace culture is an important part of any employee engagement program. If your company culture isn't inspiring your team to be engaged, try these ideas to get your team on board.
13. Be Passionate About Your Cause
Supporting a cause for PR or just for the sake of doing it doesn't have nearly the same impact as supporting causes you're genuinely passionate about. When you truly care about the causes you support, your employees will see it and likely gravitate toward it—especially if it's a cause they care about as well.
14. Don't be Afraid to Change Your Company Culture
There's no rule that says the culture of your company has to be the same for its entire existence. It's natural for your brand, ideas and values to change over time. As new employees join and present different ways of thinking, your culture can evolve for the better.
Career Advancement & Training
Do your employees feel like they have the opportunity to learn and advance their career with your company? If not, they might not stick around very long. Employee engagement is all about making sure your team trusts and feels connected to your company.
Committing to the professional development of your employees is one of the best ways to improve employee engagement. And it's also one of the top things millennials look for when applying for a job.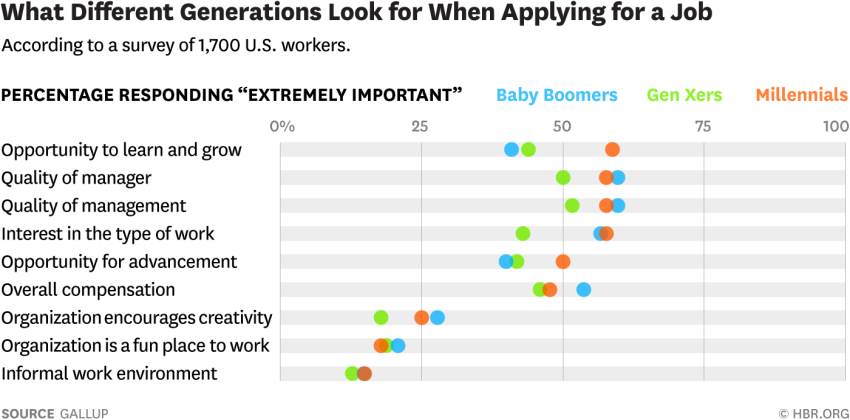 Try these employee development ideas out to improve engagement and show employees you care about their career growth:
15. Take a Personal Interest in Your Employees Professional Development
As the image above demonstrates, younger employees want to work for companies that give them an opportunity to learn and grow. If they feel stagnant or "stuck" in their current role, they're likely to venture off. Plus, the more they're able to learn and improve their skills, the better they'll be able to perform their job.
Don't be a hindrance on your team's professional growth, be a catalyst.
16. Promote Based on Performance, Not Just Tenure
The concept of promotion based solely on tenure is quickly fading away. As employees are starting to job hop more frequently, many new hires won't stick around long enough to be promoted based on tenure. According to data from the Bureau of Labor Statistics, the average tenure of employees ages 24 to 34 is just 2.3 years.
Offering to reward employees based on performance rather than just tenure can motivate them to be more engaged and committed to growing the company even if they're not going to be around long-term.
Personal Development
So far the tips we've given on how to improve employee engagement revolve around the workplace.
However, employee engagement isn't just about what goes on in the office. Your team might like their job, but have issues going on in their personal life that prevent them from being as engaged as they'd like to be. Whether it be financial worries, relationship problems or overall lack of happiness, it can all manifest in your employee's work performance.
According to Gallup's State of the American Workplace Report we cited earlier, employees who's personal wellbeing is struggling or suffering cost employers upward of $11,709 annually.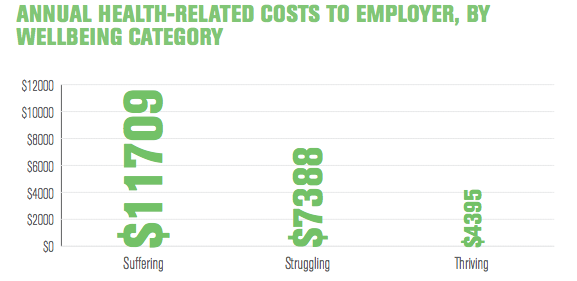 It's not encouraged to intrude or overstep your boundaries into employees' personal lives, but there are small things you can do to show that they're more than just "workers." Try these employee engagement ideas out to improve your team's overall wellbeing inside and outside of the workplace, without being intrusive:
17. Celebrate Personal Wins
Is one of your employees getting married? Having a baby? Or maybe they just competed in some type of fitness competition. Celebrate it!
Giving your support to employees inside and outside of the office is a great way to show that they're more than just a number.
18. Find Out What Your Employees Are Most Passionate About
Employees are more likely to be engaged if your company aligns with their values and passions. In fact, a study from Deloitte found that personal values/morals were the most influential factor for millennials when making decisions at work.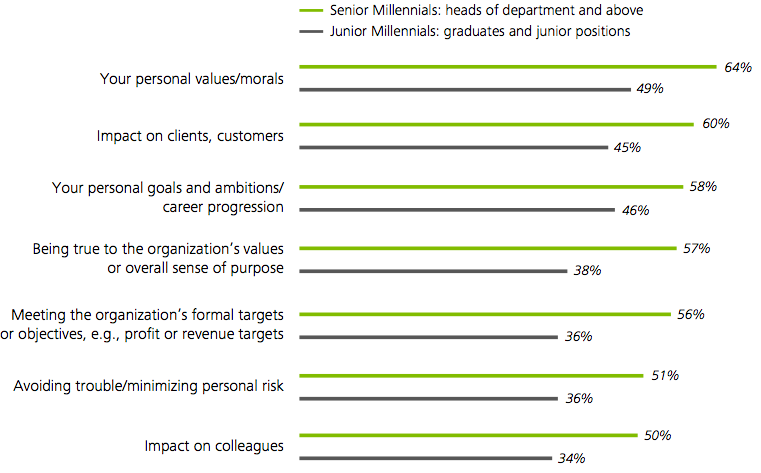 While your business values might not be 100% aligned with all of your employees, showing that there are similarities will make them feel more engaged and in line with your brand.
Fun Employee Engagement Strategies
Going to work every day shouldn't be a dreadful experience. Adding some fun and excitement to your workplace can go a long way toward keeping your team fully engaged and happy. But just how important is being happy and having fun at work to employees? According to this infographic, 36% of employees would give up $5,000 a year of their salary to be happier at work.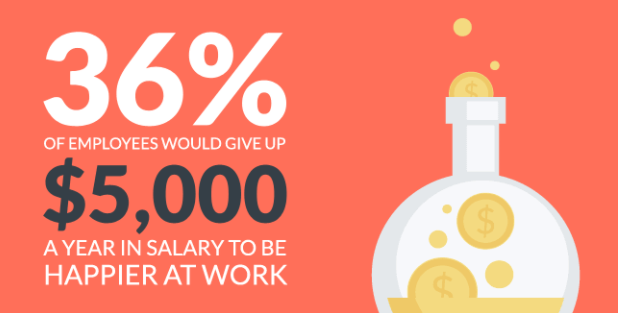 Try these fun employee engagement activities to make the workplace a little more upbeat and happy:
19. Use Gamification
With all the tools available today, companies are consistently coming up with creative ways to engage employees. Gamification is one the latest trends popping up at startups and larger corporations.
No, we're not talking about the type of games we play between meetings to waste time. We're talking about games that have a direct impact on customer education or employee participation. There are many examples of employee engagement games online and they vary widely by industry. The underlying premise of gamification is to promote and motivate desired behaviors through a reward system. These positive rewards act to reinforce the desired behaviors while making the entire process enjoyable for the employees.
For example, you can award badges, levels of rank or prizes to the employee who shares the most company content on social media, creates the most blog posts or has the highest number of responses to customer inquiries online. There are other platforms that allow you to create different "missions" or "quests" that teaches employees new skills and rewards them for it.
Gamification is an easy way to create healthy competition among teams, generate buzz and social proof, and promote employee engagement in a way that's enjoyable to employees and beneficial to your business. In case you're on the fence about the benefits of gamification, consider these examples:
Spotify replaced traditional annual reviews with a gamified solution and got over 90% of employees to participate voluntarily.
Ford gamified the learning portal sales and services teams use to get familiar with new car models, financing plans and new technology. The change resulted in a 417% increase in use and younger employees in particular were more engaged. The end result was better sales and customer satisfaction.
NextJump used gamification to encourage employees to live healthier lifestyles. They were able to get two-thirds of employees into the gym as a result.
20. Create Internal Clubs
Bring your team together by creating a variety of clubs around their interests. Some people might like to read, in which case you could start a monthly book club. Others may be gamers or foodies. If you have enough people with shared hobbies, letting them get together in clubs to talk and interact is a creative way to bring employees together and feel engaged.
Benefits & HR Engagement Strategies
A nice salary isn't enough to get employees engaged. In addition to money, employees are after benefits. In fact, 33% of people have turned down a job offer due to a lack of benefits.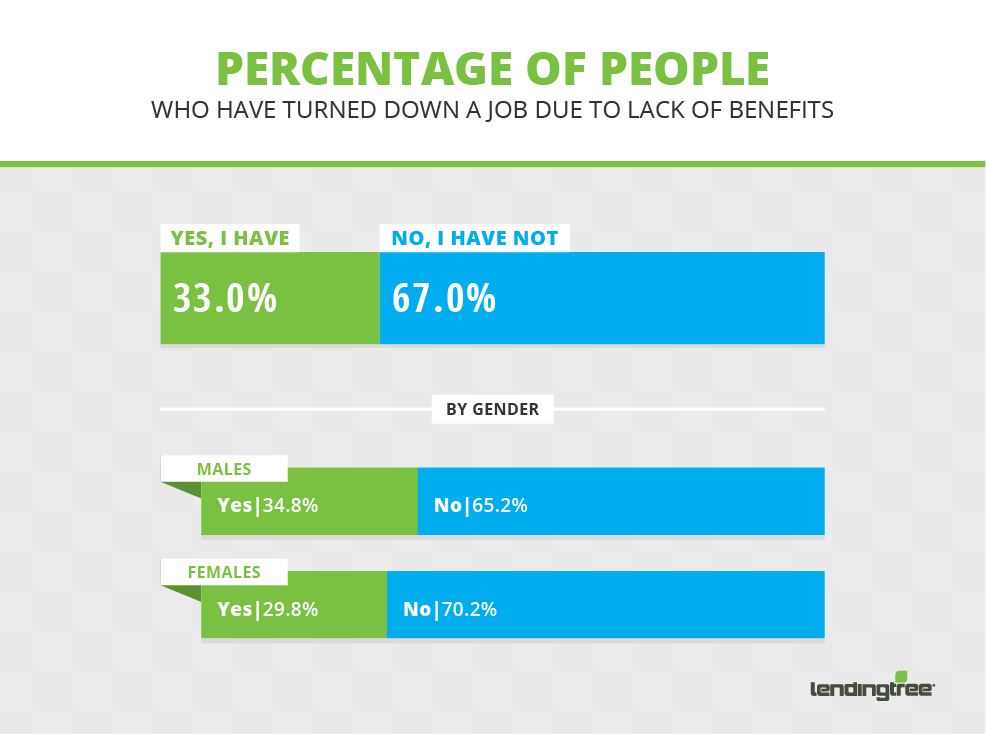 It doesn't stop there. One survey found 54% of employees choose benefits and paid time off as the biggest drivers for their engagement. If your benefits stop at two weeks vacation and a minimal health care package, give these employee engagement ideas a try.
21. Encourage Employees to Take Vacation
A good way to create more balance is to make sure employees are taking enough vacation time. A survey from Harvard T.H. Chan School of Public Health found that while 75% of employees say their workplace offered paid vacation days, only 35% used all of them, and even less (14%) used most of their paid days off. Plus, 17% said they hadn't used any of their vacation days within the past 12 months.
As for why employees aren't taking vacation, here are the top reasons:
60% said they wanted to save their vacation days for another time.
32% said there wouldn't be enough people to cover their workload.
28% said their workload made it too difficult to take vacation.
25% said working more would allow them to get ahead at work.
When your employees are constantly working and don't take time to unplug, they're likely to experience burnout and drops in productivity. Encourage your team to take vacation time when they need it and they'll be more engaged when they're at work.
22. Provide Options for Benefits
Your company may provide benefits to employees, but how much flexibility do they have? You may have noticed a recurring theme in our list of employee engagement ideas of customization. Employees like options and choices in their workplace. That extends to benefits.
In a survey from Metlife, 72% of employees said having the ability to customize their benefits would make them more loyal to their employer. Whether it's various options for health insurance or extra benefits employees can opt-in for, add a level of customization to your benefits.
Employee Recognition & Incentives
Highlighting when your employees do good work and recognizing their efforts makes them feel appreciated and valued. As a result, they're more likely to feel engaged. One survey found 90% of businesses that instituted value-based recognition saw a positive impact in employee engagement.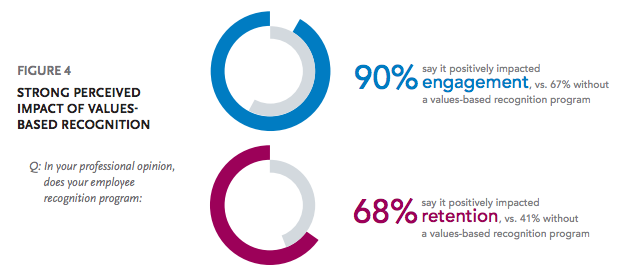 Here are some ideas to use recognition for improving employee engagement:
23 Recognize Employees Who Go Above & Beyond
Research from Bersin found 87% of companies rely on tenure for employee recognition. While employees that stick around long-term should be recognized, that shouldn't overshadow the contributions and efforts less senior employees put forth.
When employees go above and beyond their call of duty, make sure you show your appreciation and recognize their efforts. For instance, if a sales person exceeds their quota, share the accomplishment with your entire team. Not only will the recognized employee feel better about their work, but other employees will be encouraged to work their best to earn recognition as well.
24. Let Employees Know How Their Position Helps the Company
Sometimes it's difficult for employees to understand how their work impacts the growth of the company. Showing team members how their work directly relates to the wellbeing of your company can make them feel more connected and engaged.
You can do this by sharing compliments from customers that relate to their job duties. Or if applicable, you could even show how their roles or projects they work on affect your bottomline. Even seemingly small wins can be enough to inspire employees to put up more effort and want to engage.
Teamwork & Collaboration
In order to feel connected to your company, employees need to feel connected to each other. That starts with collaborating and working together. A report found 33% of employees say the ability to collaborate with colleagues makes them more loyal to their employers.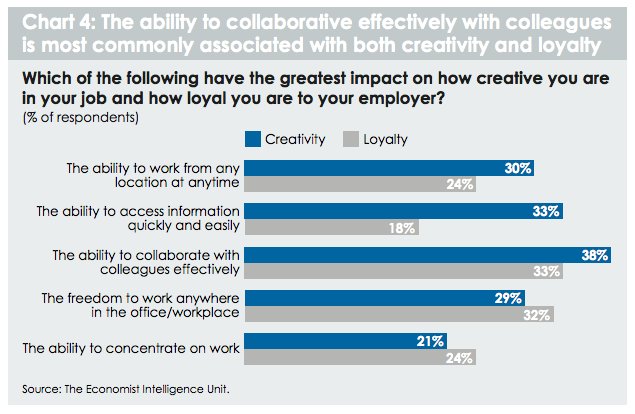 If your workplace doesn't promote teamwork and collaboration, try these tactics to improve team engagement:
25. Rotate Which Employees Lead Team Meetings
If you hold weekly or monthly meetings in your office, designate a different employee to lead each meeting. This "handing-off" of responsibilities shows your employees you trust them, increases engagement and also helps boost worker confidence.
26. Hold a Company Hackathon
The origins of a hackathon stem from computer programmers, but the premise behind them can be used for any business. Gather all of your employees and hold brainstorming sessions where your entire team tries to solve a problem. Let everyone know at the outset that there are no wrong answers.
This is a great employee engagement idea that helps to build cohesiveness and team unity. Have fun with it and you'll be surprised at all of the innovative ideas and creative solutions your employees will come up with. Believe it or not, some of Facebook's key features such as the Like button and video came from hackathons, so it's well worth the effort.
Communication
Do employees know about the opportunities to engage with your company? If you offer a variety of ways for employees to engage but nobody takes you up on it, the problem could be a lack of communication. Our Q2 2017 data report found that the top three preferred methods of internal communication for employees are in-person meetings, email or an online hub.
Bridge the communication gap between your company and staff with these employee engagement ideas:
27. Share Privileged Information With Your Employees
Your staff should be "in the know" about new and exciting information that is happening within the company. By giving them this kind of inside information, they'll feel like they're truly a part of the team and will appreciate being a part of the circle of trust. This is an easy way to strengthen their dedication and commitment to the company while boosting overall engagement.
Just be careful not to share anything too sensitive, or it could potentially backfire. Some information that might be worth sharing are upcoming product updates and releases.
28. Use Tools for Remote Communication
For larger companies or teams that work remotely, it's crucial to use tools that allow everyone to be connected. Our Q2 data report also found that 22% of millennials say their company's internal communication doesn't work because they work remotely, so information doesn't flow to them.
Luckily there are plenty to choose from. You can use Slack or Google Hangouts for chatting. Google's suite of office tools makes it easy to share and collaborate on documents together.
Of course, these tools aren't limited to remote teams. Use any of them to help your employees easily communicate, engage and collaborate.

Community-Based Employee Engagement Initiatives
Getting active in your community through philanthropy or community service brings your employees together for a shared cause. It's also something that helps younger employees feel more loyal and engaged with your company.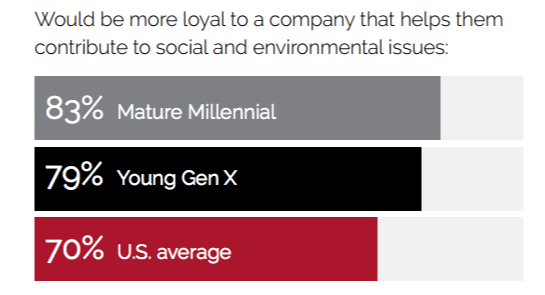 Show your support for your community with these employee engagement ideas centered around giving and volunteering:
29. Get Your Company Involved in Volunteer Work
Find out what charitable causes your employees are passionate about. Then set aside time each month to give back to different charities through volunteer work. Invite any employees that want to help out and do it during work hours to make it easier on their schedules.
This not only engages employees on an individual level, but also brings members of your team closer together while supporting a great cause.
30. Offer the Skills of Your Employees & Yourself
There are countless people, much like your staff, who want to further their career or their education. Ask staff in different departments if they'd be interested in speaking at a class or a seminar about their area of expertise. This showcases your employees as thought-leaders and can be of great value to those looking to further their education about your industry.
More Ideas for Employee Engagement
We've explored a long list of ideas and employee engagement best practices. But there are plenty of other ways to motivate your team and create a more engaging workplace.
If you want to improve productivity, have higher retention rates, boost workplace morale and even increase your bottom line, give any of these employee engagement ideas a try. And—if you're interested in uncovering the other 30 employee engagement ideas in this list, check out our full E-Book below!
Dominique Jackson is a pro blogger, inbound marketing specialist and Twitter addict. Find Dominique Jackson on Twitter
@djthewriter
.
60 Employee Engagement Ideas for Every Business Scenario
Written by Dominique Jackson on June 27, 2017