Employee Advocacy 101: A Start-to-Finish Guide for Launching Your Program
---
A Background on Employee Advocacy
Social networks are growing more closely aligned to the needs of their users every day. Consequently, they're widening the gap between advertisers and brands, forcing marketers around the globe to pursue a social strategy rooted in authenticity in order to reach their audiences.
​​
​​Employee advocacy is often at the helm of that strategy.
The truth is, people are learning to parse through the noise. Much of today's workforce has been inundated with information since day one, and they've conditioned themselves to tune most of it out. This becomes abundantly clear when you look at the inverse relationship between budget and value—an increase in the former doesn't yield an increase in the latter, meaning brands will have no choice but to change their tune.
Don't lose hope, though. While people may have tuned out advertisements and unsolicited targeting, they've tuned in to each other. People listen to people. They seek each other's advice, reviews, opinions and knowledge, and they've chosen social media as their vehicle for doing so—opening a new door of opportunity.
No one knows a brand as intimately as its employees, and audiences can sense their authentic credibility—creating the most powerful channel for brand awareness and growth that Marketers have ever had. In order tap into this channel, you need employee advocacy.
In this guide, we've divulged all the secrets to beginning, launching and growing an employee advocacy program—start to finish. After years of experience, we've identified what works, what doesn't, and the steps that will set your program down a path for long-term success.
In short, this is everything you need to know.
Establishing a Reliable & Resilient Framework
51% of the workforce isn't engaged, and that lack of engagement can cause losses of productivity worth up to $500 billion each year. An employee advocacy program can lead to more engagement in the workforce by giving people a reason to be more actively involved with the brand's growth.

The most successful programs are built on a proven framework that prioritizes structure and authenticity above all else—and it always begins with knowing your goals. Start high-level and identify what's driving your purpose, for example:
Growth in external brand awareness and brand identity
Increased number of inbound leads
Higher quality of leads leading to improved conversion rates
Spike in web traffic from social or number of pages visited
Once you've identified that high level goal, drill into the specifics and define success in a more measurable way.
Employee advocacy will be successful if _______:
40% of program participants log in at least once a week within the first 3 months
We achieve 200,000 impressions through employee reach
There's a 25% increase in number of shares or shares per employee
We replace current distribution of the company newsletter and increase open rate by 50% in the new model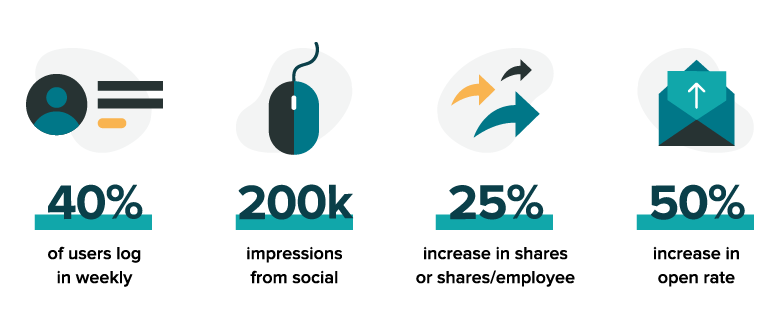 There will always be variables that can impact the direction of your advocacy program, but it's important not to lose sight of your purpose and remain focused on what's within your control.
Provide Guidelines in the Form of a Social Media Policy
The most common reason companies choose not to invest in employee advocacy is often related to risk—for some, the risk of exposing their brand to the potential repercussions associated with social isn't worth the reward. This is a valid concern, because if something is interpreted negatively, the impact of that negativity will be felt just as heavily on your brand as on the employee individually.
This is why it's critical to address—not dodge—risk proactively. If you wait until a problem arises, it'll already be too late. This is where a social media policy comes into play.
Your policy should function as an organic set of guidelines outlining how employees should conduct themselves online on behalf of the brand. This document not only protects reputation and mitigates risk, it also helps employees understand the brand's voice to ensure consistency and clarity.
Be straightforward about intended use of the policy and what it entails, including:
Tone of voice and general language guidelines
Encouraged or restricted topics
Required privacy settings
Compliance standards and industry regulations
Avoid making vague statements that could leave room for confusion. Be clear and direct about what employees are expected to do in any given situation, from sharing blog posts to interacting with prospects or customers—you'll dramatically lessen the need for damage control. Start crafting your company's policy with this customizable template!
Social Media Policy Template
Start crafting a policy for your team with this customizable template!
Choosing the Right Tech: What to Look for in the Buying Process
Whenever making your case for a new piece of technology, always lead with value first. Identify the business problem you're hoping to solve, and then build from there. If you don't have a clear understanding of the "why," it'll be impossible to justify your recommendation down the line.
Digital transformation isn't about having the flashiest tech stack on the block, but about pinpointing problem areas, identifying the snag and finding a solution.
Start by answering the following questions:
Who owns the internal comms function? Is success being measured? How?
Are employees encouraged to share company content on social media? What's the desired goal or outcome?
Do we have a social media policy for employees? Where does it live?
What's our current content strategy, and is it successful? What are our KPIs in tracking that success over time?
If your goal is to get more talent through the door via referrals from current employees, you'll need to first identify the different variables involved in achieving success. Does your company currently cultivate a desirable company culture? Are your current employees engaged and happy? Would they be incentivized to share job openings?
Given that the typical buying decision involves 6.8 stakeholders on average, you need to appeal to multiple audiences. While this can vary by organizational makeup, be prepared to get sign off from the Head of Marketing, Procurement/Legal, Talent Acquisition and Leadership. Advocacy is intrinsically rooted in culture and employee engagement, both of which touch many teams.
Secure Buy-In From the C-Suite
One of the most difficult components in getting any new program off the ground is securing buy-in from the C-Suite. Stakeholders need a value prop that they can communicate in a clear and concise way, and they need to do so quickly.
This means leading with numbers.
Decision makers want proof—proof that the concept has been successful before and what that translated to on a business level. When taking advocacy up the chain, your strategy should be no different.
Even showing the growth of employee advocacy initiatives, like social selling, can help kick off the conversation:
Your pitch should also speak to the potential impact on each department. For securing buy-in from Talent Acquisition, lean on the fact that candidates trust employees 3x more than employers when receiving information on work culture. For Marketing leaders, root your value in amplification and how messages shared by employees vs. brands have a reach 561% greater.
A handful of statistics and an insight into the potential benefits of employee advocacy can be a good way to get the attention of your C-suite. However, if you want people to visualize and understand the success that an employee advocacy campaign can bring, you may need evidence to back up your claims.
Case studies and examples of companies in your niche that have accomplished similar goals with employee advocacy are extremely effective in this regard. They can also provide useful insights into targeting ideal prospects and driving employee adoption.
Achieving true investment means linking the possibilities of advocacy to your business goals and campaigns. Most C-level leaders will want to know not just what social selling can do, but what it can do for the company at a high level.
While you may not need to iron out every detail during your first pitch, provide a thoughtful outline of what you plan to do and the steps you'll take to get there.
Who Will be Responsible for What?
Any project or campaign automatically works better when everyone involved understands their roles. Take social selling for example. You probably wouldn't roll out an entire campaign to the entire org all at once—instead, you would segment initiatives into something more digestible. For instance:
A frontline sales manager to dictate where your advocates should be focusing their attention, what products and services they should be sharing information about, and what they need to do to earn sales.
A team of customer-facing sales professionals who already know how to build affinity with your customers. These might include sales professionals who are already familiar with using social media in their day-to-day life. You should have a pretty wide pool to choose from since 98% of employees are already using at least one social site for personal reasons. In fact 81% of the US is currently active online.
A Marketing team member monitoring the social channels you're focusing on and tying results back into general tracking and analytics tools (Google Analytics, CRM, Marketing Automation, etc). Insight into your buyer personas should help you to determine where your customers are spending their time, and subsequently, where your advocates will have the biggest impact.
Organized content curation around the campaign's topic. Employee advocacy solutions like Bambu can help your team stay focused on the goal at hand by centralizing all the information your teams will need to guide the campaign.
If you want to convince your C-level suite that an advocacy campaign is worth their effort, then you'll need to promise them a consistent insight into the results that your programs can generate. Measurement is one of the most important parts of the digital selling process, and a critical component of getting executive buy-in.
Check Out Bambu's Employee Advocacy Platform
Check out a personalized demo of Bambu, focused on gaining exposure to new, qualified audiences by connecting your brand with the social networks of your employees.
Focus on Adoption
While 76% of employees indicate that technology has an impact on their work, less than half felt their leaders implemented solutions that improved their quality of work—indicating a gap between the systems employees need and what's made available. Operating a business under a disconnect of this caliber—let alone building forward momentum—will be a constant struggle.

As is the case with any process change, there's an inevitable learning curve with a potentially wide spectrum of adoption. That said, it's important to estimate an ideal adoption timeline, and then identify ways—whether it's paying for additional training, one-on-one sessions or the choice to opt-out—that can speed up or ease that rate of integration. Rather than forcing a new initiative through, introduce it as something intended to make life easier.
More on the blog: How to Position UX/UI as a Driver for Adoption
Prioritize Ease of Use
The singular most important factor in long-term adoption is ease of use. Employees need to form a new habit and make a shift in their behavior, and changing human behavior doesn't happen on its own. Most importantly, any software added to your tech stack needs to be intuitive in design and its purpose should be clear.
Once you've determined a particular piece of software can provide the value you need in your organization, you need to make sure it's a good fit for your team. This is especially important when picking a SaaS (Software-as-a-Service) vendor.
The International Organization for Standardization (ISO) publishes research and recommendations covering human interaction with computers and software. ISO standard 9241 provides a usability definition as "The extent to which a product can be used by specified users to achieve specified goals with effectiveness, efficiency, and satisfaction in a specified context of use."
More simply, it boils down to how easy is it for your team to get the job done.
When it comes to defining easy-to-use, it's not a simple thing. Every person that will use software will come at it from a different knowledge base and comfort level. A lot of whether your employees will deem something is easy to use will depend on their skill level prior to using it.
Easy-to-use software, it turns out, is in the minds of the user as well.
Whitney Quesenbery is an expert on usability design. She breaks down the components that make up ease-of-use by evaluating the five E's: Effective, Efficient, Engaging, Error Tolerant, and Easy to Learn.
Efficient: How much time, clicks, or page views does it take to complete routine tasks?

Effective: How accurately tasks can be complete and how often errors are produced?

Engaging: Will users be satisfied or frustrated using the application?

Error Tolerant: What happens when users encounter problems or need help?

Easy to Learn: How will rookies and experts be able to efficiently navigate the software and perform the necessary tasks?
Not only will the right solution have the potential to increase your bottom line, but it can cut down on headaches and expenses by creating a truly engaged workforce. While empowering your employees to become brand ambassadors—and increasing your reach across various social media platforms—you are also creating more engaged employees.
One component that often gets lost in ease-of-use is that it's not just limited to the software itself, but how easy it is to work with the people and team you're buying from. Even simple software can be frustrating when you have an issue and there's a lack of training and/or support.
A Udemy survey revealed that 54% of people in the workplace don't feel they have been adequately trained. Nearly a third said they specifically had not received the training they needed with software and technology to do their jobs.
Ease-of-use extends far beyond just platform simplicity.
Take a Stance on Gamification
The relationship between gamification and employee advocacy has always been a little complicated, and you should be on the lookout for how different companies choose to address it.
While gamification has the potential to generate a buzz around your program and lift sharing trends, most programs mistakenly anchor to share volume—subsequently discouraging the behaviors that actually carry more weight when it comes to value to the business.
How to Structure Your Gamification Component
Use this template to properly design an incentivization program for advocacy!
Making this mistake is the fastest way to stifle your program's growth. Instead of employees sharing out of engagement or connection with your brand, they share to win a prize—diluting the power of the message in a quest for points.
There's a better way to position gamification, and it's entirely contingent on whether or not you consider the long-term impact of any incentivized behaviors. In other words, what are employees equating success with? In the example of share volume, employees equate success with quantity—the more shares, the better. But how does that impact sustainability over time, and ultimately, the authenticity perceived from an external lens?
Are number of shares and program success truly correlative to one another, or should you drive gamification with metrics like engagement and conversion? These are all questions that need to be answered ahead of time. Identify your long-term vision, and work backwards from there.
Developing a Rock Solid Content Strategy
Your content strategy will serve as your program's backbone—without it, advocacy won't become habitual and will subsequently struggle to sustain itself. Each program requires a variety of content (aim to add 10-15 articles each week) to read and share in order to provide ongoing value.
Content should be optimized to amplify messaging and elevate expertise, including timing and voice. Optimize timing by thinking about the expected outcome of a social share.
You made it easy to share, now make it easy to personalize. Voice is paramount for encouraging continuous participation to multiple networks; which is ultimately behavior that grooms evangelists.
Tip: Put new participants in an "Onboarding" team that has a selection of popular relevant content that is no longer visible in the Current story feed. They will see results right away, and give older content a fresh lift on social.
Employees each have their own unique set of interests, requiring a variety of compelling content with which to interact. Below is an example of the content breakout of one our successful partners: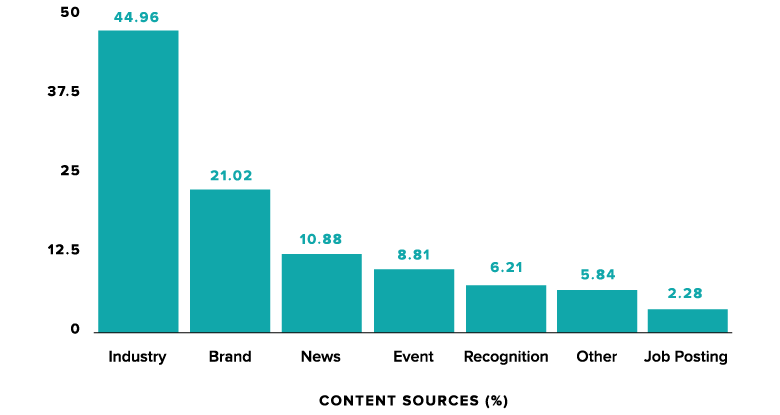 While each program is distinct and subject matter may vary, the assessment below provides good direction on segmenting your content.
Tip: Use RSS tools such as Feedly.com and social listening software such as Sprout Social to keep tabs on your content sources, then curate them into Bambu using our Chrome extension. Talk to our Services team about automating content sources, too.
Create a Healthy Mix Between Brand & Industry Content
A diverse stream of content will go a long way, especially for employees who are cognizant of flooding newsfeeds or being overly promotional.
Consider recruiting subject matter experts to help contribute as well. Ask your Talent team for tales of how they found their latest recruits, or ask Executives to share stories from their early days. Curate User-Generated Content (UGC) so employees can show off their hard work. Here are some examples:
Research coverage
Executive interviews
Round-up article inclusions
Conference/Trade Show posts
Community initiative coverage
Webinars/Events
Tip: Use content reports to inform future content mix by measuring different combinations of Type and Channel (e.g. Brand Engagements vs Industry Engagements). Then, compare them to the intent or goal of that post to see which performs best.
Internal Stories
Replace desk drops, flyers or large group email aliases with online communication. Make a habit of using internal stories to centralize news and drive employees into your advocacy tool, including:
New hire announcements
Company outing info
Job openings
Product releases
Company newsletter
Press mentions
Industry news
Competitive intel
More ideas on the blog: Stop Sending These Internal Emails
To create habit-forming behavior requires complete integration. Schedule time with your team at least once a month to review performance and collect feedback.
Check Out Bambu's Employee Advocacy Platform
Check out a personalized demo of Bambu, focused on gaining exposure to new, qualified audiences by connecting your brand with the social networks of your employees.
The Roll-Out: Requirements for Executing a Successful Launch
Gather your data around challenges, internal and external benefits, training needs, etc. and incorporate those headlines into your roll-out plan. Providing a holistic background will speed up adoption and reduce feelings of confusion or friction that's often associated with change. The more detailed your roll-out plan is, the easier it will be to keep everyone on the same page.
Employee Advocacy Program Rollout Worksheet
Follow this step-by-step worksheet to make sure you cover all your bases when rolling out your advocacy program!
Milestone Dates: When will each element of your new technology be ready to implement? Do you need everyone to start using it straight away, or can they adopt at their own pace?
Tiers of Deployment: Do you need to roll your technology tool out to specific users first? Would you prefer to start with executives, and work your way through the silos in your company?
Expectations: How will you celebrate meeting your targets with the technology adoption lifecycle? Will rewards be given to early adopters, and provide additional training to those who lag behind?
Executive Sponsorship
Whether it's online or off, the basis for employee engagement has to start from the top down. Executives have significant influence over everyone underneath them and should use that influence in order to set the tone for employee advocacy.
Here's an example of what an email to an Exec Sponsor might say: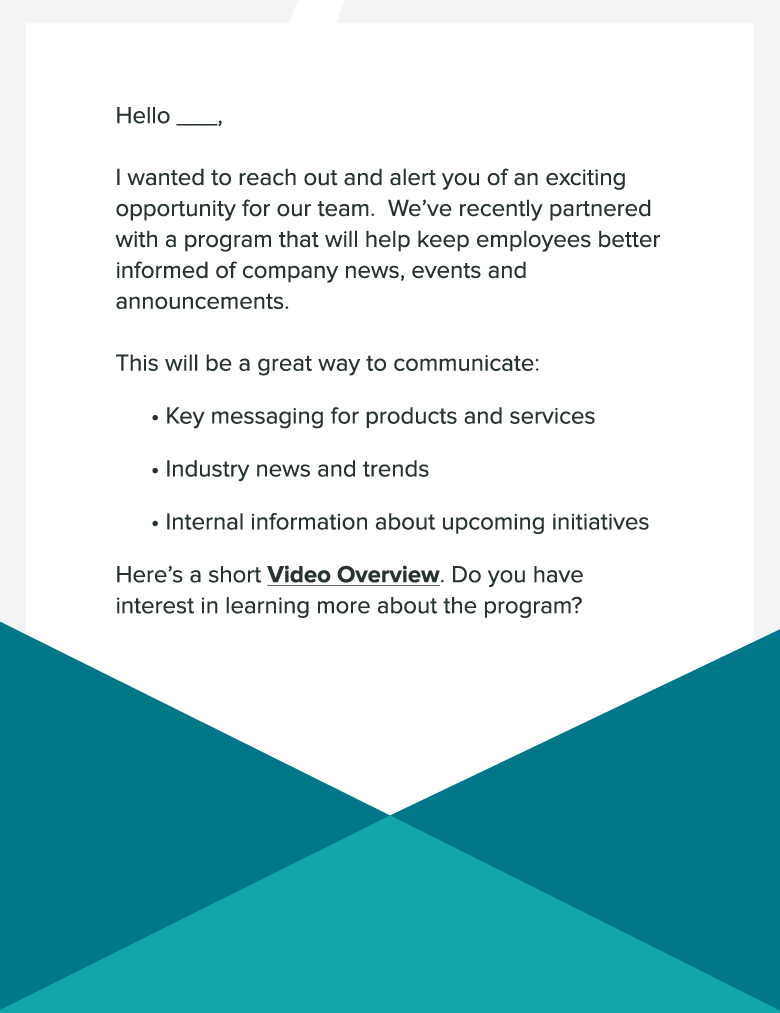 Choosing & Segmenting Participants
Now it's time to select your Admins and first-round participants.
The first round of participants will set the tone for future success—think of them as the advocates of your advocacy program. They should be eager to learn, passionate about their job and comfortable with social media.
Tip: After the invite, ask admins to each curate 2-3 articles, then review for completeness:
– Authentic message or post ideas with proper use of hashtags and @mentions
– Proper analytics tagging in the URL
– Correct tagging or story segmentation
The initial email should reinforce benefits and build excitement around advocacy, ending with expectations for what's next. Authority figures can help build excitement and establish guidelines (which are critical in your program's infancy) to ensure tone of voice consistency across all social channels.
This email below would be best suited coming from your Exec Sponsor: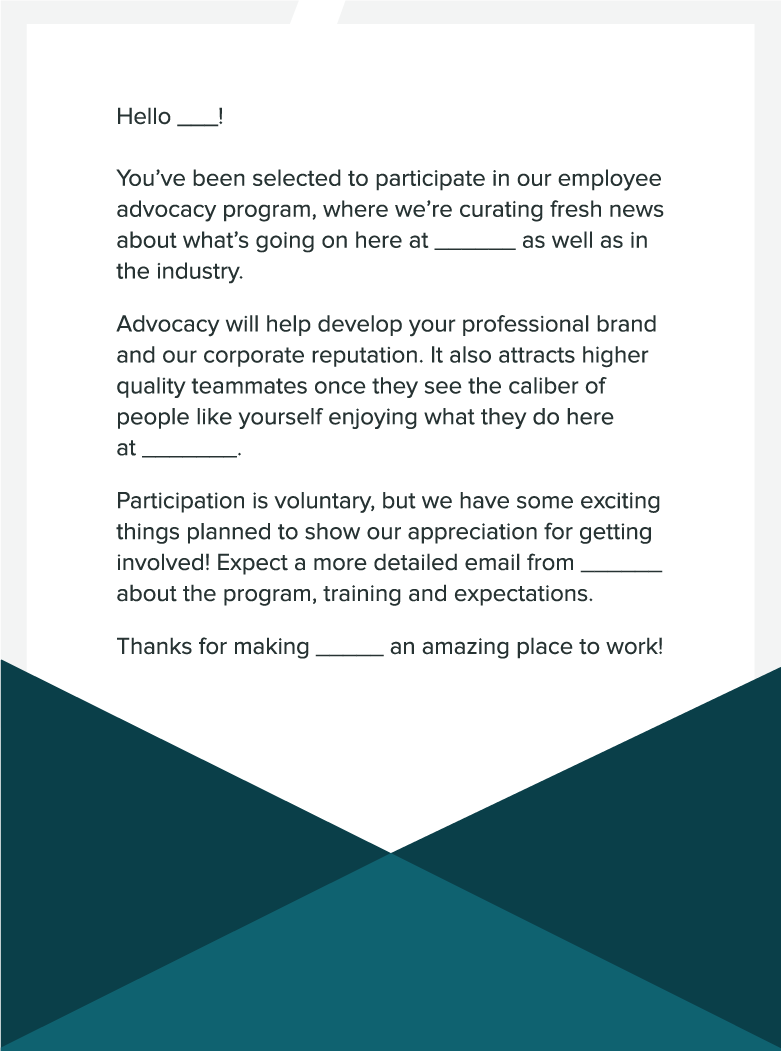 To get your team excited about the concept of advocacy, you'll need to build the program around benefits—such as:
Establishing a personal brand and building share of social voice
Generating additional leads to help the business grow
Attracting the best candidates for new roles
Jump-starting your employee advocacy program with a cross-section of employee personalities and job functions will provide a good illustration of "how this works" when you introduce it to employees who need to establish a comfort level with how they share brand content to their personal networks.
Email Invitation Templates
Download these example email invitations to send to your advocates!
Establishing Benchmarks for Measuring ROI
From the moment you start posting content online, you should have a strategy in place that allows you to measure the impact of your advocacy program. To help you measure the success of your campaign, below are a few tips to get started and supporting statistics.
Generate More Traffic & Leads
Knowing that 82% of your prospects can be reached through online networks, it makes sense that an advocacy program would be a great way to ramp up your selling efforts. Engaging with customers on social media not only leads to more initial sales, but also to greater numbers of repeat customers too, thanks to enhanced company relationships.
Sales reps using social media outsell 78% of their peers
11% of social sellers attribute 5+ closed deals to social media
73% of sales reps exceed quota when using social media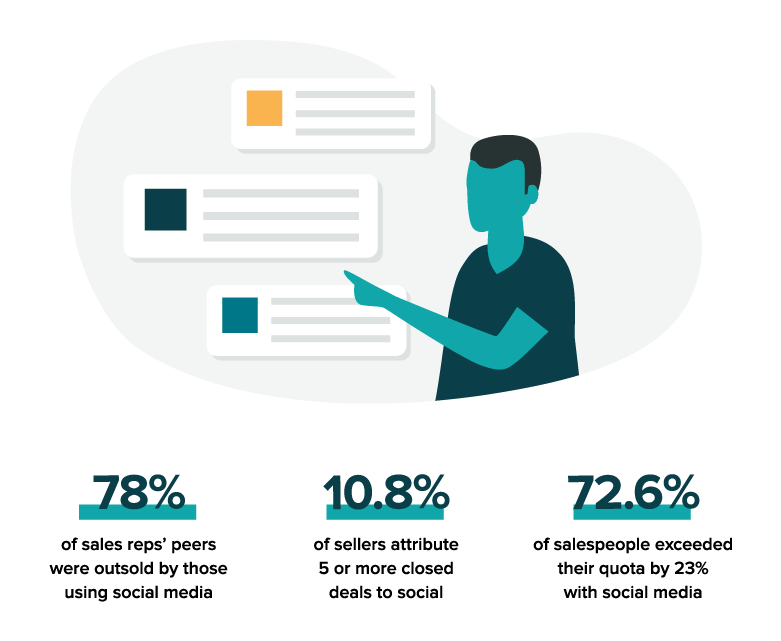 You'll want to ensure proper attribution, specifically within your UTM parameters in order to monitor traffic and the Return of your efforts. UTMs are comprised of the following 3 fields:
Source: The specific source that you are sharing the link to (or through) such as Twitter, NYTimes.com, email newsletter, etc—source lets you know where the traffic originated.
Medium: The advertising or marketing medium where the link is being placed such as social, website, email, cpc, print, or radio.
To align with Google Analytics, begin with organic search, social, email, affiliates, referral, paid search, advertising and display. If your medium does not fit within any of those options, feel free to venture out, but keep it consistent.
Campaign: Give your campaign a name so you can differentiate it from other campaigns.
To gauge whether your advocacy program is driving profits, look at:
Percent increase in site visitors from social media
Number of inbound leads from social media
Conversion rate from social leads and value of those opportunities
Net-new MRR with social media attribution
Increase Brand Awareness
Obscurity is the biggest threat any company can face. If your customers don't know you exist, how can they decide that your product or service is the best solution to their problem? Brand awareness is one of the most important KPIs to measure in your employee advocacy program because your employees should naturally help to boost your brand reach.
77% of market leaders say branding is essential to growth
50% of people will follow at least one brand on social media
62% of Millennials believe that online content drives brand loyalty
Brand messages reach 561% further when shared by employees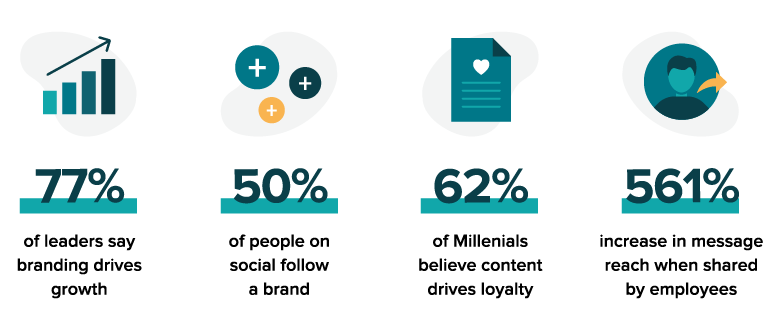 Here are some KPIs to measure advocacy's impact on awareness:
Website traffic with analytics to see the sources of your new leads
Search volume for your company
Impressions generated per network, employee and campaign
Audience growth numbers for both employees and brand channels
Check Out Bambu's Employee Advocacy Platform
Check out a personalized demo of Bambu, focused on gaining exposure to new, qualified audiences by connecting your brand with the social networks of your employees.
Recruit Top-Tier Talent
The current skills shortage means that it's incredibly difficult for today's companies to find the talent they need for industry success. Fortunately, your employee advocacy program can help you to reach new recruits, as well as new customers.
79% of applicants use social media for their job search
67% of employers say social shortens the recruiting process
Employee referrals have the highest applicant to hire conversion rate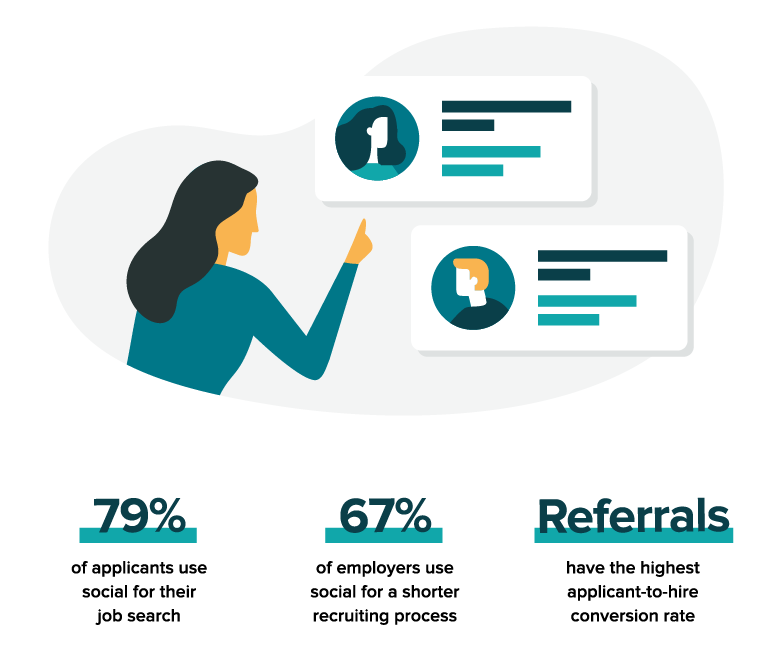 If your goal is to increase social recruiting efforts, you can look at the following metrics to track success:
Social shares of job listings
Traffic to your careers page from social media
Number of applicants who found your brand through social media
Applicant to hire conversion rate from social media referrals
Length and cost of recruiting process for social referrals
Sustaining Your Program Through Both Stability and Growth
Your program should be something that grows organically alongside the internal growth of your organization.
As you learn the types of content that your employees find most interesting to consume and share, you can adjust your employee content marketing strategy to share posts with a greater chance of successful performance. In order to learn which content resonates with your employees—and their audiences—measure your content team's output and content performance. Look at metrics like:
Stories added to your employee advocacy platform
Number of stories targeted to specific teams
How many shares an average story receives
Which networks your employees are most likely to share on
Which topics or types of content are most successful
Above all, listen to your employees. If you find that certain teams are more or less active when it comes to employee advocacy, reach out to managers and employees to get feedback on how you can better tailor what you're sharing to their professional interests and needs.
Email Hooks & Scheduling
Every employee has projects and deadlines to attend to, meaning advocacy can quickly fall down their list of priorities without proper measures in place to bring them back into the platform.
Communication Calendar & Cadence Template
Use this calendar to determine when you should be communicating with employees and why!
In other words, you need hooks. Here are a few examples you'll probably come across.
Automated Email Digest
An automated email digest can be sent on a daily or weekly frequency, and should account for team segmentation and a participant's sharing history, ensuring that the content is relevant and fresh.
Tip: Remember that the hour and day of the week with the highest rate of sharing will probably correspond with the date and time you set for your email digests. Look for other peaks and test what happens when you use them to send the digest email.
Email Newsletter
An newsletter can be produced alert participants of new stories to read and share. The email newsletter typically differs from the digest in that the distributed stories can be specified and distributed on an ad-hoc basis.
Broadcast Message
A broadcast message should be used to draw attention to a specific story—whether through email or slack— and should complement to a weekly Digest or Newsletter.
Motivation & Recognition
A structured recognition plan can strengthen the program's value, leveraging self-actualization as a driver for engagement. Incentivizing participation can offer recurring inspiration. With regards to the recognition data points, each of these measures are within an advocates control and will encourage behavior that will benefit the program. These measures can be delivered collectively (compared to all participants) or filtered by team.
Tip: Recognize the achievements of users and teams who hit milestones with gestures of appreciation—team lunch, an outing or even a monetary reward. It reinforces the company's commitment to the program and could incentivize engagement from inactive employees.
Value is defined differently for each individual. Some employees will appreciate the opportunity to share content about their company, while others may seek out chances to grow their role in the program. Build in and communicate those opportunities to employees to increase their personal investment in long-term success.
Expansion & Program Growth
Adoption and engagement are directly correlative to program growth. Metrics that will help indicate how you're tracking in that regard include:
Percentage of people who make an account on your employee advocacy platform
Percentage of staff regularly logging in and posting
Average shares per employee
Program expansion can take a number of forms (remember, some areas will move faster than others):
Using the existing set of participants as ambassadors to help you roll out company-wide expansion
Inviting more participants using the same set of selection criteria
Inviting a selected set of participants from new areas of the company
Note: According to Stephan Hovnanian, Employee Advocacy Strategy Consultant, expansion can be deep (more of the same participants) or wide (new use cases or business units). In each case, you'll need strategies to help your new participants get engaged and up to speed quickly. Look to existing ambassadors to tell their story and establish value.
When in doubt, scale steadily. The ability to sustain growth is equally important as the growth itself.
Lastly…
Remember that there's no one-size-fits-all method for the perfect employee advocacy program—but that doesn't mean that you can't use best practices to improve your chances for success.
These steps will help you design a strategy that engages employees, expands company awareness and resonates with your customers—all of which contribute to the ultimate employer brand.
Check Out Bambu's Employee Advocacy Platform
Check out a personalized demo of Bambu, focused on gaining exposure to new, qualified audiences by connecting your brand with the social networks of your employees.