If your brand wants to raise awareness, grow social reach, capture more leads and increase revenue, then the plan for success needs to originate with your employees. Companies frequently underestimate the power of their workforce, but the people within the four walls of your business have 10x the connectivity of your brand alone, and curating content to capitalize on this reach is imperative.
Encouraging employees to act as an extension of your brand has the power to launch the reach of your message. The key here, is providing a diverse selection of content in a way that makes it as easy as possible to find and share—leading to the importance of understanding what it is that your employees actually want to share.
Why Is Curating Content Important?
A brand awareness strategy simply can't be effective today unless you have the right content to fuel it. Unfortunately, many companies struggle to create the right content not only for their marketing efforts, but for their employee advocacy programs as well. One study found that two of the biggest marketing challenges for B2B organizations include:
Consistently producing content
Consistently producing engaging content
It's important to first differentiate content aggregation and content curation, as they are not one in the same. Content aggregation is essentially collecting information based on select keywords and storing it in a single place, whereas content curation is about leveraging resources to find the most relevant content and presenting it to your audience in a meaningful way.
In a world where interest in employee advocacy has grown by 191% since 2013, content curation might just be your ticket to a richer social media strategy—here are 8 steps to get started.
1. View Employees as Part of Your Target Audience
The first step in effective content curation is remembering that in order for employee advocacy to be successful, the content you curate needs to appeal not just to customers, but to your employees as well. We're living in a world plagued by "information obesity" and are constantly over-fed by the same content over a variety of platforms. It's critical to provide your employees with thought-provoking, relevant articles in order to inspire passion that will eventually lead to action.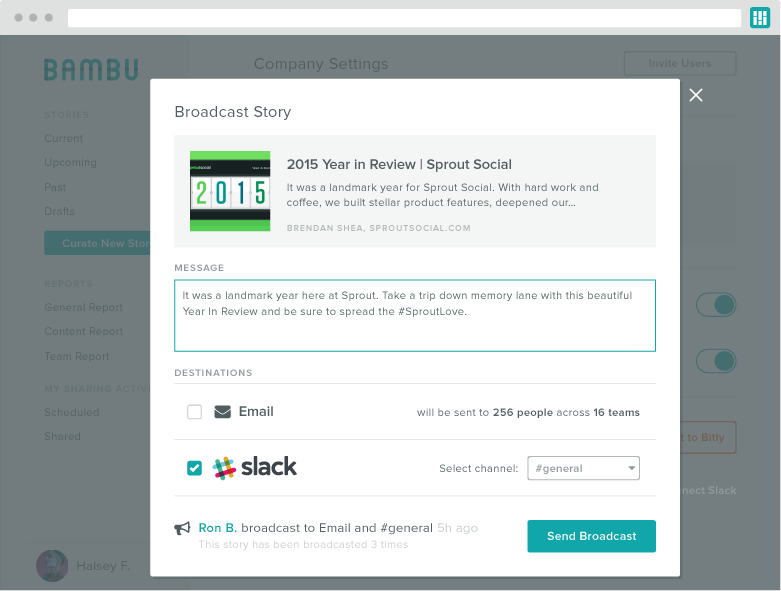 Before you add an article, video or infographic to your content pool, ask yourself if you're curating content that's truly meaningful to your audience, or if you're just filling a gap. While 30% of marketers say that it's harder to find quality information today than ever before, if you can find the pieces that strike and resonate with your employees, you're more likely to create an authentic and engaging advocacy program.
2. Segment Content for Each Team
One of the best ways to provide the right content is to segment employees and then target those different groups with content appealing to them. Think carefully about the expertise, background and skills of each employee, and strategically categorize them into groups specific to your organization's setup.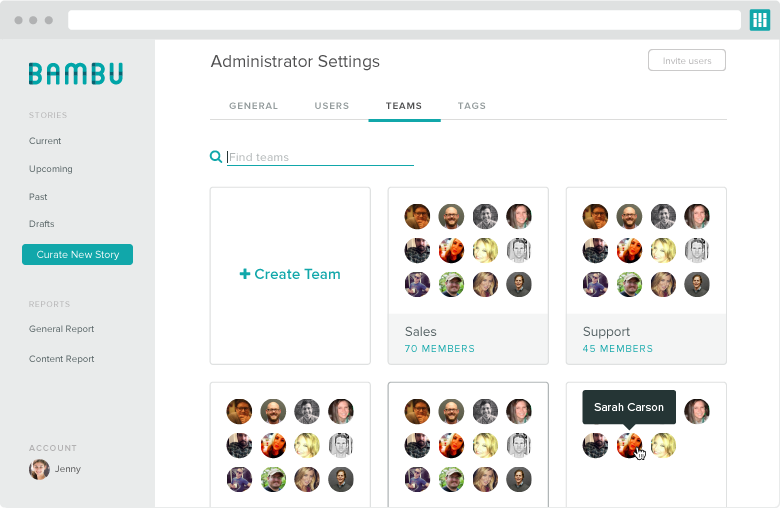 Whether you create groups based on level of sharing activity, specific interest or team department, the more you can customize marketing collateral, the greater your potential will be for success. Not only will employees be more inclined to share content relevant to them, you also ensure that you're sending the right messages to the natural spheres of influence your employees cultivate.
3. Leverage Technology
Content curation isn't always a simple process. Going through the millions upon millions of blogs, articles and videos published each day to find content for your team could be a full-time job in and of itself—which is why so many companies turn towards resources to keep themselves organized. Curata even discovered that 78% of marketers use at least one brand-wide resource to annotate, compile and distribute links for content curation.
Find tools that help mitigate the amount of time it takes to search for content, and implement them wherever possible. For example, a social media management platform allows you to monitor news, respond to customers or prospects and participate in industry conversations, all while keeping a pulse on the content being shared by others in your space.
The more cross-functionality you can create by leveraging technology, the easier it will be to tailor your content curation strategy to the needs of your employees, customers and advocates.
4. Establish Employees as Thought Leaders
By encouraging employees to participate in your employee advocacy practices, they'll naturally start to develop their personal brand. This is critical, especially in today's selling landscape, because people naturally trust those with established influence in their industry.
The more you draw focus to your employees, shining a spotlight on them as thought leaders in your space, the more credibility they'll gain towards their social authority.
Not only does this show that you respect your employees, it also leads to a more positive corporate culture overall. Highlighting individuals within your workforce will encourage them to develop and share unique content, creating a positive feedback loop: Employees develop expertise which leads to recognition, and your company is perceived as a key player in the space as well as an employer that empowers its employees, ultimately fueling the process and propelling it forward.
5. Be Relatable
In today's evolving digital world, trust is more important than ever. People are more likely to trust individual people than big brands and corporate entities, which is a primary driver for the surge we've seen in employee advocacy.
Curating content that taps into this human element ensures that the people your content reaches receive the message with authenticity and credibility. Rather than asking your team to link back exclusively to promotional content or share ideas that highlight the value of your business, let them create dialogue around things they feel passionately about. Sharing photos of time spent at a community fundraiser, discussing current trends within your industry (or even the economy at-large), or posting videos that give peek behind-the-scenes into daily happenings around the office will boost the value of your content curation strategy.
6. Prioritize Positive Content
Your team should always prioritize gathering content that promotes positivity among your audience—this means understanding what fosters pride among your employees and then curating content that taps into those feelings.
60 million American employees already share positive comments about their workplaces online, and building on a happy corporate culture is a great way to enhance your curation strategy. Similarly, you could think about sharing content from prospects and partners, too. Since brand messages are shared 24x more frequently when posted by employees, it makes sense to make a good impression on the companies you want to work with in the future.
7. Ask Your Employees to Contribute to Curation
Rather than just giving employees a running list of content to choose from when they want to engage on social media, why not let them choose the articles they want to share themselves? Encourage employees to suggest stories within your employee advocacy platform and include them in your strategy—it will empower those who want to contribute to the curation process and promote a collaborative program.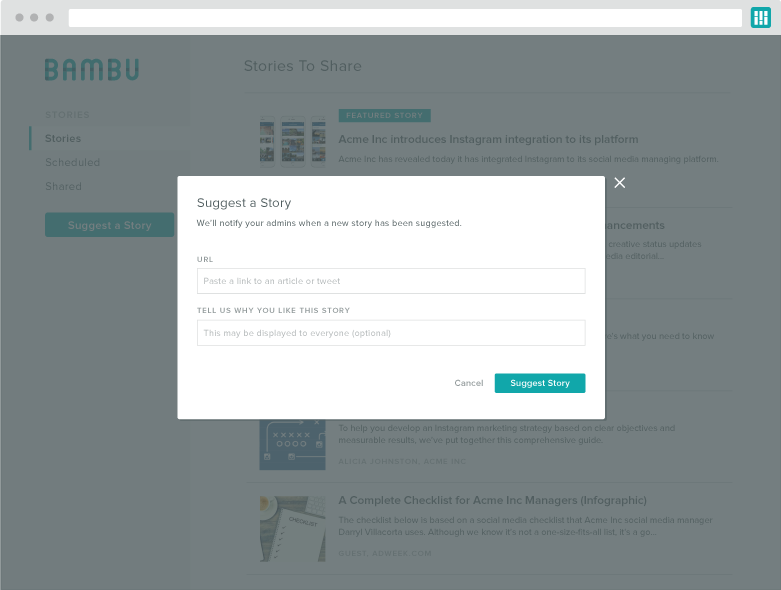 Leveraging your team as contributors to your content curation strategy will naturally create a more diverse flow of shareable items as well as cultivate positivity among employees about your company, in turn leading to a more engaged workforce that's less likely to turnover.
8. Adapt & Evolve
Finally, as is true for all things in business, content curation should be an element that evolves alongside your brand. If the resources you used to gather content for previous campaigns becomes stale or starts to fall flat, be prepared to make a change. Look at program metrics and KPIs to identify what is or isn't working, and shift your strategy accordingly.
While evolution is important, don't lose sight of your goals. Everything you curate and share, either through your employees or through brand channels, should serve a purpose.
Why You Should Know How to Curate Content
Employees are some of the most underrated and untapped assets for a business. When you curate content with your employees in mind, you'll foster engagement and entice participation in your advocacy program.
Throughout the world, studies have shown that employee engagement improves performance, enhances culture and has a measurable impact on your bottom line. By making sure that you arm employees with thoughtful and meaningful content to share, you'll begin to serve as a resources for anyone in your space and expand brand exposure by leveraging the sheer reach of your employee social circles.