The Importance of Employee Engagement
by Andrew Wasyluk on October 05, 2015

Employee engagement has been gaining more popularity among brands and businesses alike, and for good reason. But why is it important to have engaged employees? It's actually quite simple: Businesses with more engaged employees perform better. Taking the time to actively engage employees can lead to improved business outcomes and build strong customer loyalty.
At some point during the "buyer's journey," potential customers will have some form of interaction with an employee. Based on this interaction, the potential customer will form their first impressions about the business. If customers encounter employees who are confusing or negative, it can push away potential business. When, on the other hand, the customer has a positive interaction with an employee who is truly passionate about their product, the overall customer experience improves. That leads to repeat sales, word-of-mouth recommendations, and higher engagement levels through digital media and social networking sites.
From higher productivity levels to increased morale, the benefits of employee engagement are too great to ignore. Consistently empowering employees to engage both internally and externally is essential to gaining new customers and clients, and it's something that every business must do to succeed.
What is Employee Engagement?

If you were to ask your boss or coworker what the definition of employee engagement was, what do you think they'd say? It seems there isn't a single concrete definition of employee engagement. But recently we came across a video called "The X Model of Employee Engagement" that does a great job at articulating exactly what it is, and why it's so important:
According to a new study by Deloitte, lack of employee engagement is the top issue currently facing 87% of HR and business leaders. Every year more top-level executives are finding that having engaged employees not only provides a better internal working environment for businesses but also creates a more loyal and satisfied customer.
Why Is It Important to Have an Engaged Customer?
A truly engaged customer develops a lasting connection to a business or brand.
Fully engaged customers are emotionally attached and rationally loyal.

Gallup, 7/22/14
@gallup
It has been shown that companies with higher levels of customer engagement outperform the average for their industry. A study by PeopleMetrics, for instance, found that companies with the highest customer engagement levels yielded an annual increase on ROI of 8% above industry average, and an average annual growth rate of 13% above the industry average.
All employees have a direct effect on customer satisfaction. To go even further, businesses that actively try to increase their employee engagement rate are also more likely to take proactive steps to boost customer satisfaction.
That means customer satisfaction is directly linked to employee engagement.
Why Is Employee Engagement Important Internally?
The importance of employee engagement cannot be understated as it affects key business outcomes.
According to a 2012 study by Gallup that analyzed 192 organizations in 49 industries and 34 countries, employee engagement affects 9 key business outcomes. Compared with bottom-quartile units, top-quartile units have:
37% lower absenteeism
25% lower turnover (in high-turnover organizations)
65% lower turnover (in low-turnover organizations)
48% fewer safety incidents
41% fewer patient safety incidents (in applicable fields)
41% fewer quality incidents (defective products/services)
10% higher customer metrics
21% higher productivity
22% higher profitability
Having engaged employees in your organization has been shown time and time again to be extremely beneficial. With the rise in popularity of social media, it is easier than ever for your employees to engage not only with your customers but also other employees.
What Does Social Media Have to Do With Employee Engagement?
Roughly three out of four of all adults are on social networking sites these days. Those people say they are four times more likely to buy a product or service when they are referred to it via a social network. This is why it's so important to position employees to participate and engage on social media as brand ambassadors. Having employees "like" and share content allows for maximum exposure on social media and puts businesses in a better position to have their message heard by the right people at the right time.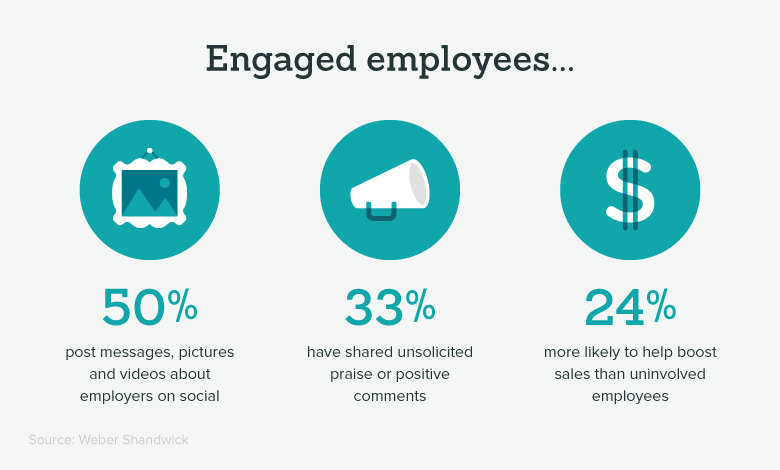 A recent study titled "Employees Rising: Seizing the opportunity in Employee Activism" by Weber Shandwick revealed that social media is critical to employee engagement. The study also found:
50% of employees post messages, pictures and videos on social media about their employers.
33% have shared praise or positive comments about their employers without any encouragement.
Employees with socially-encouraging employers are 24% more likely to help boost sales than employees who aren't actively involved in their company's social media branding.
But employee engagement on social media isn't without its risks. Warren Buffet famously said: "It takes 20 years to build a reputation and five minutes to ruin it.
It takes 20 years to build a reputation and five minutes to ruin it.

Warren Buffet
@warrenbuffet
The Shandwick study also found that 16% of employees have shared criticism or negative comments online about their employer, and that some employees have even shared confidential information. This is why it is important to enact a well-rounded social media policy that clearly states what's at stake if policies are breached.
What Happens When Employees Aren't Engaged?
Having a large number of unengaged employees is a serious problem. Four out of five senior leaders told The Economist that unengaged employees are among the top three business threats. Research presented by the Global Workforce Study found that:
Companies lose at least $2,246 annually for each unengaged employee.
Unengaged employees will go as far as to sabotage the efforts of their coworkers.
As employee engagement decreases, customer complaints tend to increase.
Teams with unengaged employees sell 20% less than teams with highly engaged workers.
Unengaged employees are more likely to pass on their negativity to customers, which can result in customer dissatisfaction and loss.
Unengaged employees are less productive and cost employers tens of thousands of dollars.
According to a Dale Carnegie Training white paper, unengaged employees also can be dangerous to those around them due to workplace accidents. Unengaged, chronically absent employees put a serious strain on employees who show up regularly for work. Eventually, the employees who were once engaged may start to suffer from workplace malaise as well.
Simply put, unengaged employees are bad for business.
How Can a Business Better Engage its Employees?
A business should set clear goals and expectations of their employees, encourage open communication, and actively promote organizational values and ethics. Employees should feel empowered to tell their story and share content that reflects them as individuals. Here are a three ways that employers can better engage their employees.
1. Effective Encouragement From Management
Whether it's online or off, the basis for employee engagement has to start from the top down. Executives have significant influence over everyone underneath them. They need to gain the trust of their employees and speak with passion about business results and engagement. If their employees don't trust them, their message is lost.
Managers are the most influential individuals within an organization. They can help individual employees commit to and align with the objectives of an organization. They need to have relationships with their employees, and understand them not only as workers but as people. What drives them? What engages them? What are they passionate about? By taking a personal interest in employees, managers can help them set a clear direction on what the company is trying to achieve and help the employees get there.
2. Reward Employees Who Are Doing Well
Employees are also more likely to be engaged when they have an effective recognition and reward system. There should be benchmarks that management can use to gauge the level of engagement among employees. These benchmarks can be used not only to find those who should be rewarded but also to identify those who need more coaching. By having benchmarks, companies gain a competitive advantage.
3. Utilize Employee Engagement Tools
The Shandwick study found the ways employers are encouraging their employees to use social media to share information about their work varied. The most popular method used was to provide employees tools, like Bambu, that make it easy for employees to engage with other employees and customers as well.
The importance of employee engagement should be on every business's radar as it is directly correlated with revenue. As customers become more frugal with their money, it is imperative that companies provide more than just a good product.
Customers want a good experience. When they get it, they'll be fiercely loyal to the company brand. They will advocate for the company, recommend the company to friends and family, and post about their amazing experience on their social media.
Employees are the face of any business, and they should represent the business as if it were their own.
Andrew Wasyluk is a social media expert, developer, Twitter fanatic, and founder of Socialeyze, a social media consulting firm based in Boulder, CO. When he isn't scrolling through his Twitter feed he can be found playing guitar, exploring Colorado, and laughing at his own jokes. Find Andrew Wasyluk on Twitter
@socialeyze
.
The Importance of Employee Engagement
Written by Andrew Wasyluk on October 05, 2015