We are in an attention economy. There is a fixed amount of time in every day to which we can devote our attention. There are also an increasing number of entities vying for that attention: people, tasks, emails, notifications, apps, etc.
If both your employee advocacy program, and the platform through which you deliver it, is going to be attention worthy, it must provide something of value to the employee.
Defining & Measuring Program Value to the Employee
You might be thinking, what do you mean by "value to the employee?" The goal of our employee advocacy program is to deliver value to the company. You'd be right to think this way, but for your program to be successful, it will rely heavily on its ability to engage your employees.
Engage your employees by delivering them a positive experience and environment. In return, your employees will invest themselves more into the program.
Let that sink in. Because it's truly the key to success with employee advocacy.
Measuring Value
Your employees aren't typically going to track their activity within your employee advocacy program (gamification notwithstanding, and we have some thoughts on that here). But there are several indicators that you'll find within an employee advocacy platform that can be associated with how an employee might value your employee advocacy program:
Time in app
Log-ins per week
Number of shares per story
Email digest/announcement reads
Number of Views (in app)
Every company is going to weigh the importance of these metrics differently and they're soft indicators for the most part. So let's go one step further to measure value and think in terms of creating advocates for your advocacy program.
Ask yourself these questions:
What would it take for an employee to proactively devote a segment of their attention span to reading and sharing content in your employee advocacy platform?
What would it take for an employee to enjoy a personal return on their investment in the program? (Some examples may include incentives, career development opportunities, Recognition, Social Engagement and Influence.)
Nurturing Value With Different Types of Content
The answer to both questions lies in the experience you create through curating relevant content into your employee advocacy platform for your employees to read and share.
Yes, the platform itself bears some responsibility on the experience in terms of ease of use, mobile accessibility and other factors. Because we don't classify employee advocacy programs as passive habits (like Candy Crush or even Facebook that are simply to browse and pass time), the thing what will keep employees coming back again is the content.
Brand content from your website, blog, and other owned media keeps employees abreast of developments and news. They'll feel more connected to your company through knowledge and more confident to talk about it with their networks.
Job listings demonstrate that there is opportunity for growth and empower employees to take advantage of any referral incentives your company offers.
Events show your company's commitment to its community, learning and market position (in the cases where team members are speaking at trade shows).
Recognition of new hires, promotions, earned media, guest blogging, and team profiles reinforces your company's commitment to the growth of its employees, and instills a sense of pride in the accomplishments of the company as a whole.
Industry articles provide opportunities for personal development (without the hassle of searching the web) and personal brand building, when your employees' networks see them as a trusted resource for sharing quality information.
Nurturing Value With Different Channels of Content
In the list above, you saw how much opportunity there is for content variety to create a rich experience within your employee advocacy program. We recommend adding another layer of variety: content channels.
Each of the above examples could be a web page on your company's site. If it is, you risk creating fatigue for your employee and their networks when all they share is company content. However, curating content from around the web, and even via social networks, will create a number of valuable experiences for the employee:
Exposure to new unfiltered information that can help them do their job better
Increase their perceived authority as a resource
Connect them to other conversations about that same piece of content
Present a visually enriched environment within the employee advocacy platform (vs. using all company content which tends to have a consistent look to it)
Create a sense of anticipation and desire to actively use the platform
That last bullet point is gold because when you create a sense of anticipation to use the platform, you've not only created a highly engaged user who finds real value in the platform, you've also created an advocate for your employee advocacy program.
Developing the Right Mix of Content
By now you might be thinking it's a great idea to use several types of content to curate into our platform. However, you might wonder if there's a specific ratio to use.
Not really. Whatever you decide on will have to be constantly monitored and tweaked to continue providing an optimum experience for your employees that fosters engagement. The goals of your employee advocacy program (for both the company and your employees) also play a part in how you create the optimal mix of content for them to read and share.
But the rest of this article can help guide you toward the right content mix for your program.
Look at Content Mix From the Employee's Perspective
Most of this article looked at your employee advocacy program's engagement strategy from the eyes of an employee. Now let's take a step back and look at your content mix from this perspective as well.
Here's how a typical employee might feel about your program:
I have a centralized hub of company news.
I can share most of this news with my social networks.
The more active I am in this platform, reading about our company, the more confident I am about my career and the company I work for.
As I become more confident, I'll happily share more, but then it might look like I'm sharing nothing but company info, and that'll get overwhelming to my friends and colleagues on social media. Because I'm not really active enough on social media to offset these posts with my own personal stuff.
That last point is a problem that will invariably reduce the employee's participation. But it has a solution.
To keep employees engaged, and the employee advocacy program a valuable use of their time, introduce interesting and relevant content from around the web that will help your employees balance out the company sharing.
How much external content is enough?
Based on internal assessments of Bambu customers seeing high levels of success with their employee advocacy programs, external (or "Industry") content accounts for approximately 45% of the overall content curated into Bambu for their employees to read and share.
The story doesn't end there. As you can see from the chart below, successful employee advocacy programs know to curate not just a healthy variety of content types (industry, job postings, events, etc.), but also to source them from places other than company-owned assets.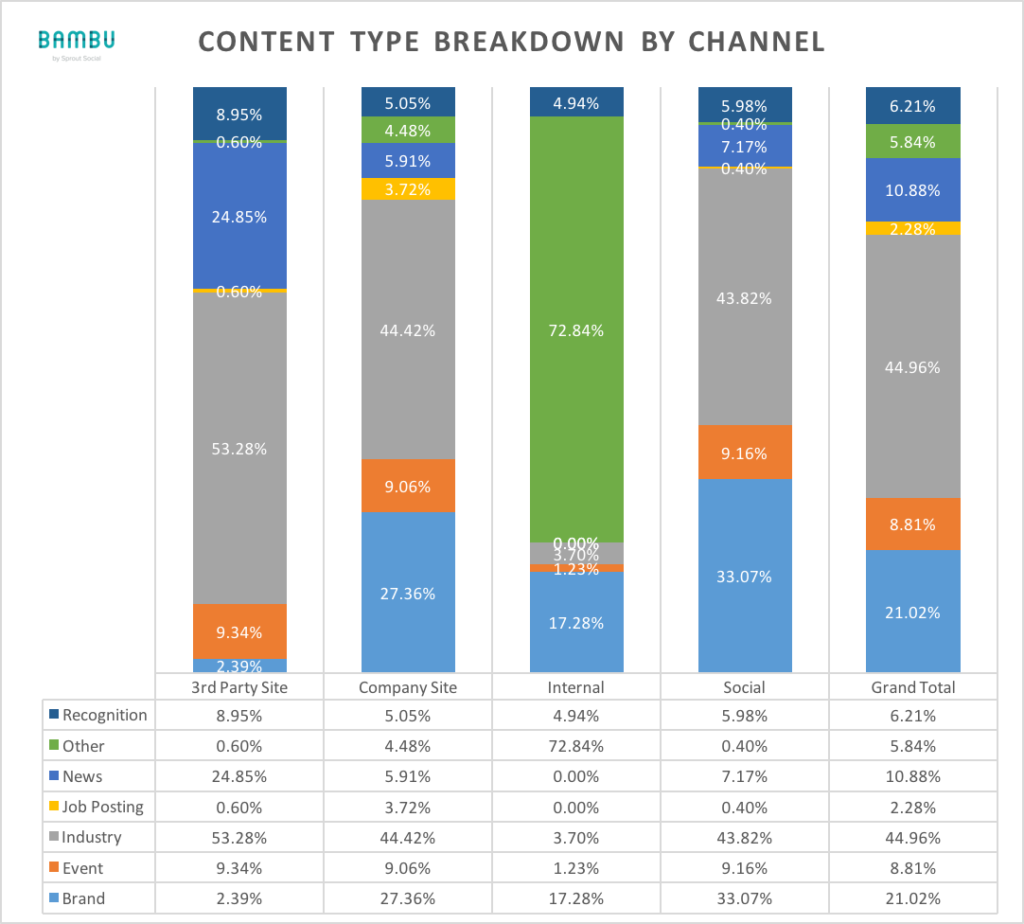 Since it's smack-dab in the middle of the chart and we haven't talked about it yet, the "Other" content type largely represents internal communications and sales enablement resource–hence the concentration in the "Internal" channel. Get more internal comms ideas here.
We've seen this healthy mix of content types and content channels lead to increased engagement within the employee advocacy platform in not only shares, but also shares to multiple networks.
Employees who are sharing to multiple social networks are truly embracing the idea of advocacy. They find enough value in the content being curated to place the highest form of endorsement on it in not one, but two and sometimes three of their personal profiles.
Where to Go From Here
I covered a lot in this short article, and if you dig into that chart a little more, I'm willing to bet you'll get some great ideas for developing (or refining) your employee advocacy program's content mix.
The important takeaway as it relates to your content mix is not to chase percentage breakdowns or ratios. Instead, consider the audience you're curating for and how the content mix as a whole translates to relevance and value for your employees.
For example, if it turns out 9% of your stories are actually about events (like in the chart), it means nothing. Focus on these things instead:
How can you make sure those events are as relevant as possible to your employees? (tip: use teams or segmentation features within your platform)
How can you write suggested post text to encourage sharing to one, two, or even three social networks? (tip: adopt an employee-centric brand voice to make a connection between the event and the employee talking about it)
Adopt this mindset, and your employees will consistently see your employee advocacy program as a place of value, and a worthwhile investment of their time. That value translates to increased participation and business outcomes you want as a company.
FREE Worksheet
Need help getting your content strategy started? Here's a helpful guide to document the content strategy for your employee advocacy program. Share this with your team of content curators, and keep it updated as needs change or expand.
These steps and suggestions have been compiled and optimized by our own Services team based on countless customer launches. We know what works, and what is most important to long-term growth and success of your employee advocacy program. Remember, while we happily pass this knowledge onto you, we are always available to answer your questions!