Organizations commonly prioritize effective communications with its customers, partners and even job-seekers or potential new hires. While those communications are essential to your business, what about the connection to your own employees? That's why an effective internal communications strategy is a critical aspect of your organization's daily operations.
Developing a strong internal communications strategy with employees is often forgotten or put on the back burner. Instead, the benefits of higher employee engagement, better communication and a working employee advocacy program will shine when you focus on connecting to your staff.
Internal communication programs can be daunting for some organizations, especially when looking to revamp or upgrade their efforts. However, we're here to show you how to create a successful program and avoid the typical roadblocks that come with enhancing your strategy.
Here we've provided 4 of the 7 steps necessary to launching an internal comms strategy to success – uncover the full tactical list below!
1. Assess Your Current Internal Comms Strategy
You likely have an internal communication strategy already in place, so it's always best to start with internal research. If this is your first strategy, simply head to the next step. For everyone else, it's essential to make notes on your current plan by answering important questions.
Some of the things you should immediately address when revamping your internal communication strategy, include:
Where you currently sit: How has your current strategy performed? What are your biggest strengths and weaknesses of note? Who is currently involved with your plan and who can you add to improve it?
Where you'll eventually be: We'll dive into this more, but your initial assessment should point you in a better direction to where your strategy will be if you change your plan. Is it going to address your entire team?
How you plan to get there: What is it going to take to get you to achieving your objectives? What type of content will resonate the most with your staff?
How long it should take: How many resources are needed to reach your objective? What's the difference between how long it should take vs. a realistic timeline for your team?
Who's involved: Is your current team too small? Are there too many cooks in the kitchen? Assessing your current strategy should indicate where you can add on or trim fat on your internal comms team.
Answering or at least planning to have an resolution for these talking points is important to reevaluating your strategy. You want to deliver the right message to your employees. So, try to spend time thinking about these issues.
2. Identify Your Key Metrics to Track for Success
Just like most other facets of your business, your internal communication strategy can and should be analyzed for success. To do this, you need to gather your core metrics that will show you if your strategy is actually working.
Statistics on your internal communications show you if employees actually use your intranet. It also shows how they use your tools and if you're able to reach others in the process. This means you can dissect your strategy and learn about what areas need more attention and what can be skipped.
While there are certain things that can't be measured, we recommend starting with these few metrics to get a better idea of your strategy.
Social Shares of Content
One metric of concern that many organizations don't think about is the amount of social shares your content receives. Are you posting a job offer or highlighting a major win for your business? Tracking social shares of content shows the power of social reach. By using an internal comms tools like Bambu, you see the total shares by network, content or user to analyze your overall reach. Working within your own organization and relying on your employees to be advocates will increase your reach and awareness.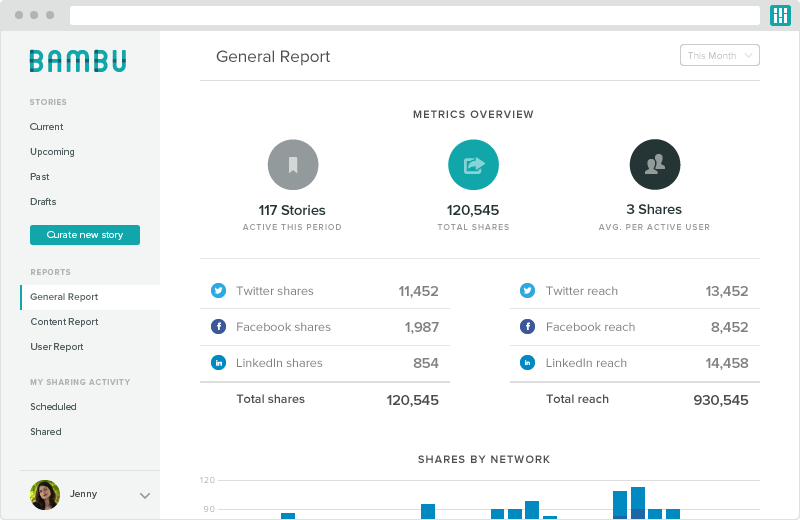 internal comms solution
Check out a personalized demo of Bambu, focused on effective daily communications that increases employee engagement and productivity.
Employee Engagement Metrics
How often are your employees reading your internal content? Do they comment, like, share or start a discussion with your content? Measuring your overall employee engagement metrics can provide deep insight into what your staff uses the most. A big setback for internal comms tools is the lack of open discussion. According to a Bambu data report, 77.3% of employees don't feel encouraged to share company news on social media. Evaluate your current internal comm strategy to see if your employees feel open to discuss, share or comment on organizational content.
I'm very proud to be a part of this amazing company.
When I say "Thrive with me" it comes from the bottom of my… https://t.co/IIHZOkfWyJ

— Sara Shepherd (@sarashep13) May 4, 2017
Data from Employee Referrals
Data from the same Bambu report shows only 9.4% of people use social media to recruit for open positions. If you consider the size of your team and each one of their Twitter, Facebook and Linkedin followers, the possibilities of increasing your brand reach through employees' social is real. First you need to analyze how many employee referrals you see and whether or not there are options to increase that number through social. If you want more data on the power of your employees, check out our reach calculator.
How Many Employees Use Your Intranet
Instead of focusing on logged minutes from your employees on your intranet system, look to logins. You don't need your employees to be constantly logged in and wasting all day on your system. It's much better to track the number of logins so you know your employees are getting exactly what they need and exiting. Total login metrics can show you if your intranet is something needed for everyday work or something that is rarely used.
Number of Project Management Issues
Last but not least, it's smart to analyze the number of roadblocks and project management issues. If your teams have consistent issues, this could be due to a lack of internal communication in your organization. A data report on internal comms from Bambu discovered 29% of employees believe their current internal comms tools aren't working. Find where your company sees the most bottlenecks and see if these numbers relate to your communication strategy.
3. Build an Approval Process
Planning out internal communication strategies and content can be daunting without a little help from other members. It's best advised to plan out an approval process for your content. This will prevent any unnecessary errors, closed comments or news from accidentally being published to your team.
First you need to determine who or what team is control of your internal comms strategy. Next, you need to know what stakeholders from each department can help with the approval process for content.
Building your team this way can help streamline content approval and publishing. And using an all-in-one tool like Bambu allows you customize your approvals by each team member to prevent any collisions while producing content. Secondly, you'll need to plan your delivery system.
Who will read, write or approve the messages you send to your team? By planning out your entire process first, you can limit the errors and bottlenecks down the line.
4. Define the Internal Comms Tools You Will Use
It's important to note which channels you'll use to push your internal content. But it's just as critical to decide on the internal comms tools you will use in the process. Certain messages are best fitting for different channels. For example, major news might be more viral on Twitter, while job applicants could be better for LinkedIn and Facebook.
After you decide your channels, start thinking about the right tools for your organization. That's exactly where Bambu comes into play. Our powerful employee advocacy and internal comms tools allow you formulate your communications by planning your target audience, message and delivery method.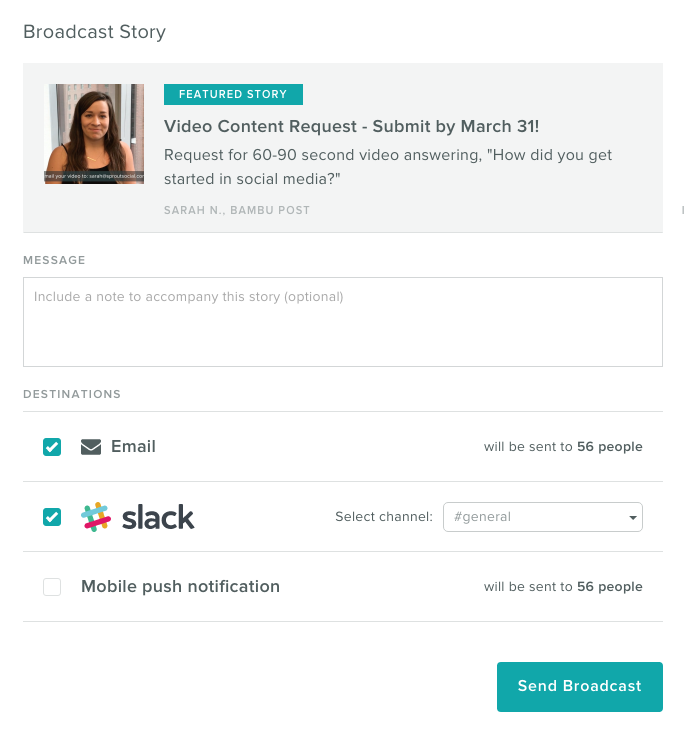 By using an internal comms tool like Bambu, you reduce your marketing costs and increase your social reach through the power of your employee advocates. Simply giving your staff a route to share your content to their feeds will bring more people to your network.
Another great internal comms tools is the chat service, Slack. This tool is perfect for bringing together all the different pieces to your organization. Whether you're sharing internal documents or needing to plan specific events without the dreaded email chain, Slack is great to pair with Bambu for internal comms.
An internal communications strategy is essential in any successful organization, regardless of its size. By formulating a cohesive strategy, businesses can more efficiently reach their business goals, increase employee engagement and ultimately have a positive impact on your bottom line.
If you're interested in uncovering the other 3 steps in this process, check out our full E-Book below!