Over 105 billion emails are sent every day. Experts predict that this number will reach 246 billion before 2020, proving that email may be our most powerful form of communication. What this also indicates, is that employers need to lean on this channel and filter communication through it—even if that means using email to drive employees somewhere else.
While it may not be the most technically advanced or innovative communication method on the market, email remains a valuable tool in driving sales—in fact:
Email is useful for far more than just back-and-forth communication, and it's often underutilized as a key facilitator in strengthening internal communication and engagement—especially when it comes to your company newsletter.
Aside from keeping an organization informed and connected, a company newsletter can be one of the best ways to kickstart employee advocacy—so long as it's dynamic and its delivery entices action. Here are some ways to marry the benefits of a company newsletter with the engagement levels of email, helping you to extract more business value that impacts your bottom line.
Why Invest in a Company Newsletter?
Today, every employer's biggest communication threat is information overload. However, just because employees are overwhelmed by the amount of content in their digital lives, doesn't mean that they don't want to be informed about what's happening in your company and industry.
In a world where only 32% of Americans feel engaged at work, it's up to company leaders to make sure their team members feel connected to each other and to the organization. An internal communications strategy that involves a company newsletter could:
Reduce employee turnover
Improve engagement
Drive employee advocacy
Enhance opportunities for collaboration
Deliver more satisfied customers
The key to success (as with any communication strategy) is positioning your company newsletter to speak directly to employees.
Newsletter Examples: Ideas to Inspire
For any form of email communication—both internal and external—the goal is to engage. In fact, the only difference between an internal newsletter campaign and an external one is the audience your message is tailored for. The goal behind that message, on the other hand, should remain relatively the same.
Just as you would for any customer-facing email, you'll need to develop a strategy that drives clicks, encourages employees to act and increases brand loyalty. One of the easiest ways to get started is to check out some newsletter examples that have had an impact in the past.
While not all of the newsletter examples below were tailored to employees, there is something to be learned from each—especially about how to structure, enhance and deliver the perfect newsletter.
1. Quora: Be Engaging
Quora is a platform where you ask questions and get answers. Their newsletter called the "Quora Daily Digest" comes weekly and contains questions that Quora thinks you might have missed.
Some great things about the newsletter is it keeps the user engaged with questions tailored especially for you. This newsletter example is incredibly simple in its layout and is relevant with its subject lines to increase open rates.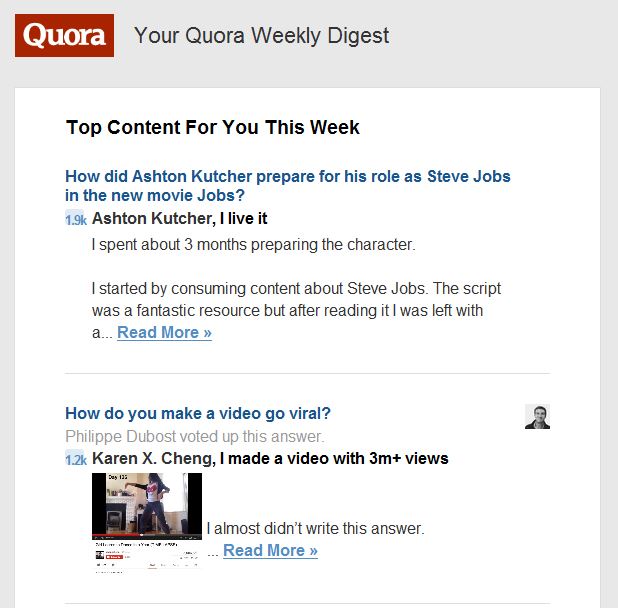 When you're developing a company newsletter for your employees, one of the first things you'll do is establish a goal. For some organizations, that goal might revolve around increasing employee retention and engagement levels. For others, the aim might be to drive employees to take a more active role in employee advocacy.
Regardless of the goal, always keep it at the forefront of your strategy and at the center of your purpose.
2. InVision: Remember Your Call-to-Action
A great company newsletter does more than just share information about the brand. The employee newsletter ideas you use should also compel your employees to do something on your behalf. That said, the action your content drives will vary depending on different team initiatives.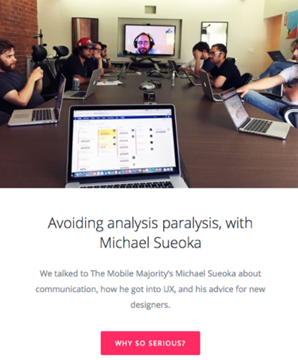 The InVision newsletter is a weekly email that contains everything from the company's best content, to their favorite links from the week. The mixture of content makes the email particularly compelling, but perhaps the most important lesson you can learn from newsletter examples like this one, is how powerful a strong call to action can be.
Instead of using dry content like "click here," InVision are constantly coming with unique buttons to encourage their readers to do something.
Using the same strategy, you could direct employees to your intranet, sign up for an educational course or session or learn about how they can get involved in social recruiting or participate in your referral program. The possibilities are endless, all you need to do is create a call-to-action that inspires employees to take that next step.
3. Bambu: Segment Your Audience to Personalize Content
Of course we're a little biased, but Bambu's newsletter has a clean layout with strong readability. It's tempting to pack your company newsletter full of every piece of information you consider to be useful to your employees. The problem is, that different segments of your organization will be interested in different things.
If you want to make sure that you're not contributing to the problem of information overload, make sure to personalize content to the needs of your different audiences.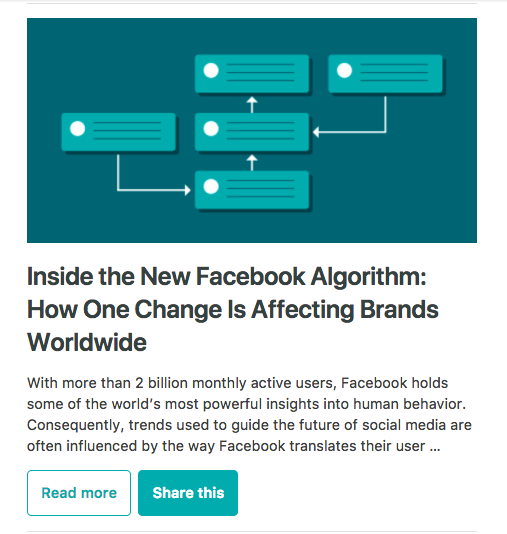 The real magic with Bambu happens on the back end. The stories that populate the newsletter are dynamically generated from content the user has not yet consumed. In other words, every newsletter is personalized.
By using this same strategy, you can ensure that each team gets the right information in their newsletter to increase relevance, and ultimately, their engagement with the content.
4. AEON: Find the Balance Right
One of the trends you might have noticed as we've moved through these company newsletter examples is that they all use clear, concise layouts to capture the attention of their audience. That's because today's reader doesn't have the time to read through huge blocks of intimidating text—they want to be able to see the information they need as quickly as possible.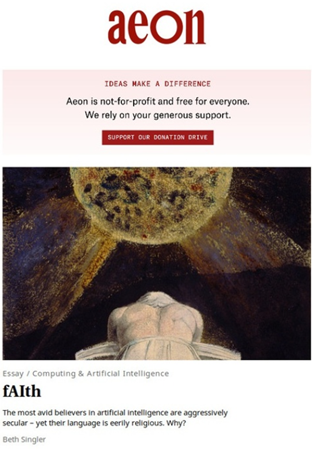 When it comes to creating your own newsletter format, you'll find that there's no one-size-fits-all strategy for success. However, making sure that you keep your images clear, your font readable and your content concise is a good place to start. Some designers swear by using the rule of three, which Aeon uses to their advantage in their newsletter.
By balancing headlines, pictures and content, Aeon makes their newsletter more visually appealing, and easier for readers to absorb.
Company Newsletter Ideas: How to Write Something People Want to Read
As you might have seen from the employee newsletter examples above, making an impact with your emails is about more than just sending out regular content once a week. You need to develop something that your employees want to read, otherwise, you're just wasting time and money.
So, how can you improve your chances of engaging and empowering employees?
1. Be Informative
Being informative is crucial in any company newsletter. If your email looks great, but it's full of useless information that your staff can't use in their day-to-day lives, then you're going to miss out on some huge opportunities.
Start by thinking about what you want to achieve with your newsletter. Are you hoping to drive employee advocacy for your brand, or do you simply want to make sure your team is happy and engaged? Here are a few ways to get started:
Information about what your executives have been doing, and how this affects your business
A day in the life of a team highlighting and recognizing the work of your valued staff
A customer success story—complete with insights and examples of how your teams can be more efficient in the future
Employee milestones that help to make each of your staff feel like an important part of the team
Remember, when possible, add those social media buttons so that your readers can instantly share important messages with their social following. This could be the starting point of your employee advocacy strategy.
2. Keep it Clear & Concise
In all the employee newsletter examples we considered above, we saw that keeping it brief was the key to success—after all, employees only spend an average of 51 seconds reading a newsletter. Your workforce doesn't want to waste time reading information that's dense or difficult to consume, so keep your content scannable with blurbs, pictures, bullet points and calls-to-action.
Your company newsletter needs to overcome the boundaries of your strategy, and make sure that you're capturing your staff attention in the most compelling way possible. Remember to think about the following things when improving the readability of your content:
When is the best time to send the newsletter?
If you want to set your newsletter up for the best chance of actually being read and absorbed by employees, stick to the beginning of the day, between Tuesday and Thursday.
How do you want your team to act?
Are you encouraging them to take part in social selling, or do you simply want them to respond to a recent update in the business?
Is your formatting purposeful?
Consider elements like the layout of your newsletter, the readability of the font or typeface chosen, the relevance of any photos or charts and whether or not the information is truly as concise as possible.
How compelling is the subject line?
Just like a consumer email, you still need your employees to click on your newsletter if you want them to read what you have to say. A great subject line can go a long way.
3. Continue Upgrading Your Strategy
Many companies assume that they can set up a newsletter and continue sharing information in the same way for years—neglecting to make changes to the way they communicate with their team. Unfortunately, the truth is that in a world where attention spans are low, employee communication needs to evolve over time..
There's nothing wrong with choosing a template to keep yourself on track, but try to look for ways that you can move beyond your standard strategies every now and again to delight and engage your staff in a new way.
For example, consider moving beyond the written word to embrace audio and visual solutions instead. We all know that photographs are a popular way to brighten up a newsletter, but how about taking the idea a step further by embedding videos directly from executives in your organization? Or, you could show a graph that demonstrates how effective your social advocacy strategy was last month or a quick video message from a team manager.
The more creative you can be, the more likely you are to capture the attention of your employees and give them a company newsletter they want to read.
Improving the Company Newsletter
Email is still a powerful strategy for any business, whether you're looking to communicate internally, or externally. However, just like any other technique for engagement, it's important to make sure that you're taking the right steps to engage your audience if you want your company newsletter to work for you.
With the tips and examples above, you'll have the resources to develop employee newsletter ideas that speaks to your target reader, helping you to build upon your goals as a brand.
Remember, never underestimate the power of a great internal communication strategy.