What Your Business Can Utilize From Newsletter Examples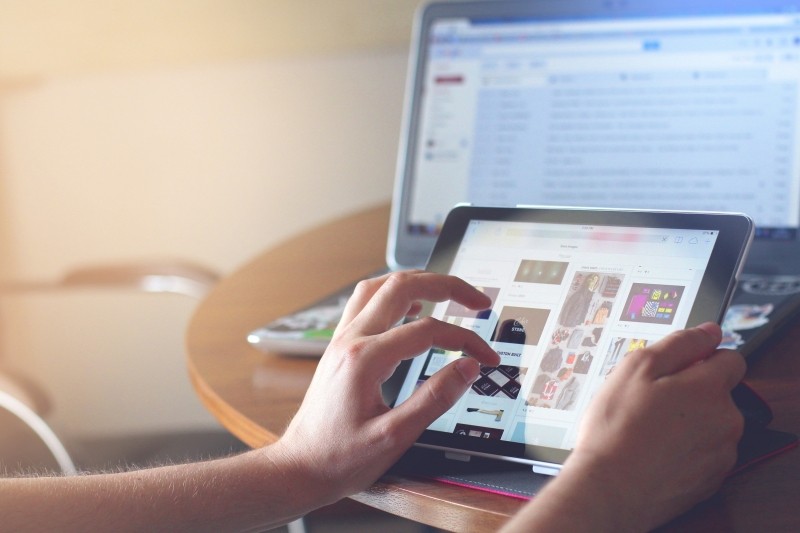 For the majority of us, email is still an essential part of our lives. It is also a part of our customer's lives, and most businesses are beginning to recognize this. Out of all the marketing tactics, businesses have at their disposal, email marketing via newsletters can prove to be dynamic, versatile and efficient.
Putting together a newsletter is relatively easy if you know what you are doing. In this article, we will go over how to format, create and some newsletter examples we'd love to get in our inbox.
The Power of Email Newsletters
Some may not be convinced that Newsletters are worth the time and effort it takes to create them. Email newsletters are one of the most useful marketing tools for driving sales. A study done by the Direct Marketing Association found that 66% of consumers had purchased something online as a result of an email marketing message. In addition to this, there are various other studies that show this kind of marketing works.
A well-crafted newsletter will not only produce a positive ROI, but also keep your company's name in front of potential and current consumers. A great newsletter builds effective relationships and nurtures the ones you have.
Businesses that have consumers with a longer "buyer's journey" can benefit from newsletters. If you have a high-involvement product like a house, car or types of B2B products, newsletters allow you stay in touch with your prospects during their buyer's journey–hopefully all the way to the conversion.
Advantages of a Regular Newsletter
In addition to helping you stay in touch with potential or current customers, newsletters have a few other advantages worth pointing out.
1. They Drive Sales
In a Convince and Convert panel, marketers discovered 44% of email recipients made at least one purchase based on an email that was promotional in nature. With your newsletter, you can highlight a product, explain how it will solve their problem and connect them with a sales page. You can also show customers how they can get in touch with you (if your product is SaaS).
According to research done by Blue Kangaroo, 7 out of 10 people said they made a purchase using an incentive like a coupon or a discount. This is because people are impulsive, and something like a strong call to action or discount on a new product can be enough for the reader to take action.
2.You Connect With Your Customers
Your consumers spend more time than ever reading email newsletters. A survey conducted by ChoozOn found 57% of email subscribers spend between 10 to 60 minutes browsing marketing emails during their week. Your consumers want to connect with you and other businesses they like. To connect with them, you need to be presentable and personable, which is easy to do through email.
Your consumers don't buy because you sell. They are buying your product or service because they are your loyal fans who trust you.
3. You Can Increase Website Traffic
In the current state of digital marketing, you can't hope that all your customers will organically come to your site. While some people may gravitate toward your site through search engines, a significant portion doesn't even see your page.
Many people think consumers won't open email from companies–it's quite the opposite. According to SalesForce, 82% of consumers open emails from companies. Your email newsletter can play an active role in directing consumers over to your website, which in turn brings more website traffic and ultimately sales.
4. It's Cost Effective
In comparison to other forms of digital marketing, newsletter marketing costs significantly less than other strategies. Your design department can take care of the visual assets, while your marketing team can format the newsletter. All of this costs you nothing. Compare this to something like a PPC campaign that may costs you thousands of dollars, it suddenly becomes clear which strategy is more cost effective.
One of the biggest barriers for newsletters is people tend to see them as a chore. What most don't realize is your newsletter doesn't have to be long and in-depth. By focusing on one or two key points, you can increase readability and keep your newsletter easily digestible.
Steps to Take When Creating a Newsletter
Creating a newsletter can be a pretty straightforward process after you've done it once. Here are some steps that should go into every newsletter you send to your consumers or potential prospects:
1. Establish a Goal
Make sure you know how your newsletter will fit into your overall marketing strategy. What is your objective? Are you trying to increase traffic to your website or push a discount on an item or subscription you are selling? Once you have your goal, the rest of your decisions come from it.
2. Put Together Your Content
The content you gather depends on the goal you've set above. Depending on how frequently you send your newsletter, make sure you grab content through the month for current or future newsletters. Do you want your content to solve a specific goal your consumer is having? Do you want to insert content that fits with your goal but in a different way? Ask yourself these questions while on the hunt for content.
Some good places to look for content is on your company's and your employees' social media accounts. Also look to your business's blog or any inbound content that may be gated for lead gen purposes and internal newsletters.
3. Get Your Template Ready
Some elements you'd like in your newsletters depicts how it is going to look. Make sure the copy you associate with each item will fit in the space below. You don't want your text to be cut off mid-sentence. This means your template should also be mobile friendly. More people than ever open their email on a mobile device. Make sure to test your template on multiple browser windows and a few different phones just to be sure it displays correctly. You can pick a pre-made template that your marketing automation software offers or create your own.
4. Make Your Template Look Beautiful
After you've picked your content and template, it's time to fill in the body content of your newsletter with pictures and words. Make sure to keep your copy short and concise. Also, add images in when they complement the copy you're writing. If you're highlighting a CTA, be sure it's prominent in the email with no other elements taking away from it.
Once you've filled in your template, look it over for errors. It's worth having another member of your team giving it a second look just to make sure you didn't miss anything. Remember there is no second chance when it comes to a newsletter–once it's sent, it's sent.
5. Make Sure You're Legally Compliant
You need to make sure your newsletter complies with FTC CAN-SPAN guidelines. For every single email that violates this act, You will receive a penalty of $16,000. Think about if your email database was 25,000 people–you could possibly be penalized by $400 million. You need to make sure you have a footer in your email with your email address and an easy way to unsubscribe from emails.
6. Come up With Your Subject Line & Sender Name
Some companies found personalized emails tend to perform better than ones coming from business accounts. It's crucial that you A/B test your subject lines to receive the best possible results.
7. Do a Dry Run
Most marketing automation software allows you to send yourself a test email so you can see what the fruits of your labor have produced. Make sure you look at the email on multiple email clients even on mobile phones. Here are two quick tips to better your chances of your email displaying correctly on any device:
It may be hard to believe, but some email clients won't display HTML. This is why it's important to make sure your newsletter looks presentable in plain text. If it's easy to click the links and your reader can clearly tell what you email is you're ready to go.
Make sure to use ALT text on your photos. Since some email clients won't display images properly, ALT text can act as a placeholder for your pictures which lets your readers know what they are supposed to be viewing.
Tips for a Solid Newsletter Format
There are countless templates and designs out there for you to choose. But some of the best newsletters have common elements that make it so appealing. Here are six actionable design tips to wow your readers:
Utilize A Header: Your newsletter needs a strong header. It sits at the top of your newsletter and informs the reader of the title of the newsletter, your company name and your logo.
Your Color Scheme Should Be Dictated By Your Logo: All of your newsletters should have a color scheme that you stick to. Since your logo is your part of your brand identity and your header, you should consider using a color palette that reflects it.
Don't Go Crazy With Fonts: You want your newsletter to be legible. Stick with basic fonts that are standards across the web. Don't use too many fonts either. Instead, use a max of two complementary fonts for your newsletter.
Use Subheadings: Your newsletter should look similar to a newspaper. This means several different pieces of content should be broken up by subheadings. The size of your subheading should be larger than the primary font size in the newsletter, but smaller than the headings.
Utilize Images: A well-designed newsletter should have a good balance of images and text. When a recipient opens an email, their eyes are drawn directly to the images. This is because the human brain processes images 60,000 times faster than it does plain text. By inserting a few pictures in, you can draw the reader to specific places (like CTAs) and enhance your text at the same time.
Stack Your Content: Most automated marketing software's have the ability to choose templates that allow you to section content off in blocks. Again, this is much like how a newspaper or a magazine does it. It allows you to draw the reader's eyes to certain sections and makes for an overall layout that is clean and easy to digest.
You want your newsletter to have an email that grabs the reader's attention. It should have a layout that is clean and organized, making it easy to read all of the content contained in it. The above tips will help you increase the readability of your newsletter and ultimately create something that your readers look forward to receiving.
Our Favorite Newsletter Examples
There are countless newsletters examples out there. Some have the most amazing layouts, while others still need some work. We've scoured the internet to show you some of our favorite newsletters examples to give you inspiration.
1. Bambu By Sprout Social
Of course we're a little biased, but Bambu's newsletter has a clean layout with excellent readability. The real magic happens on the back end. The stories that populate the newsletter are dynamically generated from content the user has not yet consumed. This makes each user's newsletter unique and personalized.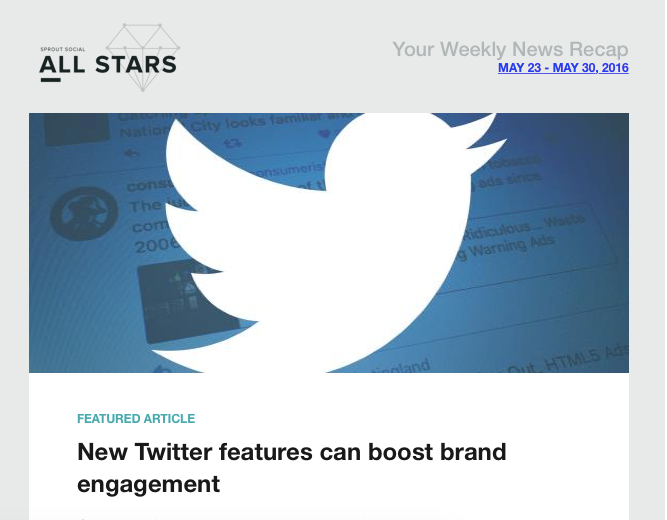 2. Quora
Quora is a platform where you ask questions and get answers. Their newsletter called the "Quora Daily Digest" comes weekly and contains questions that Quora thinks you might have missed. Some great things about the newsletter is it keeps the user engaged with questions tailored especially for you. This newsletter example is incredibly simple in its layout and is relevant with its subject lines to increase open rates.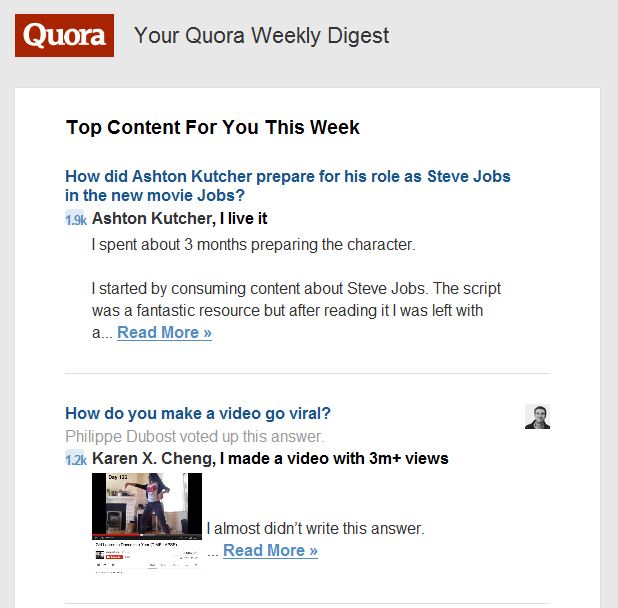 3. Medium's Daily Digest
Medium's blogging platform has exploded in popularity over the past few years and for good reason. Their newsletter does a great job of keeping the look and feel of their site. It also does an excellent job of balancing text with images and it dynamically provides the recipient with stories they might have missed throughout the day.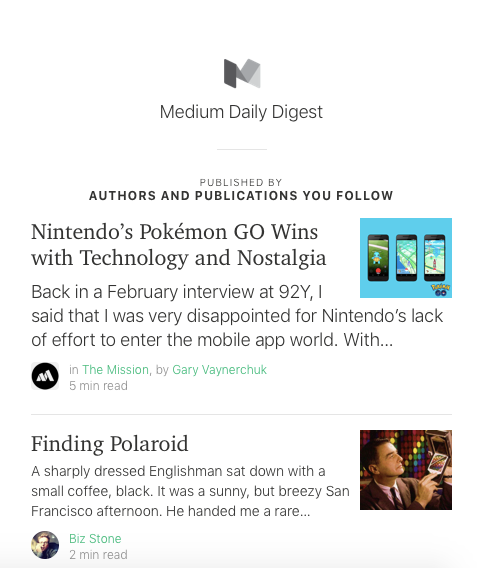 4. Litmus
It fits that an email marketing testing company has great email templates. Their flat design makes the newsletter unique. The blocks of color help break up the newsletter into distinct sections as well. Litmus also doesn't use generic CTAs like "read more," but instead tailors each CTA with specific actions that fit with the each post.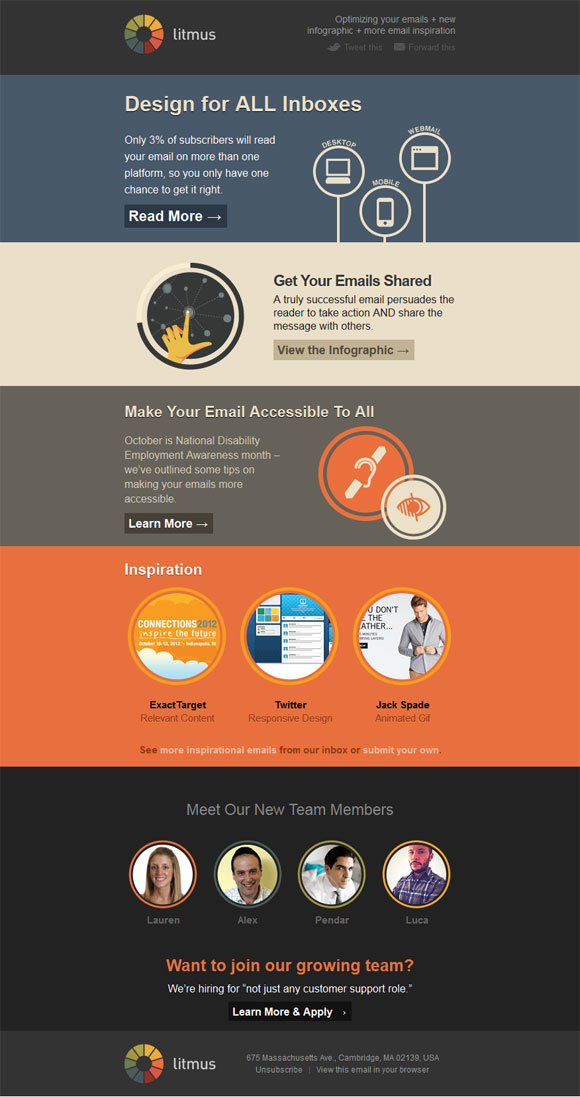 5. The Daily Egg By Crazy Egg
This newsletter example is compiled directly from an RSS feed. Many would shy away from this format, but the content is so awesome the pictures aren't important. This newsletter has the option of daily or weekly newsletters and it offers a round-up of their blog posts.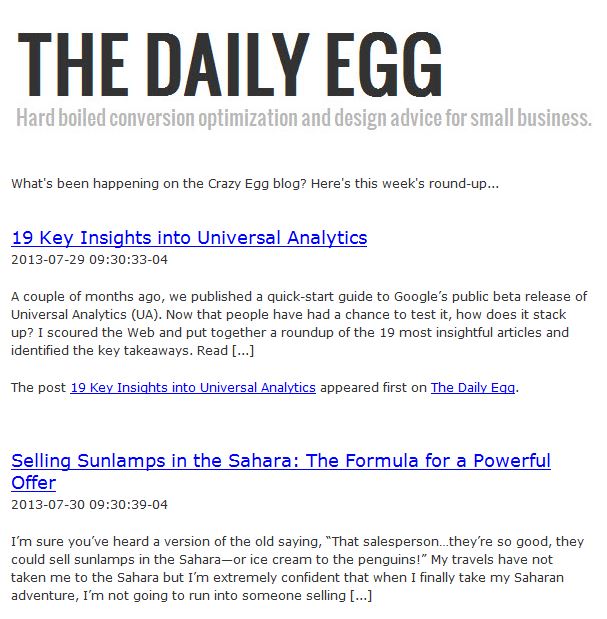 6. SmartBrief on Social
SmartBrief does an excellent job at aggregating content from all subjects and not just social. From there, SmartBrief puts the content into an easily digestible newsletter. They have different sections of content like "Most Read By Marketing Decision Makers" and "In Case You Missed It" that can be quickly scanned to pinpoint content that you're looking to read.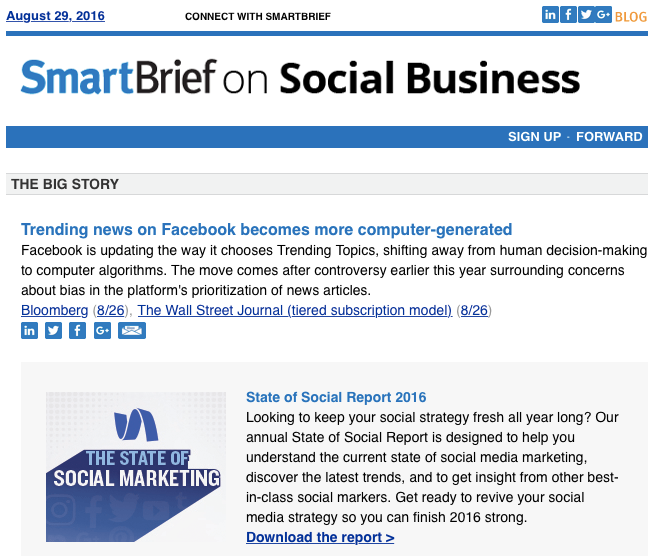 Since we get so many newsletters delivered to our inboxes each day, some may think that they can be a and published with little effort or forethought. In fact, it's the exact opposite. Hopefully with the tips and information given above, you'll find yourself well on your way to creating an amazing newsletter for your business.
Andrew Wasyluk is a social media expert, developer, Twitter fanatic, and founder of Socialeyze, a social media consulting firm based in Boulder, CO. When he isn't scrolling through his Twitter feed he can be found playing guitar, exploring Colorado, and laughing at his own jokes.
Find Andrew Wasyluk on Twitter
@socialeyze
.
What Your Business Can Utilize From Newsletter Examples
Written by Andrew Wasyluk on September 06, 2016