Sourcing talent to work for your organization can be a lengthy and time-intensive process. When it comes down to it, you want to have the best and brightest working for you. Not only do you want great employees, but you want to keep them as well. This is why onboarding is so important. It helps new hires adjust to their job smoothly and without issue. It also helps your new employer-employee relationship get off on the right foot.
In the following article, we will go over why onboarding is so vital to your organization and how to create the best onboarding plan. We will also touch on some onboarding best practices you can utilize when creating your own onboarding plan. When you thoroughly plan your onboarding, you ensure a seamless integration of your new employee into their respective teams and position them to stay at your organization for the long haul.
Why Onboarding?
Bringing on new talent takes significant time and money. While the true cost of hiring new employees has been long debated, a recent report from the Centre for Economics and Business Research found the average cost for hiring a new employee was $41,165. To replace an entry-level employee it costs roughly 30-50% of the person's annual salary. It also could cost 150-400% to replace mid and senior-level employees.
Non-tangible costs associated with employee turnover exist as well. When employees leave, workplace morale and productivity tend to suffer. Remaining employees will have to take on additional duties to cover for the individual who departed. Your other employees may become insecure about their own positions. When employees feel insecure about their job, moral declines.
Successful Onboarding Leads to Improved Productivity
Furthermore, employee turnover has a direct impact on productivity. Since there is a linear correlation between employee morale and productivity, when morale drops, productivity drops. With the high tangible and intangible costs of hiring four employees, it is crucial that your HR department focus on employee retention. This starts with a strategic use of onboarding.
Effective onboarding has a significant impact on job performance, employee engagement, satisfaction and organizational commitment. Studies show that jburnout and emotional exhaustion can occur if employees go through a poor organizational socialization process. Because new hires decide whether they will stay with a company long-term within the first six months, it's critical to make a great first impression.
By welcoming in new employees with a comprehensive onboarding strategy, you ensure your new employees completely understand their new roles and responsibilities. You also introduce them to your company culture, boost their confidence level and usher them in as welcome participants into your organization. A thought-out onboarding plan leads to higher engagement. And higher engagement leads to connection with the rest of the organization. Once there's a connection, you'll see employee commitment.
Ease of Onboarding With Bambu
Not only can Bambu help you hiring process through social recruiting and lower your cost per hire, but it can also better your onboarding process.
Bambu makes the onboarding process more efficient and much simpler for everyone involved. When new employees come on board, it's expected to read an employee handbook. Instead of having to share a few copies, you can upload the handbook into Bambu as an internal story and direct the new employees there. This same technique can be used with corporate guidelines, company policies and benefits and wage information.
Bambu can also be a great way to show new hires about the company culture and get them engaged with others in the company. With content curation tools from Bambu, new hires can read and share their peer's content online. This gets new employees engaged directly from the first day, which leads to happier and more productive people.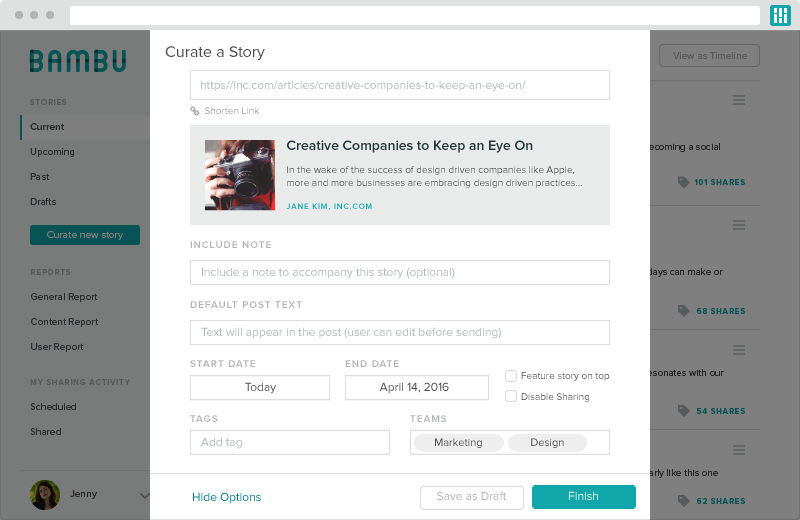 What Your Onboarding Plan Should Accomplish
Onboarding plans have many facets. Each one will be different depending on your company and how long the initiation lasts. However, it's recommended your plan last at least a week (preferably longer) to give new employees the best chance at full integration into their team. Although everyone's plan will differ slightly, each onboarding plan needs to accomplish a few common goals.
1. Reduces Turnover
As we discussed above, turnover costs businesses billions of dollars a year. A good onboarding program helps new employees integrate into the social environment of their new teams and help them feel valued. It tells new employees their new organization truly cares about them. It also makes them less likely to look for a job elsewhere.
2. Helps Establish Job Knowledge
Proper onboarding ensures the new employees understand their job roles and responsibilities. They need to know what it expected of them, how they will be delivering results and how/when they will be assessed. The more knowledge given in advance will help prevent issues in the future.
3. Teaches New Hire About the Organization
Your onboarding plan should teach new hires about the mission of the company. What do you stand for? What is your vision? These are all fundamental elements of your company culture. The sooner employees understand your organization's core beliefs, the quicker they will fully integrate into your company culture.
How to Create the Best Onboarding Plan
It's extremely important to create an onboarding plan methodically and with purpose. Organizations potentially lose tens of thousands of dollars on ineffective onboarding. Most failed onboarding plans revolve around a sink or swim approach where new employees get thrown directly into the thick of it. Another poor onboarding process is an excessive hand-holding approach with new hires watched over without any room for independent growth.
We've put together a list of eight onboarding best practices to help you avoid the pitfalls welcoming new employees:
1. Make Sure You're Organized
While it may seem like a no-brainer, it's important to make a plan. You'd be surprised at how many businesses don't put a lot of time and effort for a new employee to come on board.
This step includes logistical items like making sure their workspace is set up, they have access to the building, have the necessary logins and accounts and access to things like your company intranet. It's a good idea to have some sort of employee welcome packet. It should introduce new hires to your company culture, provide information about your onboarding plan and details on what to expect over the coming months.
2. Explain High-Level Items
Every new hire needs to be informed about your company vision and goals. This will help them better understand the direction of your organization as a whole. You also can explain how the new hire specifically fits into the bigger picture of your organization. Through this notion, you give new employees an idea of corporate culture and ultimately foster employee engagement as early as possible.
3. Clearly Define Expectations
You should be very clear with new hires and outline goals and expectations. New employees need to know what success looks like at your organization. Set aside time to explain the team metrics for success. When you're transparent with your expectations from the start, it's easier for new hires to stay positive and productive.
4. Ask Questions & Answer Them
Getting new employees up to speed and going through orientation makes it easy to forget about concerns your new employees may have. Take the time to ask them if they have any questions and try to answer them as thoroughly as you can.
5. Assign a Go-To Person
Giving new hire's a peer sponsor or a "buddy" helps them feel like they're in a safe space to ask any questions. You should choose a mentor who interacts with them on an equal level, like a member of their department, but not a manager.
6. Get the Whole Company Involved
Getting new employees in touch with the bigger picture is important for empowering your team, sharing core values and helping them assimilate into the company. Have new hires schedule meetings with each department to better understand how each facet of your business works. This is a great way for them to connect with your company mission and goals.
7. Have Onboarding Last More Than A Week
It takes an average of eight months for a new employee to become fully productive. Having an onboarding plan that lasts 30-90 days will give new hires the time to learn the tools, processes and responsibilities in their new roles. By having an extended onboarding process, you allow new employees to lay the fundamental groundwork for success. Here is what a typical 90-day onboarding process for new employees would look like.
By 30 Days: Your new hires will be introduced and start learning the software they'll be using. You should set small goals and have them start working on entry projects. One of the most important things for them to do within the first month is to get acclimated to the company culture. At the end of this period, they should have a solid understanding of their responsibilities, their role and expectations.
By 60 Days: During this period, employees should take on bigger responsibilities. The bulk of training should be done by now and the focus should be placed on what they do. They should be collaborating with other team members in different departments and getting used to being involved with larger projects.
By 90 Days: New employees should essentially be on their own during these last 30 days. They should accomplish bigger tasks and take on more responsibilities. This is the period where they're able to complete tasks with limited guidance from you or others and become more accountable for their own work.
8. Measure Your Efforts
As with most strategies, it's important to measure your efforts in order to determine their efficacy. Onboarding metrics such as employee engagement, retention rate, productivity and employee satisfaction provide better insights. Ensure you choose metrics that have the greatest value to your organization and HR department. Continually observe these metrics increase your onboarding processes for the best results possible. It also doesn't hurt to give new hires an employee satisfaction survey at the end of their onboarding.
The Importance of Onboarding
Each employee is an integral part of your organization. This makes onboarding an essential part of your HR strategy. By investing time and planning carefully, new team members hit the ground running.
No new employee wants to sit around during their first few days on the job. And you don't want to hire new team members who leave four months into the job. A well-thought-out onboarding plan guards against these concerns and help you retain a team of great employees that will stick with you for years to come.
Do you have any other best practices that should be added to this list? Let us know in the comments below!