The explosive growth of digital media gives people control over how they consume content. Now marketers and advertisers shift their public relations strategy to an inbound one. This allows them to provide relevant content to prospective clients, customers and influencers at the right time and place. This is achieved through many means, but one of the most effective ways is with a press release.
Press releases continue to be a tried and true method of reaching your target demographic with the message you want them to see. They are also a cost-effective way of generating earned media and new leads. But if not written and released correctly, you'll become one of many companies who rely on the spray-and-pray. It could mean your release won't be read by anyone, including reporters.
In the following article, we will go over 10 easy tips to follow when creating your press release as well as provide a press release template for you to use when writing your own. We will also touch on different ways to release and distribute your press release for maximum visibility among your target audience.
What Is a Press Release?
A press release is an official announcement written by a company which is sent out to the media, news outlets and other sources. They are brief and to the point, filling one sole page to avoid overcomplicating any news or updates. Some exceed two pages, but we recommend staying within the one-page press release template to keep your update concise to drive better results. Also, make sure you have the information you provide enough for the media sources that receive it can make their own stories about whatever you're news release is announcing.
Stick to the facts. Don't overstate your company's accomplishments or throw in content to make your story more appealing to your distributors. Remember your press release will be public for your prospects and current customers to see. You should think about your press release as an important piece of valuable marketing content.
The main purpose of all press releases is to broadcast something specific. This can be accomplishments, events, product launches, happenings or specific changes happening at your company. Press releases serves three promotional or marketing purposes:
To let your distribution sources know about whatever you are promoting with the hope that they will pass it along.
To inform the media about your company with the hope that a reporter will pick up your story and write an actual article about it.
To promote your business' image on the internet and beyond via social media, blogs, websites and printed media.
How to Write a Press Release (With Press Release Template)
After you've got the topic of your press release ready, you may wonder where to start. Using a press release template helps give your writing the consistency it needs to guarantee that all the essential elements are included.
Over the years, press releases have followed a fairly standard format. And despite changes to best practices, every press release still must include the same basic pieces of information:
Headline
Dateline City
Dateline Date
Boilerplate
Company Contact
To show you a standard example of what a press release should look like, we've created a press release template, which you can find here.
But what are the most essential elements of an effective press release? Let's take a look at the notable things to include in your next release:
1. Company or Brand Logo
Your company or brand logo should be the first thing you place at the top of your press release. Most press releases have it at the top center of the page, but if you are using a distribution service like PRNewswire, it will be located at the top left of the page.
2. Headline
This is the most important part of the entire press release. Coming up with a strong headline will better your chances of pulling in journalists seeking good stories. Make your headline engaging, but accurate.
3. Dateline City & Date
The dateline gives the location and the date of the article. It's separated from the first paragraph by a dash. Capitalize the location and ensure it's completely spelled out. It should look like this:
CHICAGO, IL, August 23 – [First Paragraph…]
4. First Paragraph
The first paragraph is the second-most important piece of a press release. Reporters are busy people, which is why it's necessary to get right to the point in the first paragraph. Always assume they will only read the first sentence and scan the rest. Get the message of your press release out quickly and address every important point in the first few sentences. The section should include the who, what, where, why and how of whatever it is you're writing about.
5. Include Hard Numbers
Leave the fluffy colorful narrative behind. You have limited space to make your point, so be sure to support the significance of your product, service or announcement with hard numbers. Your argument will become much more compelling if you quantify it with numbers. Additionally, you'll give reporters and other journalists more information and reason to share your content.
6. Include Quotes Wherever Possible
Including a great quote from a stakeholder in the company or someone close to the event gives a human element to the press release. Reporters can also use these quotes to provide context around your announcement.
7. Give Useful Background Information
Your last paragraph should give useful details that complete your introductory story you made in the headline and first paragraph. Add things like how your company developed the product or service, and why you're announcing the event.
8. Always Include a Boilerplate
The end of your press release should be the boilerplate. This section provides information about your company and what it does. It should include up-to-date company information and a link back to your company's website. A boilerplate helps your reader understand your company's purpose or focus. Some details you might consider including are:
When your company was founded
How people can learn more about you
What products or services you provide
What products or services you directly sell
9. Make Sure to Include Your Contact Information
A common oversight is with contact information. A press release without a number or email is useless to reporters who have no information to follow up with. Whether it's you or someone else at the company, be sure to include a main point of contact. Things you should include are a name, email address and phone number and the information should be located at the top of the page.
10. Keep It Short
Again, it's best to only use a one-page press release. Shorter is always better when you're working with direct information and content like a press release. Condense your most pertinent information into a readable document for journalists and reporters to easily digest.
How to Distribute a Press Release
After you've written your press release, you have to distribute it. There are many traditional methods to distribute a press release like publishing it on the company website or sharing it through social channels. But to make sure your press release gets maximum visibility, here are some tips to follow:
Target Specific Journalists
Do your research ahead of time and figure out what press and media you should target. This helps you tailor your story or headline. Focus on a couple journalists that cover your industry and reach out to them with personalized messages via email.
Send Your Press Release Under Embargo
By sending your press release to journalists a day or two before it is supposed to go live, you allow them time to craft their own story around your headline.
Use Quality Distribution Services
An extremely necessary tip to follow is use quality distribution services. Cheaper is not better when it comes to the distribution of your press release. Your distribution is going to cost you money, so be prepared. Some of the best distribution sites we have come across are PRNewswire, Berkshire Hathaway's Business Wire, PRWeb and Marketwire. However, there are services more expensive than others. Additionally, certain services charge more to add photos, videos and social media signals. It's critical to figure out which fits into your budget and works best for you.
Understand Distribution Service's Targeting
When you distribute your release, you have the option to set targeting on the content. Correctly targeting your content could mean the difference between thousands of views or little-to-none. By researching what industry your company or products apply to, you put yourself in a position to have your press release read by exponentially more people.
Don't Publish On The Hour
If you are using a distribution services like the ones mentioned above, try to avoid publishing on the hour. The reason for this is most companies schedule their releases to be published on the hour, which means there is more noise for your press release to compete with. By using a distinct time, like 2:12 p.m. or 8:34 a.m., you give your press release a better chance to have higher viewership.
Always Cross-Promote
Whenever you publish a press release, it's imperative that you cross-promote it on any digital real estate that you own. This could be your company's blog or social media profiles. Just because your press release was published a day or two ago, you should still promote it through your digital channels to get secondary and tertiary views.
Bonus Tip: Use an advocacy platform like Bambu by Sprout Social to distribute your press release template to others in the office so that they might use it for any newsworthy items coming out of their own departments.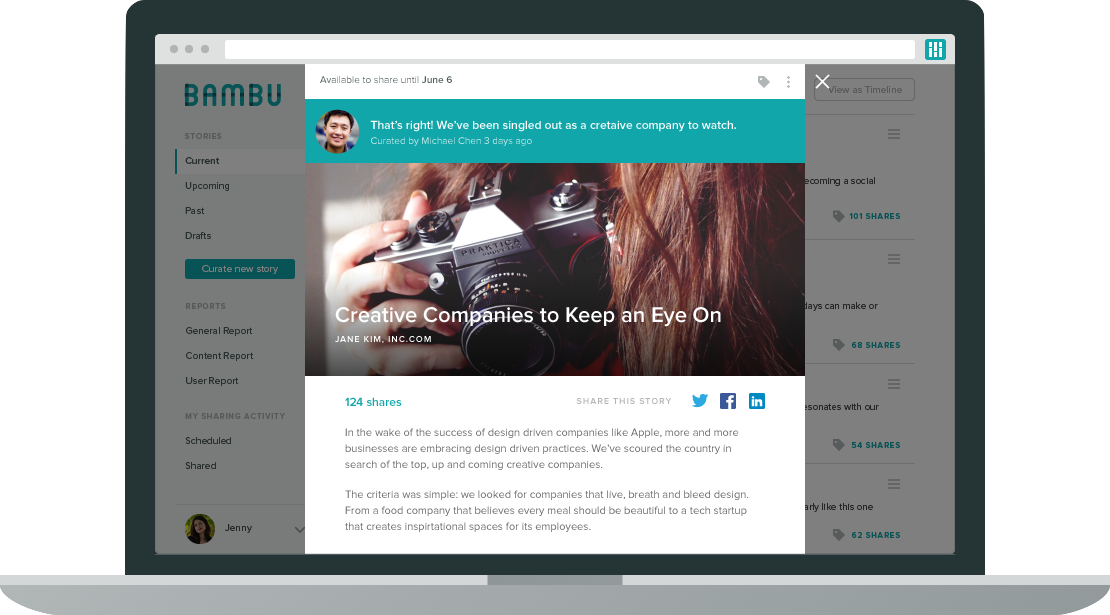 Get Started With Our Press Release Template
A good press release template can help benefit your company and has the potential to increase brand exposure, drive web traffic and boost sales. Be realistic with your expectations. Most reporters and journalists are swamped with press releases, so it may take a few attempts to land press coverage for your business.
Never give up as your determination can take you a very long way. Feel free to use our template created below by saving the image or editing the press release on Google Docs.
---