Social Recruiting Strategies That Find Qualified Applicants

The economy has rebounded since the recession of 2008. Businesses are hiring more individuals and there are more people entering the job market every day. Any business owner wants the best, brightest and most qualified individuals to come work for them. So, how can this be achieved?
The art of recruiting employees has greatly shifted in the past decade. 93% of recruiters and HR professionals say they plan on using social media in their recruitment efforts. This statistic doesn't hold true for most regular business owners, though. By developing a solid social recruiting strategy, your company can use social media to connect with prospective employees and attract the best and brighest young individuals to come work for you.
What is Social Recruiting?
Social recruitment, or social hiring, is the act of recruiting prospective employees by using social media platforms such as LinkedIn, Facebook, Google+, Twitter, etc. It's defined more as a concept instead of a technique and is supposed to compliment traditional recruiting methods, although social recruiting is quickly taking over traditional recruitment as "the norm."
Job candidates are being actively sourced through conversations that take place on social media. When businesses implement their social recruiting strategy correctly, they get their brand message across numerous social platforms while showing potential candidates an enticing picture of what their company culture is like.
Why Traditional Recruiting Strategies Aren't Enough Anymore
Businesses have been slowly moving away from traditional recruiting strategies for a number of reasons. Traditional recruiting methods relied on ways to find prospective employees that were time consuming, expensive, making them less efficient that social recruiting methods. Also, it is more difficult to research the employee beyond what their resume says whereas a social recruiting strategy allows you to do a thorough screen on the employee even before first contact is made.
These traditional recruiting strategies are still in use, but have significant disadvantages over a well-formed social recruiting strategy.
Posting Classified Ads
Online classified ad sites like Craigslist have gained a tremendous amount of popularity in the past decade, allowing individuals to not only post items for sale but also current job openings. While posting on these types of sites have their advantages over taking an ad out in the Sunday paper, they also have significant drawbacks.
These types of sites that are popular have significant traffic, which correlates with a high volume of incoming applicant resumes. Each application submitted takes time and effort to review and there isn't an efficient way to sort candidates who are qualified from the ones who are not.
Using Job Search Websites
The primary purpose of these types of websites is to connect employers with potential candidates. It's true that sites like these have made it easier to post open positions and receive resumes from applicants, but their main downfall is the cost associated with them.
For example, Indeed.com a site with 140,000,000 monthly unique visitors charges on a cost per click basis. They charge anywhere between $0.25 – $1.50 per click. This may not seem like much, but if your job posting accumulates 2000 clicks, the cost can add up very quickly, This traditional strategy is still effective, but can be very costly both in terms of money and labor.
Does Social Recruiting Work?
The simple answer here is yes, social recruiting works. Recruiters have found social media allows them to narrow the candidate pool more effectively and quickly find individuals who are qualified for the job. Social recruiting is much less cost prohibitive and recruiters are no longer limited by geography. Having a well-thought out social recruiting strategy is essential to attract and connect with the most qualified candidates to come work at your company. Here are some social media recruiting statistics to back up the claim that social recruiting is effective: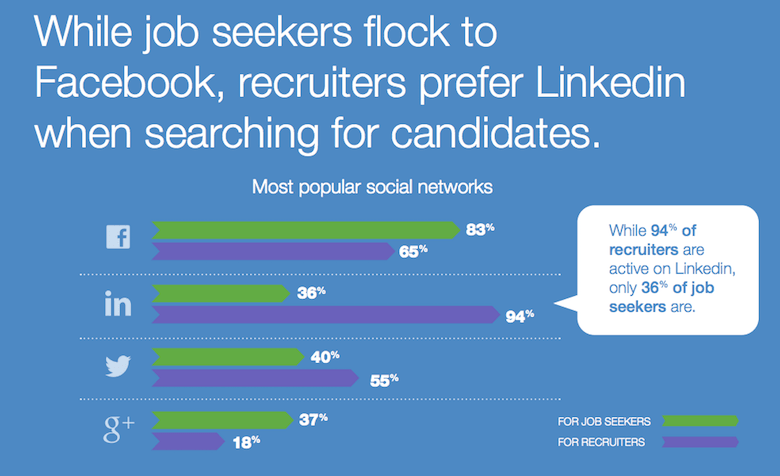 Source: Jobvite
73% of 18-34 year-olds found their last job through social media. (source: Aberdeen Group via Capterra)
59% of recruiters rated candidates sourced through social media as "highest quality." (source: Jobvite)
21% of candidates said they found their dream job through social media (source: Jobvite)
89% of recruiters say they have hired someone off of LinkedIn (source: Herd Wisdom via Social Meep)
While 94% of recruiters use social media for their jobs, only 39% of all employers use social media for recruiting and hiring. This is up 37% from the year before. (source: CareerBuilder)
83% of job seekers prefer Facebook over any other social network. (source: JobVite)
Social Recruiting Strategy Best Practices
Social recruiting can be done in both a passive and active manner. It is important to formulate a concrete social recruiting strategy before posting job openings on social media. This will increase your chances of evoking the best response from prospective candidates. Here are some social recruiting best practices to get you started on your social recruiting journey:
Know Your Network
It is much better to have a solid presence on one or two social networks instead of a diluted presence on all of them. The major networks you should be focusing on are LinkedIn, Facebook and Twitter. It should be noted that if you've already built a presence on those networks it'll be much easier to amplify your message.
It is important to understand your target demographic on each network as they can vary greatly from platform to platform. Once you understand who is listening, you can tailor your message to reach the right individuals at the right time.
Make Sure the Application Process Works
This may seem like a no-brainer, but you'd be surprised by how many companies have a slow and buggy application process full or redirects and pages that aren't mobile friendly. Take the time to go through the entire application process yourself on PC, tablet and phone. Analyze the process and ask yourself if you can simplify it at all. Make it fast and easy for applicants to apply. If you have a developer, ask them about implementing a plugin created by LinkedIn that will allow candidates to apply with their LinkedIn profile.
Involve Your Employees in Your Recruiting Strategies
Employee advocacy is a concept that all businesses should be promoting. By involving your employees in the recruitment process, you can have your message spread to a much wider audience who are more likely to listen. Studies have shown that people trust people more than brands. This is the single most important reason why it is important to utilize your employees in your recruitment efforts.
True employee advocates will organically spread the word about your company culture and should be happy to post about a job opening on their own social networks. If your employees are posting and tweeting about how amazing it is to work for you, it will naturally draw a bigger audience to not only your recruitment efforts but also your overall presence online. Advocacy on social media can be easily accomplished by using employee advocacy platforms like Bambu.
Bambu simplifies the process of curating and distributing content internally and makes it easy for them to spread the word about company culture and any open job positions. Potential candidates want proof that people enjoy working for you. Your employees are the only ones who can do that.
Provide Value to Prospective Candidates
Make sure the content you are posting on social media is of value to not only your fans but also to the people who you want to come work for you. The types of content you should be posting will vary greatly depending on what type of business you're in, but it should be relevant to your industry. By staying current on industry news, tips and tricks, and informative content that engages your fan base, you are more likely to attract similar-minded candidates. You wouldn't be posting pictures of cats if you were looking for employees to join your software engineering company, would you?
Use the Advanced Search Features of Different Social Networks
Many people don't realize this, but most of the major social networks have advanced search features built right into them. By using these advanced search features, you can actively target the types of individuals you are looking for and engage with them on a one-to-one basis.
Facebook Graph Search
Facebook allows you to search based various attributes of a user's profile (Location, interests, pages liked, areas of study, etc.) You can also join queries to get a more refined result. Let's say you were looking for people who work live in New York and study computer science:
You also have the ability to perform queries like "People who are interested in Social Media and Computer Science and live in New York City." With Facebook's Graph search, you can single out individuals or groups of individuals who you think would be a good fit at your company based on interests, likes and a slew of other identifying information.
LinkedIn Advanced People Search
Because of the business-oriented nature of LinkedIn, their advanced search capabilities give recruiters significant advantages over other networks. While about half of their advanced search features are free to use, there are some that require a LinkedIn premium account. The free portion of their advanced search still provides a lot of flexibility and power for finding qualified individuals who you may be a good fit for the position at you're hiring for.
Twitter Advanced Search
Twitter's advanced search feature is more limited than Facebook's and LinkedIn's but still can be powerful if used correctly. As you probably know, tweets can only be 140 characters, so this search is better for finding individuals who are tweeting using a specific phrase or hashtag. Find what hashtags are used most in your line of work, use them in the advanced search, and narrow your results by geographic location.
Participate in LinkedIn and Facebook Groups
By being an active participant in groups, you can get the word out that you're hiring to a large group of individuals (depending on how many members are in the group.) You should be an active participant in groups before making a one-off post about a job opportunity as that will look very "promotional" and be frowned upon. Engage with the communities you're a part of and provide value to its members. If individuals already know you they will be much more likely to allow posts that promote job opportunities.
Be Responsive and Consistent With Your Efforts
Nothing looks worse than a company not responding to comments user make on their posts. This is already a must-have strategy with social media marketing and is especially true when posting about a job. Users expect to hear back from you in a timely fashion with answers to their questions or concerns. It's recommended you reply publicly, but If you don't feel comfortable doing that you can send a reply via DM.
Measuring Your Efforts
As with any strategy, it's important to establish some KPI's in order to gauge how well you are doing. To measure your social recruiting strategies, you should focus on the following:
Traffic to your application page referred via social media – How many people are landing on your application page who were referred from social media? You can also dive into this a bit more and see what networks are driving the most traffic and focus your efforts on the ones that perform best.
Number of conversions – How many applications were filled out and submitted? This number will allow you to calculate the ROI from your social recruiting efforts. If this number seems to be significantly lower than expected, re-visit your application process to see if you can improve it in any way.
Number of likes/comments/shares – This number will allow you to A/B test your posts to see which types of posts are doing well and which are falling flat.
You should realize that social recruiting is more of a long-term effort so plan to stick with it. Relationships on social media are not formed overnight! If you are patient and consistent with your efforts, you are bound to see good results.
Your social recruiting strategy should be part of your overall marketing strategy on social media. By using the above tips to help you form a social recruiting strategy you put yourself in a much better position to reach the right individuals and source the most-qualified candidates.
Do you have any tips on forming a comprehensive social recruiting strategy? How have you seen social recruiting be beneficial to your business? Let us know your thoughts in the comments below!
Andrew Wasyluk is a social media expert, developer, Twitter fanatic, and founder of Socialeyze, a social media consulting firm based in Boulder, CO. When he isn't scrolling through his Twitter feed he can be found playing guitar, exploring Colorado, and laughing at his own jokes. Find Andrew Wasyluk on Twitter
@socialeyze
.
Social Recruiting Strategies That Find Qualified Applicants
Written by Andrew Wasyluk on October 19, 2015