Recruiting has drastically changed in the past decade. Businesses are rapidly growing their workforce in an increasingly competitive landscape, and in order to attract top talent, it's pivotal to have social recruiting strategies in place.
When you consider the impact of social platforms like Twitter and Facebook on the way we function as a society, the weight is significant. Social media has completely shifted behaviors from news-sharing all the way to how we look for jobs, so it's easy to see the value of social media in the business world. With the shared understanding that finding and retaining top talent is a key component to running a competitive business, the first (and most important) step to successful recruiting strategies is determining what your primary objectives are, and then creating a plan of attack for how you'll execute them.
What is Social Recruiting & Does it Really Work?
The simple answer here is yes, social recruiting works.It's defined more as a concept instead of a technique and is supposed to compliment traditional recruiting methods, although social recruiting is quickly taking over traditional recruitment as the norm.
social recruiting
Check out a personalized demo of Bambu, centered around how you can leverage the benefits of social recruiting to gain qualified candidates through existing employees.
Recruiters have found social media allows them to narrow the candidate pool more effectively and quickly find individuals who are qualified for the job.
When businesses implement social recruiting strategies correctly, they get their brand message across numerous social platforms while showing potential candidates an enticing picture of what their company culture is like. In fact:
73% of 18-34 year-olds found their last job through social media. (Capterra)
59% of recruiters rated candidates sourced through social media as "highest quality." (Jobvite)
21% of candidates said they found their dream job through social media (Jobvite)
89% of recruiters say they have hired someone off of LinkedIn (Social Meep)
While 94% of recruiters use social media for their jobs, only 39% of all employers use social media for recruiting and hiring—up 37% from the year before. (CareerBuilder)
83% of job seekers prefer Facebook over any other social network. (JobVite)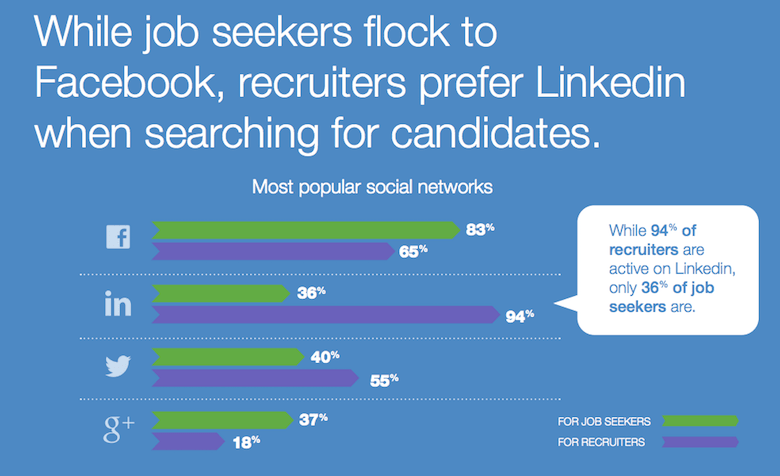 Why Traditional Recruiting Strategies Are No Longer Enough
Businesses are slowly moving away from traditional recruiting strategies for a number of reasons. Traditional recruiting relied on finding prospective employees in a way that was time consuming and expensive, making them less efficient than social recruiting strategies. While these strategies are still in use, they come with significant disadvantages over a well-formed social recruiting strategy—primarily when it comes to cost.
For example, Indeed.com, a site with 140,000,000 monthly unique visitors, charges on a cost-per-click basis, and it can amount to anywhere between $0.25 – $1.50 per click. This may not seem like much, but if your job posting accumulates 2,000 clicks, the cost can add up very quickly, This traditional strategy is still effective, but can be very costly both in terms of money and labor.
The Most Effective Social Recruiting Strategies
Social recruiting can be done in both a passive and active manner. It is important to formulate a concrete plan before posting job openings on social media—here are some social recruiting strategies to get you started.
Determine Your Goals
The path to success always starts by creating a solid foundation. It's easy for companies to get tangled up in connecting with candidates through a variety of platforms as you work on your recruitment strategy, However, if you start dividing your attention between dozens of sites without any pre-set ambitions, you'll be setting yourself up for unneeded struggle.
Today, 84% of companies are recruiting through social media. However, the way you use social media to inform your recruitment strategy can involve several different actions—actions such as:
Visiting LinkedIn to learn more about a candidate's professional experience
Engaging candidates on Twitter to learn more about their interests and what they value—which also helps identify the right culture fits
Monitoring Facebook to get a glimpse into how candidates present themselves to strangers, friends and family
Using Pinterest and Instagram to get a sense of where candidates spend their free time or what they might be passionate about
Tap Into the Right Platforms
Recruiters should be agile in where they plant their flag for finding the most talented and qualified candidates. Not only does social media have a more diverse collection of candidates to offer, but more than half of recruiters cite social media as the best source for high quality employees. However, in order to find these high-quality employees, its important to tap into the right platform given the role you're trying to fill.
While LinkedIn or Twitter might seem like the most obvious place to start your social media recruiting strategy, it's important to profile your ideal candidate and consider where they're most likely to spend their time on social. For instance, a graphic designer might spend more time on visual channels like Instagram or Pinterest, whereas a salesperson will probably be more active on platforms like LinkedIn.
Each platform you consider will require a slightly different approach for candidate sourcing. For example, on Twitter, you'll want to incorporate hashtags to join the right conversations and increase your reach beyond just your existing followers. Alternatively, on Facebook, it may be appropriate to visit careers pages and job groups to seek out potential employees.
There are dozens of opportunities to amplify your message, it just requires you to shift your mindset from platform to platform.
Adjust to a Changing Workforce
When it comes to social media and recruiting, something to keep in mind is that the modern workplace is constantly evolving. In order to thrive in this environment, it's important for businesses to monitor and frequently shift or update their strategies to accommodate to the new ways our incoming generations operate.
In a world connected, companies are beginning to recognize that strictly posting on job boards and nothing else probably won't cut it anymore. A quarter of all job seekers (and 7 in 10 Millennials) are currently using social media as a primary tool for job searching—a number that will only continue to grow as more hyper-connected digital natives enter the workforce.
Each platform offers its own collection of functions that can be used to capture the attention of candidates. However, it's worth noting that Millennials are the tech-savvy generation—meaning they'll be drawn more to companies that use the same technologies they access every day. Be sure to leverage social recruiting tools that allow candidates to submit resumes through social channels or auto-filling contact forms from LinkedIn profiles. By doing this, you show your potential employees that you make it a priority to provide the work environment they're most comfortable and accustomed to.
Create an Online Presence That Reflects Your Brand
The ability to create a work environment that's both desirable and reflective of your company brand will continue to climb the ranks on your future candidates' list of requirements. Seeing as 7 out of 10 recruiters agree that company culture is key to attracting talent, a strong reputation and positive online presence carries a lot of weight, especially with your passive candidates. A recent Glassdoor survey even found that 84% of participants would be willing to leave their current company for a company with a positive reputation.
In order to develop a more active and positive social media presence, think about your brand manifesto and how you can highlight the most valuable parts of your company through social media. For most companies, this will be about featuring current employees—after all, if you have a strong brand identity, they'll be your biggest advocates. By allowing employees to share in your company voice, you give candidates insight into the behind-the-scenes element they're seeking to learn more about.
Involve Your Employees
Employee advocacy is a concept that all businesses should be promoting. By involving your employees in the recruitment process, you can have your message spread to a much wider audience who are more likely to listen. Studies have shown that people trust people more than brands. This is the single most important reason why it is important to utilize your employees in your recruitment efforts.
True employee advocates will organically spread the word about your company culture and should be happy to post about a job opening on their own social networks. If your employees are posting and tweeting about how amazing it is to work for you, it will naturally draw a bigger audience to not only your recruitment efforts but also your overall presence online. Potential candidates want proof that people enjoy working for you. Your employees are the only ones who can do that.
Use the Advanced Search Features of Different Social Networks
It is important to understand your target demographic on each network as they can vary greatly from platform to platform. Once you understand who is listening, you can tailor your message to reach the right individuals at the right time. Many people don't realize this, but most of the major social networks have advanced search features built right into them. By using these advanced search features, you can actively target the types of individuals you are looking for and engage with them on a one-to-one basis.
Facebook Graph Search
Facebook allows you to search based various attributes of a user's profile (Location, interests, pages liked, areas of study, etc.) You can also join queries to get a more refined result. Let's say you were looking for people who work live in New York and study computer science:
You also have the ability to perform queries like "People who are interested in Social Media and Computer Science and live in New York City." With Facebook's Graph search, you can single out individuals or groups of individuals who you think would be a good fit at your company based on interests, likes and a slew of other identifying information.
LinkedIn Advanced People Search
Because of the business-oriented nature of LinkedIn, their advanced search capabilities give recruiters significant advantages over other networks. While about half of their advanced search features are free to use, there are some that require a LinkedIn premium account. The free portion of their advanced search still provides a lot of flexibility and power for finding qualified individuals who you may be a good fit for the position at you're hiring for.
Twitter Advanced Search
Twitter's advanced search feature is more limited than Facebook's and LinkedIn's but still can be powerful if used correctly. As you probably know, tweets can only be 140 characters, so this search is better for finding individuals who are tweeting using a specific phrase or hashtag. Find what hashtags are used most in your line of work, use them in the advanced search, and narrow your results by geographic location.
Participate in LinkedIn and Facebook Groups
By being an active participant in groups, you can get the word out that you're hiring to a large group of individuals (depending on how many members are in the group.) You should be an active participant in groups before making a one-off post about a job opportunity as that will look very "promotional" and be frowned upon. Engage with the communities you're a part of and provide value to its members. If individuals already know you they will be much more likely to allow posts that promote job opportunities.
5 Companies That Have Mastered the Art of Social Recruiting
A significant 59% of companies are investing more in their employer brand compared to last year. This includes assigning dedicated employees to populate the company career page with entertaining, company-culture-related content, as well as fast, thorough responses to all reviews and inquiries. It's certainly an ambitious undertaking but these five companies are totally nailing it.
1. Marriott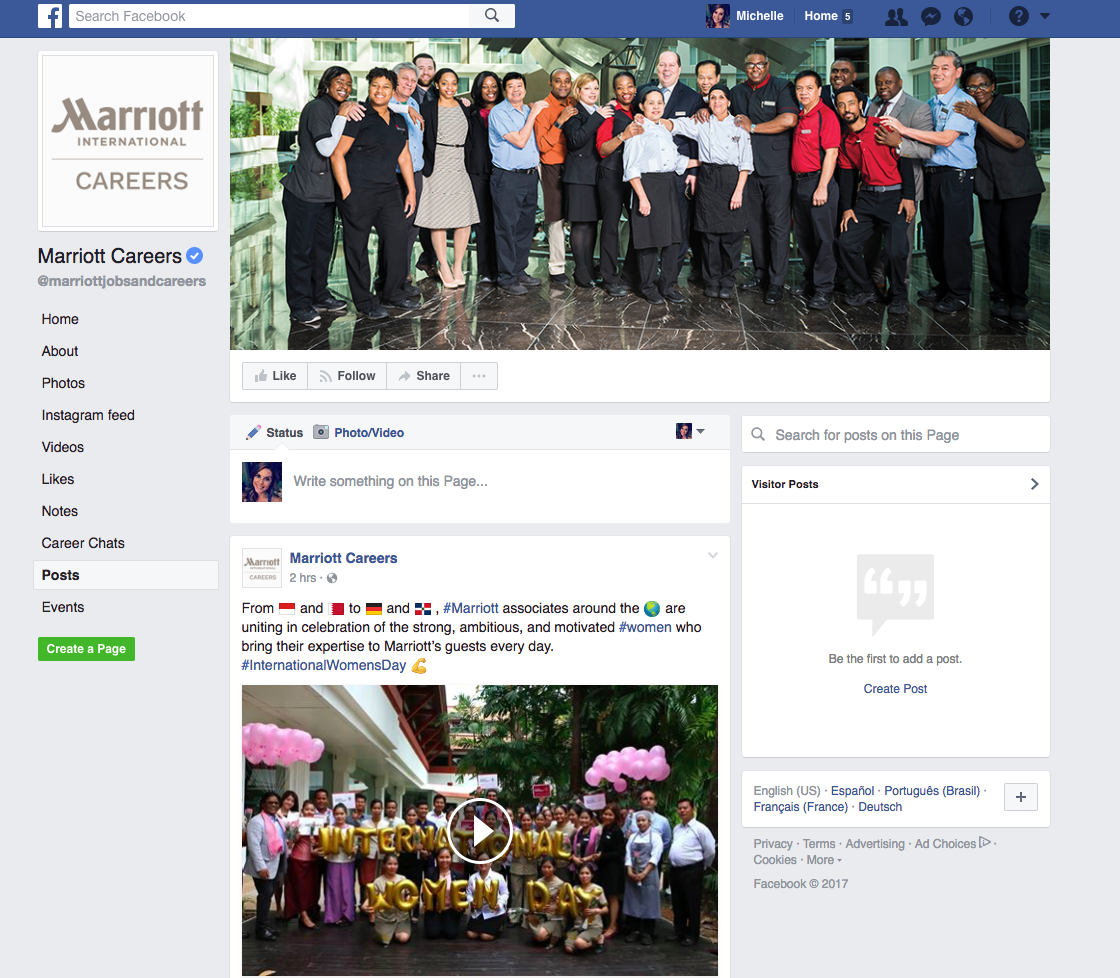 Marriott's career page has 1.2 million likes – 4x more than Facebook's own. Its most notable feature is the "Career Chat." Candidates can ask questions about working for Marriott and receive real-time answers from employees, identified by their first name to personalize the interaction. They also regularly highlight various employees' personal achievements and success stories. These efforts help to humanize the process and provide job seekers with an insight into what it might be like to work for their organization.
Keys to Success:
Create a level of honesty and transparency through Q&A
Personalize your candidate interaction
Regularly recognize employee achievements
2. Intel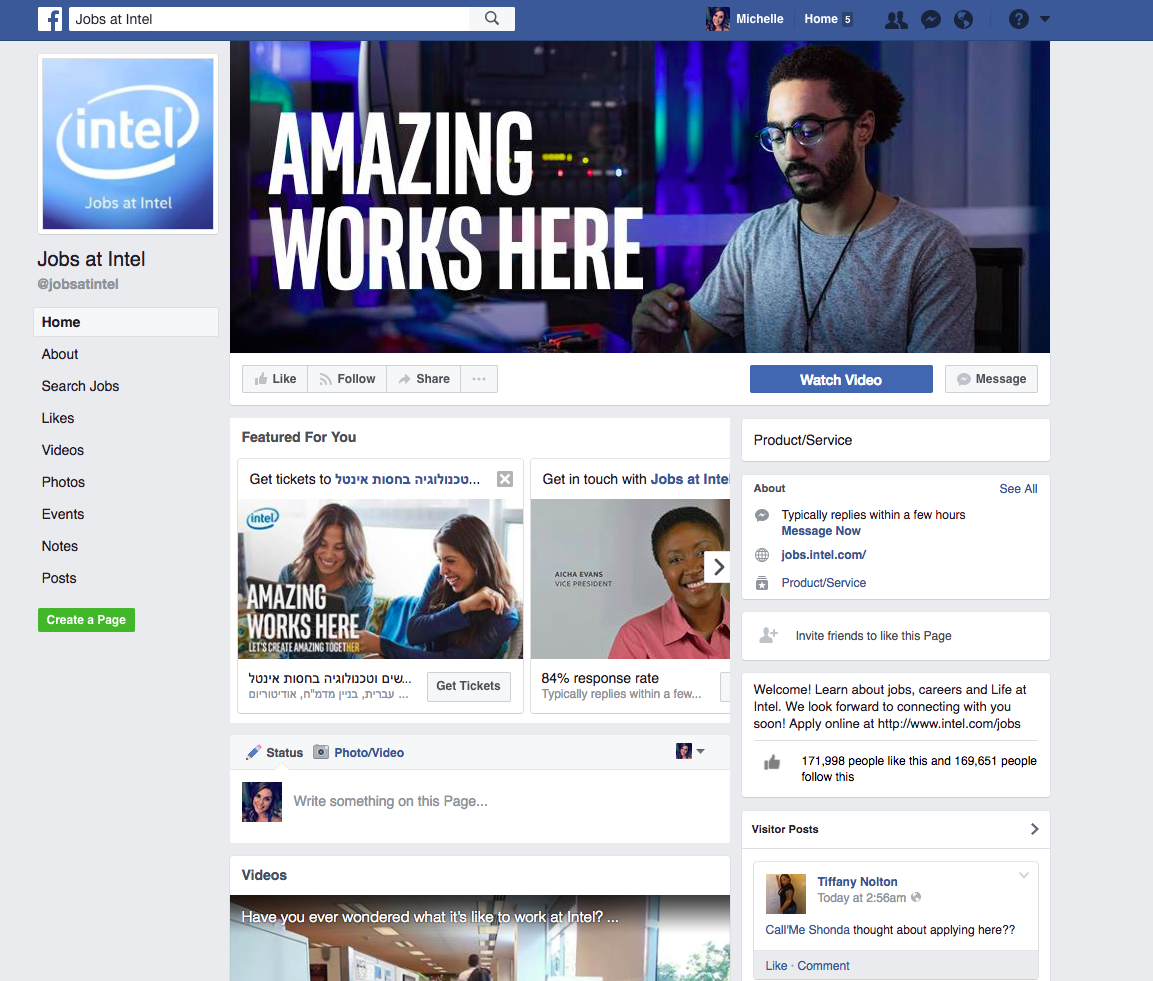 Intel has suffered from a common challenge of large companies: appearing untouchable.
"What we found from candidates was that we were largely seen as a closed-off company," recalls Sejal Patel (@smileysejalee), a social media strategist with the Santa Clara-based chipmaker. "Few people outside Intel knew what it was like to work here."
In addition to developing a strong presence on social media across several platforms like Facebook and LinkedIn, they also aim to keep a steady, open dialogue with job seekers. They've even gone as far as implementing a "no comment left behind" policy that ensures recruiters are responding to every inquiry or question with a personal response.
Keys to Success:
Maintain an approachable presence on social media
Create an open dialogue on your page
Respond to every candidate quickly and thoroughly
3. Sodexo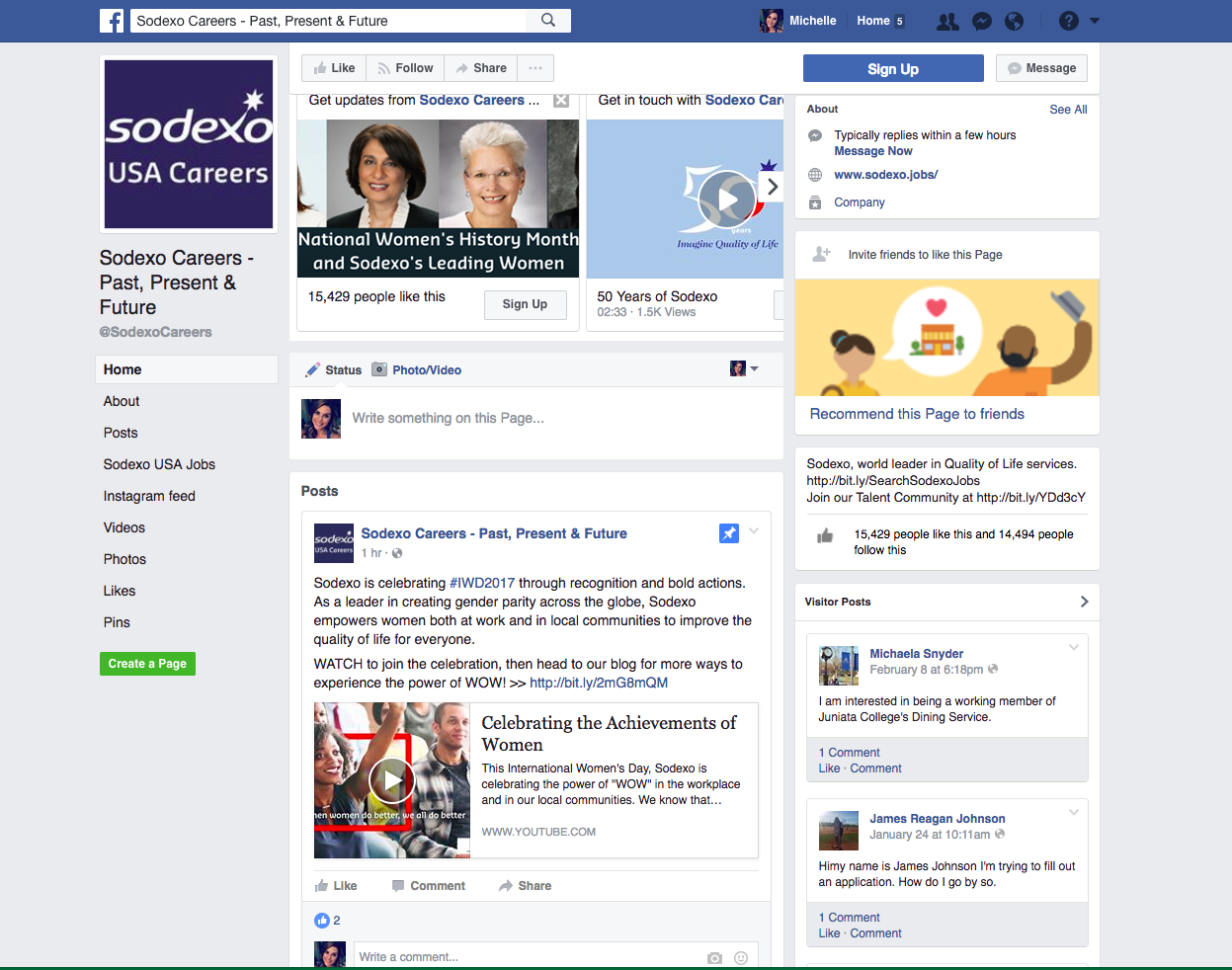 Despite being the world's twentieth largest employer, Sodexo struggled with brand recognition. They looked to social media to help spread their company name and values, and to educate potential candidates on the wide range of available job positions.
Sodexo reports that nearly half of their current employees used the company's social platforms, which include a popular blog and mobile app, to either find their job or to prepare for their interview. The company credits the marked improvement in candidate quality and employee engagement to their increased social recruiting resources.
Keys to Success:
Establish a candidate-focused approach
Use resources such as a blog to better educate and prepare candidates
Capitalize on mobile to meet talent where they are
4. Zappos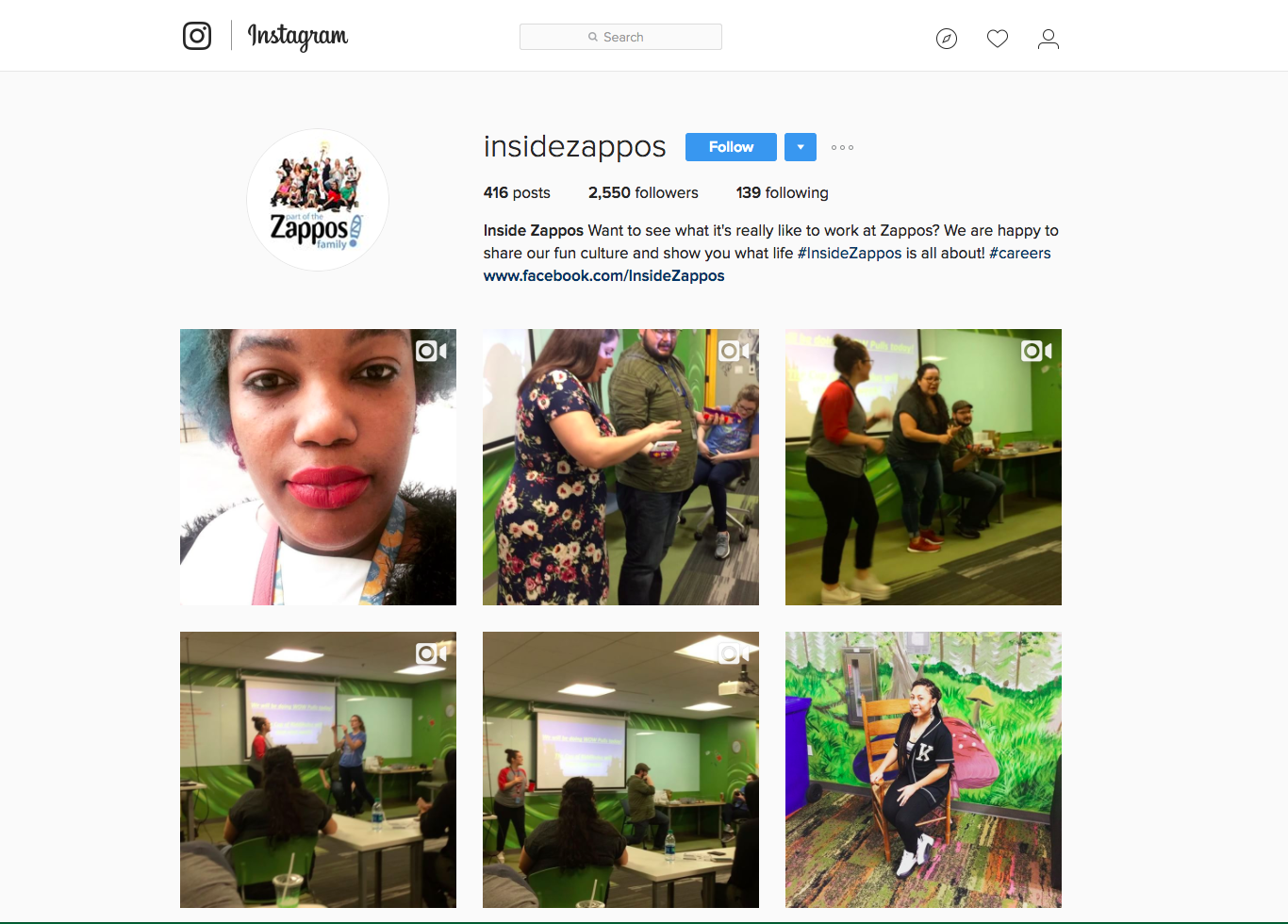 Back in 2014, Zappos made internet headlines when they decided to do away with job postings all together. Instead, they spent months building up a cross-platform social presence with their "Inside Zappos" pages. There they share information and news regarding company culture, campus, events and employees.
Interested job seekers are known as "Zappos Insiders" and can sign up to talk to recruiters in a more real, informal process. This allows both parties to get acquainted and evaluate each other for a potential fit.
According to Stacy Donovan Zapar, lead social recruiter for Zappos, "Instead of reviewing applications all day and sending countless sign-off emails, our recruiters are focusing on proactive sourcing, driving people to join our Insider program, having two-way conversations, meeting people, networking, chatting with Insiders, answering questions, engaging on social media, employer branding and proactive pipelining so that we know EXACTLY who we want to interview once a position becomes available."
Keys to Success:
Recruit proactively–don't wait for top talent to come to you
Create a network of talent using relationship-based recruiting
Identify candidates with the company culture in mind, not just open positions
5. UPS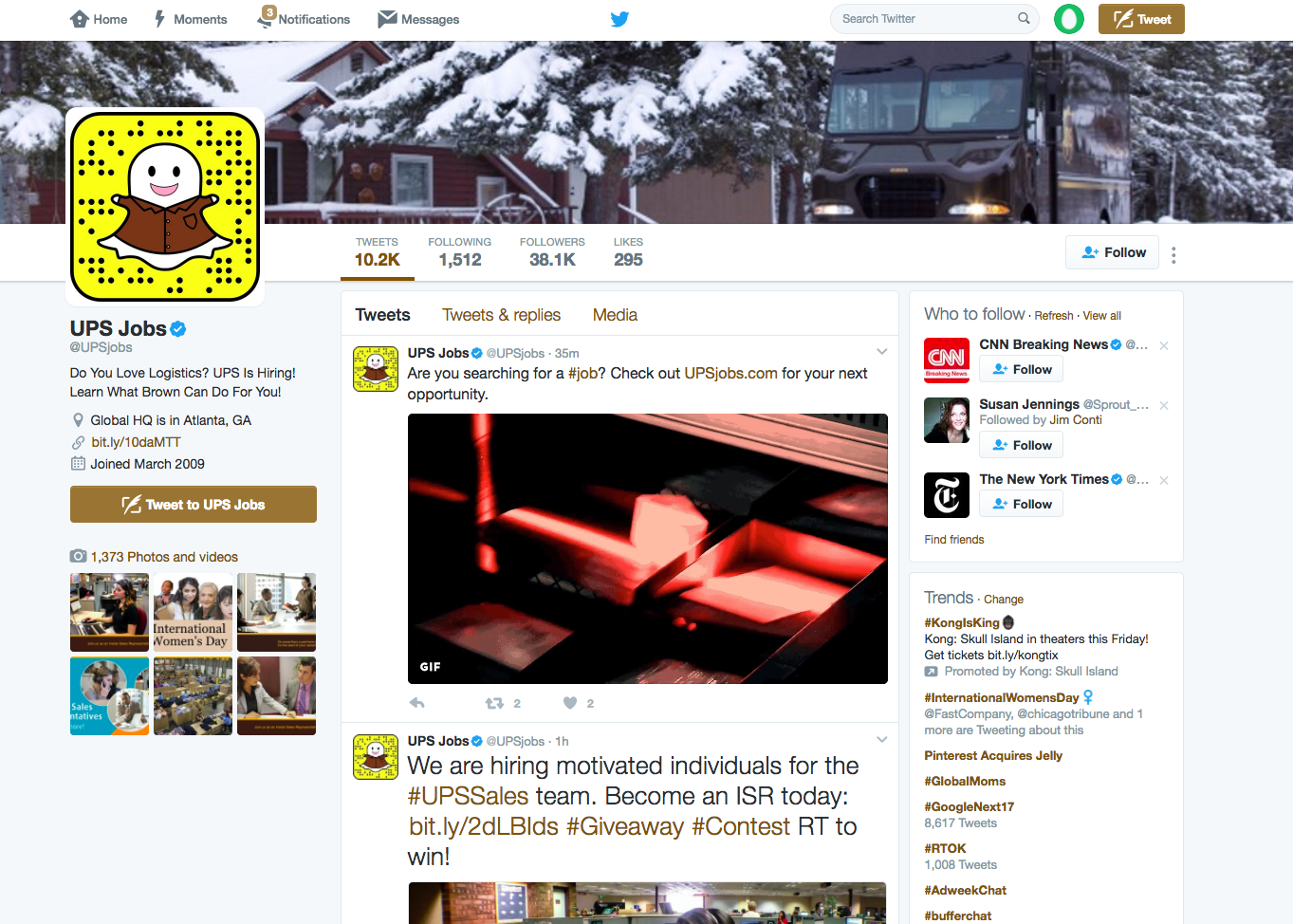 Named one of the Top 50 Recruiters on Twitter, UPS is considered one of the best in the business of social recruiting. The company's career pages on Facebook and Twitter focus heavily on highlighting employee humanity and diversity with personal videos and stories. They also engage with their followers by posing daily questions and discussion topics, and are highly responsive.
Keys to Success:
Storytelling & job postings
Lean on employees to showcase company culture
Engage with candidates on a daily basis
Measuring the Results of Your Social Recruiting Strategies
As with any strategy, it's important to establish some KPIs in order to gauge how well you are doing. To measure your social recruiting strategies, you should focus on the following:
Traffic to your application page referred via social media – How many people are landing on your application page who were referred from social media? You can also dive into this a bit more and see what networks are driving the most traffic and focus your efforts on the ones that perform best.
Number of conversions – How many applications were filled out and submitted? This number will allow you to calculate the ROI from your social recruiting efforts. If this number seems to be significantly lower than expected, re-visit your application process to see if you can improve it in any way.
Number of likes/comments/shares – This number will allow you to A/B test your posts to see which types of posts are doing well and which are falling flat.
You should realize that social recruiting is more of a long-term effort so plan to stick with it. Relationships on social media are not formed overnight! If you are patient and consistent with your efforts, you're bound to see results.
Engage Your Audience & Keep the Conversation Flowing
When it comes to social recruiting, it's important not to lose sight of what this approach is at its core—social. This means that your conversations on social media should be a two-way street, and you should always be prepared to both ask and answer questions.
At the same time, make sure that you don't focus exclusively on job postings. You should always strive to spark conversations that engage different groups of people, share helpful resources, and infuse your message with the tone of what your company brand strives to represent. As a result, talented individuals will engage with your brand even when job roles aren't available, helping you create a pool of talent to dip into whenever you have an open role.
The recruiting environment is constantly changing. Attracting the right talent is no longer a linear process that only involves posting a job listing and waiting for resumes to roll in. Successful companies make it a point to foster a social environment where employees engage with one another both internally and externally. The bottom line is: Social recruiting works. All you need to do is make sure that you have the right resources in place to find the best candidates to join your company.