Boost Employee Engagement with Suggested Stories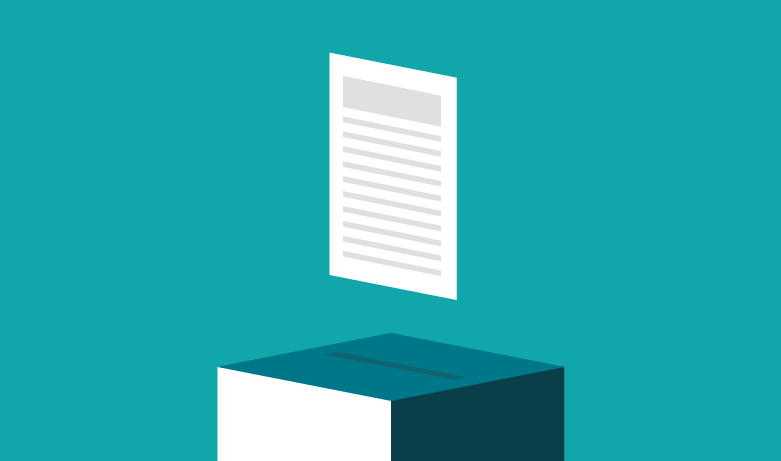 Your average employee seeks a greater investment in your business. In fact, nearly 3 in 4 employees want their company to keep them updated about what's happening with the brand. A study from the Harvard Business Review finds that less than a quarter of businesses believe their employees are highly engaged within the organization.
In addition, a Gallup poll found the percentage of engaged employees was at 32% in 2015 and 31.5% in 2014. These numbers show that even if you have a strong employee advocacy plan in place, when only a small number of your team engages with it, it's not living up to the fullest potential.
Today, Bambu is excited to announce that Readers can now make suggestions for what type of content they would like to see inside Bambu. The new feature, Suggested Stories, enables Readers to make a suggestion for their team based off content they find relevant. Managers can then decide if they'd like to curate the suggested content as a Story. Suggested Stories opens up another opportunity for members of your team to get involved with advocacy efforts.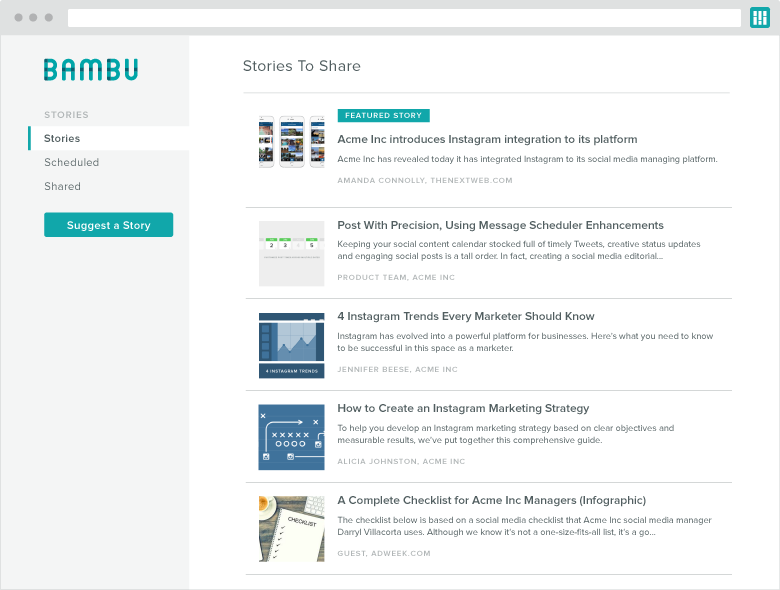 Make it a Team Effort
For organizations, having buy-in from your entire team on your employee advocacy efforts is essential to their success. By enabling Suggested Stories, teams can leverage their teams full value by opening up a new opportunity for team members to get involved with content curation.
Managers can also provide feedback as to why a suggestion was either approved or rejected, helping the team to better understand the goal of their organization's advocacy efforts. In addition, Managers can get a better understanding of what type of content their teams would like to see inside Bambu, and ensure the true voice of the company is heard.
Getting Started with Suggested Stories
To get started with Suggested Stories, an Admin must enable the feature on the Company Settings page. Readers make suggestions using the Suggest a Story button inside Bambu.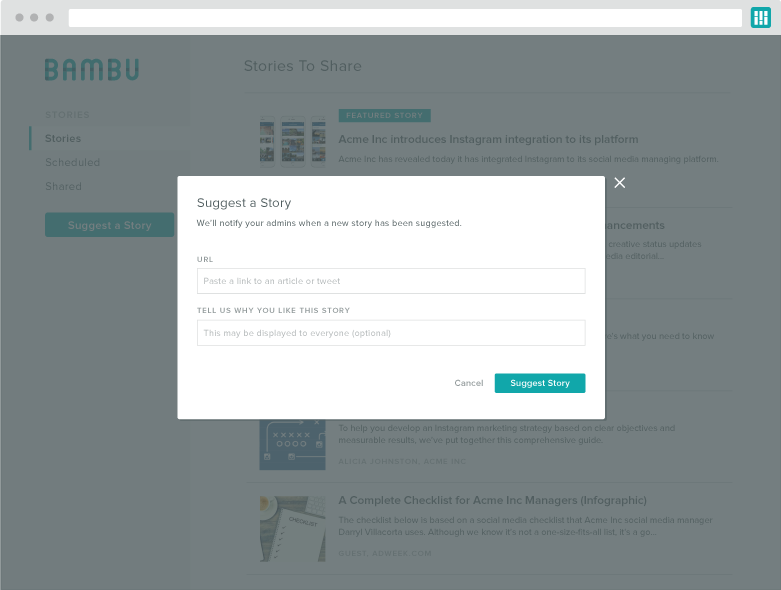 In the Edit Story screen, Managers then decide to approve or reject the suggestion. To approve, a Manager can edit the post and curate. To reject, a Manager can delete the suggestion. To provide feedback on a suggestion, a Manager can email the Reader directly by clicking their name on the Suggestions screen next to their suggestion.
Using the new Suggestions tab, Managers can then decide to approve or reject the suggestion. Here's how:
To approve, a Manager can edit the Story and curate.
To reject, a Manager can delete the suggestion.
To provide feedback, prior to deleting a suggestion, a Manager can click the person's name and send them an email directly.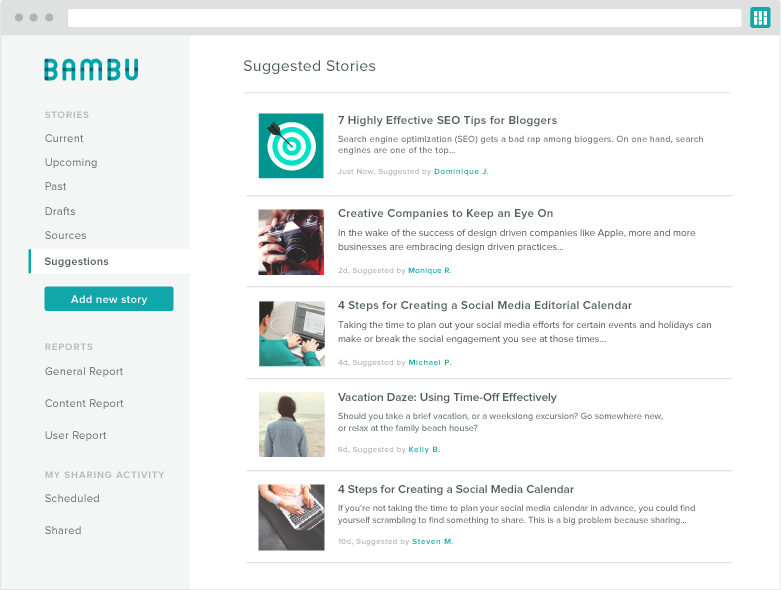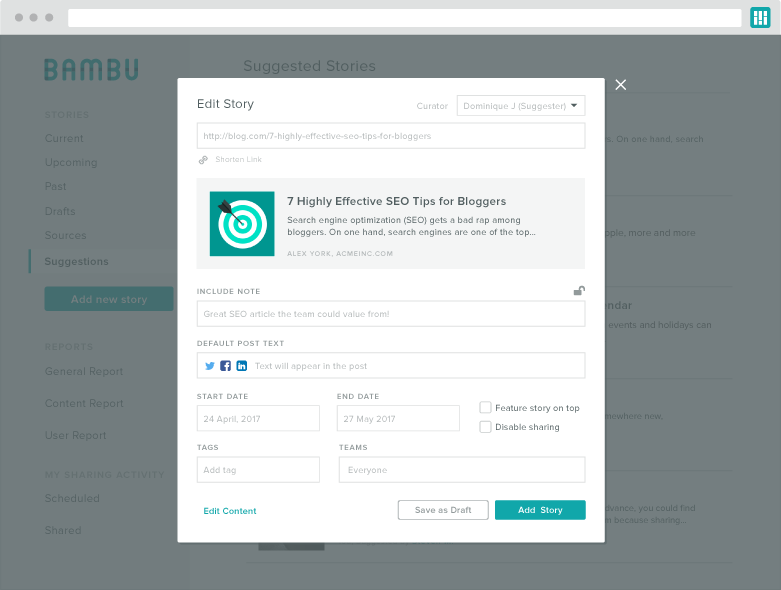 Employee Advocacy Efforts Streamlined
Organizations use Bambu to support their content marketing efforts and extend their reach on social. Enabling Readers to suggest content for curation inside Bambu helps to increase those efforts. To learn more, request a demo to see how Bambu can boost your organization's employee advocacy efforts.
Stay tuned for more updates inside Bambu.
Kim is a product marketing specialist who is passionate about writing and advocating for women in tech. Outside of the office, you can find her rooting for the Chicago Bulls or trying to get tickets to the latest Broadway show.
Boost Employee Engagement with Suggested Stories
Written by Kim Blight on April 27, 2017