Coming up with new and creative team outing ideas can be tricky.
Executives tend to view them as budget-eaters, while employees appear less than thrilled at the thought of spending more time with their co-workers. However, if your team isn't thrilled by the idea, it could be a sign that you need to look a little closer at your corporate culture.
The only way companies can build powerful social advocacy campaigns—transforming their employees into ambassadors for their business—is to cultivate a team more than just a group of disparate staff members. By boosting engagement and developing stronger internal relationships, you can re-invigorate employees and inspire devotion around the success of your organization. Team outings also encourage better internal communication, increase collaboration and mitigate conflict, helping to boost your bottom line.
bonus content
Download our full E-Book of 60 employee engagement ideas for areas ranging from professional development, to company culture, all the way to employee health & wellness and more.
Team Outing Ideas & Employee Advocacy
The idea behind team outings is that they contribute to a corporate culture your employees want to be part of. Not only can team outings be worked into your benefit package in that they provide set aside time to relax and unwind, but they can also foster teamwork and trust that you can take back with you into the office.
The more engagement you can foster among employees, the more powerful your business becomes. According to the Corporate Leadership Council, engaged organizations grow their profits 3x faster than competitors. Here are a few ways employee outings can boost your business performance:
Improve Productivity
If people learn how to communicate more easily with people throughout their companies, they'll be able to ask for help when they need it and bypass potential confusion. A 1% increase in employee engagement can lead to a monthly increase of 9% in sales.
Work outings can also improve employee engagement, and increased employee engagement can lead to a 12% boost in customer satisfaction.
Build Love for Your Company
Time spent outside of the traditional workplace environment can help to shake away the cobwebs and encourage your employees to think outside of the box in everything they do.
If your employees start to think of your business as a fun and exciting place to work, they'll be happier in their position. Company outings can be a great way to cultivate the employee satisfaction you need for a strong brand advocacy program.
Create Employee-Generated Content
When people can jump on their social media accounts to talk about the things they learned from their latest corporate outing or to write a blog about an event, brand advocacy starts to feel more natural.
The statistics behind corporate outings as employee engagement ideas just go to show how much team-building exercises can work to develop stronger corporate culture, and happier workers. As CEO for Zappos (everyone's favorite shoe brand) Tony Hsieh said: "If we get the culture right, then great service and building a long-term enduring brand will just be a natural byproduct."
1. Get Away From the Office Together
Renting a house where your team can relax and unwind for a weekend is a fantastic way to let the stress of the average work week melt away. In a world of multi-generational teams, some time away from the computers, smartphones and tablets at a local cabin or getaway location can be a great way to encourage some much-needed bonding.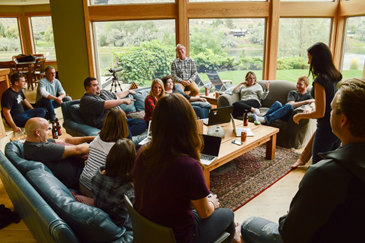 Spend some time in your day brainstorming ideas for the future or working on team-building exercises, but make sure that you avoid focusing too much on work. This should be a time that your employees can use to reinvigorate themselves and build the energy they need for work.
2. Give Something Back
Today, inspiring engagement from your employees requires a lot more than a good paycheck. Employees want purpose from their careers, and one way to give them that is to make a point of volunteering during your team outings. Community work not only allows your staff to learn how to work together more effectively, but it also shows them that your business stands for something bigger than itself, which is a great way to generate loyalty from your employees.
According to one study, 75% of Millennials think it's a good idea for companies to give back to society, rather than just making money for the business. People who do something good for the world are more likely to share their experiences with others. After you've volunteered, encourage your employees to get sharing. Not only will this make them feel good about what they've accomplished, but it will also have a great impact on your brand reputation, and may help you to attract new talent from the purpose-focused pool of millennials who are looking for work today!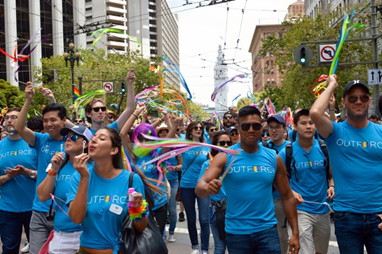 Salesforce allows its company employees to take up to 56 total paid hours a year just for volunteering. If you complete all of those volunteering days in one year, you get a grant of $1,000 that you can donate to your favorite charity.
4. Get Outside
Worried that your current workforce might be too stressed to function productively at the office? A good way to show that you recognize their discomfort and appreciate their needs is to give them a regular opportunity to get outside and spend some time with nature.
When your team spends too much time sitting behind closed doors, the fresh air and open spaces of a natural outdoor space can be an incredible way to revitalize the brain and de-stress. Because your workers will generally feel calmer, they'll be able to boost productivity drastically. In fact, experiments show that a stroll through the park can be enough to increase focus in a task.
employee engagement solution
Check out a personalized demo of Bambu, focused on using employee engagement to impact productivity and ultimately, your bottom line.
4. Become a Tourist for the Day
Encouraging your team to act like tourists for a day can be a wonderful way to boost engagement and build the potential of your business identity at the same time. For instance, touristy activities show your local customers that you appreciate their home town or city, particularly if you share plenty of pictures and updates on social media.
If you're not sure what to do, get online and find out what's available in your local area. The more eye-opening the experience, the better.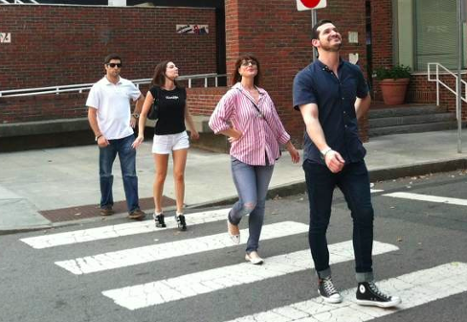 5. Go to an Improv Session
One of the most important things for a company to cultivate at work is effective communication. Unfortunately, it can be difficult for employees to feel comfortable sharing their ideas, particularly if your office place has a traditional hierarchy of supervisors and staff. An improv session can encourage people to get rid of their embarrassment and nerves, and say what they really feel.
When you're planning your improv session, try to use themes that will help your employees to overcome any concerns they have about sharing ideas and thoughts at work. This could help you to open up new ideas in the future when you're looking for ways to build your business.
6. Sign Up for a Weekly Class
Learning opportunities are important to employee engagement, so why not take your team outing ideas to the next level, by making education a weekly event. Today's workers aren't just looking for opportunities that allow them to build their skills in the workplace. While opportunities for professional advancement are important, modern staff want to be able to build on their personal hobbies too.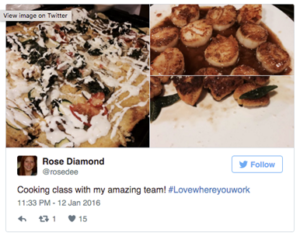 If you're looking for a relaxing opportunity, you can sign people in your office up for a weekly painting session with a local artist, where you'll learn how to create some art for the office walls. On the other hand, if you want something tasty, you can always try hiring a chef to come out and teach you all how to cook simple meals.
7. Explore Somewhere New Together
Thriving in today's competitive business world is often about stepping outside of the box. For bigger events, why not encourage your team to get outside of their regular surroundings and discover a new place? You could charter a bus and take your team somewhere special—perhaps even somewhere that's connected to your brand or business.
Not only is an adventure a natural way to inspire some social sharing among your teams' friends and family, it's also a great way to get everyone on the same page.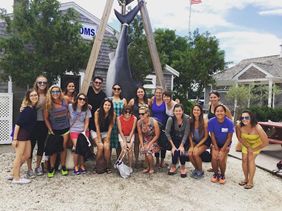 8. Go on a Scavenger Hunt
Ever find that your company professionals have trouble finding the answers to complex problems? Try honing their skills by giving them a scavenger hunt to complete. If you have trouble designing one yourself, these days you can usually download an app for your phone that will design one for you. Split your group into teams of people that either usually work together, or never have time to interact to boost the chances of great results.
For the best chance of boosting your social sharing potential, think about asking your employees to confirm that they've achieved each stage of their scavenger hunt by posting a picture on their social media channels.
9. Try an Escape Room
In today's professional landscape, learning and happiness often go hand-in-hand. Trying something entirely new with your team is a great way to generate good vibes among your employees, which will benefit your business as a whole. A unique experience like an escape room can push your workers slightly outside of their comfort zone, so that they can come together and work as a team and new and interesting ways.
As interactive physical adventures, escape rooms require teams to use a range of skills to find their way out of a sticky situation. For some teams, it won't be too far removed from the experience of dealing with a difficult client, or an awkward project.
10. Go Rock Climbing
For corporate culture to work, employees from diverse backgrounds need to come together and feel united towards a shared goal. Unfortunately, establishing that sense of community isn't always as simple as it seems. The good news is, that an activity such as rock climbing, which asks employees to work together towards a shared goal, can help to improve morale, and establish trust among a diverse range of workers.
Choose a goal that you'd like to work towards as a team (such as total height climbed, or number of climbs completed), and work towards that goal together. You can also ask your employees to set their own personal goals, to show them that your business cares about their individual achievements. If your employees learn that they can genuinely count on your brand when it comes to helping them reach their goals, they'll be less likely to look for employment elsewhere.
11. Do Something Brand Related
Finally, if you're trying to come up with team outing ideas to improve engagement and corporate culture, then it's a good idea to think about something that's relative to your industry. Staying on-brand will help to reinforce the values of the company and keep your employees feeling passionate about your brand. It'll also mean that the employee-generated content you share later will seem more appropriate.
Green Mountain Digital, for example, is a wildlife and nature app developer that connects its employees with the outdoors during their company outings. They've done everything from fly-fishing classes, to bird walks, hikes and falconry.
Keep the Positive Momentum Flowing
One of the biggest reasons that employee engagement ideas, like company outings, fall flat is because organizations look at them as "one-time" events, rather than solutions to establish corporate culture. Once you've completed your chosen activity, it's important to find a way that you can keep the excitement going.
The most obvious solution is to gather pictures, stories and information that you can go on to use as part of your employee advocacy program. If your employees genuinely enjoyed your outings, they'll be more than happy to share the experience with their network, which will help to make content feel more natural and authentic.