The Ins & Outs to Becoming a Master at Using Social Media for Recruiting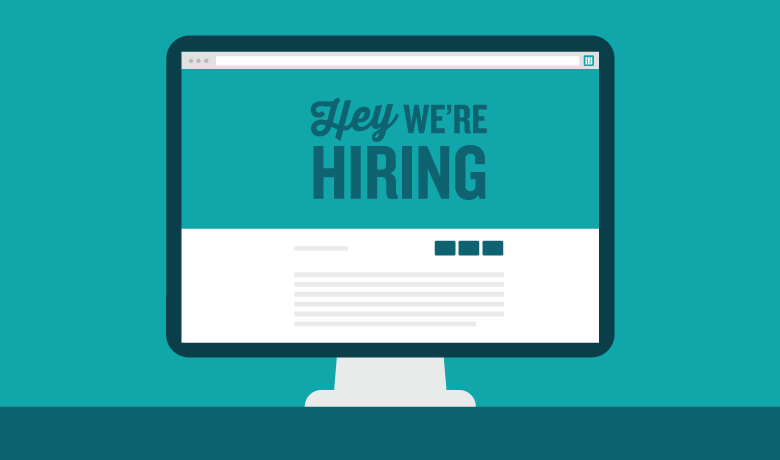 Recruiters in any industry gravitate towards the places they find their most qualified candidates. Today, that means using social media as a key resource to identifying those spots—a strategy otherwise referred to as "social recruiting."
Social recruiting is emerging as a fantastic solution for talent acquisition success. When you consider the impact social platforms like Twitter and Facebook have had on the way we function as a society, the weight is significant. From completely shifting behaviors like news-sharing, all the way to creating a new landscape for job placement, it's easy see the value of social.
With the shared understanding that finding and retaining top talent is a key component to running a competitive business, the first (and most important) step to a successful recruiting strategy is determining what your primary objectives are, and then creating a plan of attack for how you'll execute on them.
Social Media and Recruiting: Where to Get Started
Determine Your Goals
The path to success always starts by creating a solid foundation. It's easy for companies to get tangled up in connecting with candidates through a variety of platforms as you work on your recruitment strategy, However, if you start dividing your attention between dozens of sites without any pre-set ambitions, you'll be setting yourself up for unneeded struggle.
Today, 84% of companies are recruiting through social media. However, the way you use social media to inform your recruitment strategy can involve several different actions—actions such as:
Visiting LinkedIn to learn more about a candidate's professional experience
Engaging candidates on Twitter to learn more about their interests and what they value—which also helps identify the right culture fits
Monitoring Facebook to get a glimpse into how candidates present themselves to strangers, friends and family
Using Pinterest and Instagram to get a sense of where candidates spend their free time or what they might be passionate about
Tap into the Right Platforms
Recruiters should be agile in where they plant their flag for finding the most talented and qualified candidates. Not only does social media have a more diverse collection of candidates to offer, but more than half of recruiters cite social media as the best source for high quality employees. However, in order to find these high-quality employees, its important to tap into the right platform given the role you're trying to fill.
While LinkedIn or Twitter might seem like the most obvious place to start your social media recruiting strategy, it's important to profile your ideal candidate and consider where they're most likely to spend their time on social. For instance, a graphic designer might spend more time on visual channels like Instagram or Pinterest, whereas a salesperson will probably be more active on platforms like LinkedIn.
Each platform you consider will require a slightly different approach for candidate sourcing. For example, on Twitter, you'll want to incorporate hashtags to join the right conversations and increase your reach beyond just your existing followers. You can use phrases like "#hirefriday" or "#ITcareers"  to segment your audience and be more strategic with your targeting. Alternatively, on Facebook, it may be appropriate to visit careers pages and job groups to seek out potential employees. There are dozens of opportunities to amplify your message, it just requires you to shift your mindset from platform to platform.
Adjust to a Changing Workforce
When it comes to social media and recruiting, something to keep in mind is that the modern workplace is constantly evolving. In order to thrive in this environment, it's important for businesses to monitor and frequently shift or update their strategies to accommodate to the new ways our incoming generations operate.
In a world connected, companies are beginning to recognize that strictly posting on job boards and nothing else probably won't cut it anymore. A quarter of all job seekers (and 7 out of 10 millennials) are currently using social media as a primary tool for job searching—a number that will only continue to grow as more hyper-connected digital natives enter the workforce.
So, how do you appeal to this new generation of job seekers? Each platform offers its own collection of functions that can be used to capture the attention of candidates. However, it's worth noting that Millennials are the tech-savvy generation—meaning they'll be drawn more to companies that use the same technologies they access every day.
Another method to help you adapt and appeal to the modern workforce is to leverage social recruiting tools that allow candidates to submit resumes through social channels or auto-filling contact forms from LinkedIn profiles. By doing this, you show your potential employees that you make it a priority to provide the work environment they're most comfortable and accustomed to.
Create an Online Presence that Reflects your Brand
The ability to create a work environment that's both desirable and reflective of your company brand will continue to climb the ranks on your future candidates' list of requirements. Seeing as 7 out of 10 recruiters agree that company culture is key to attracting talent, a strong reputation and positive online presence carries a lot of weight, especially with your passive candidates. A recent Glassdoor survey even found that 84% of participants would be willing to leave their current company for a company with a positive reputation.
In order to develop a more active and positive social media presence, think about your brand manifesto and how you can highlight the most valuable parts of your company through social media. For many brands, this will be about featuring current employees—after all, if you have a strong brand identity, they'll be your biggest advocates. By allowing employees to share in your company voice, you give candidates insight into the behind-the-scenes element they're seeking to learn more about.
People connect best with other people, so if you can develop a social media presence that's transparent and appealing to your desired candidate, you'll be ahead of the crowd when it comes to convincing talent to choose your company over a competitor.
Transforming Employees into Advocates
In both professional, and personal circumstances, people are more likely to listen to a friend's recommendation about a brand that they may or may not know. If you can cultivate a culture of engaged and excited employees, they'll be more likely to share your messages on social media—in turn, amplifying your reach and developing awareness and positive perception of your company brand.
The best way to facilitate this type of environment is to encourage employees to get involved in recruiting! The best way to make sure that your employees deliver the best talent from their social groups is to foster a positive internal communications strategy, one that clearly relays to employees what you're looking for in a candidate and what the employee referral process entails.
If everyone in your company knows what it means to be a great employee, they'll not only be more productive at work, but also more eager to use social media as an avenue to become an extension of your Talent Acquisition team.
Engage your Audience and Keep the Conversation Flowing
Finally, when it comes to social recruiting, it's important not to lose sight of what this approach is at its core—social. This means that your conversations on social media should be a two-way street, and you should always be prepared to both ask and answer questions.
At the same time, make sure that you don't focus exclusively on job postings. You should always strive to spark conversations that engage different groups of people, share helpful resources, and infuse your message with the tone of what your company brand strives to represent. As a result, talented individuals will engage with your brand even when job roles aren't available, helping you create a pool of talent to dip into whenever you have an open role.
The recruiting environment is constantly changing. Attracting the right talent is no longer a linear process that only involves posting a job listing and waiting for resumes to roll in. Successful companies make it a point to foster a social environment where employees engage with one another both internally and externally. The bottom line is: Social recruiting works. All you need to do is make sure that you have the right resources in place to find the best candidates to join your company.
Jim Conti Jim Conti leads Sprout Social's ambitious talent team. Affectionately known as the "Cruise Director" while in the office, Jim can be found exploring the streets of Chicago and planning his next international adventure when not growing and caring for Team Sprout. Give him a follow Find Jim Conti on Twitter
@SproutJim
.
The Ins & Outs to Becoming a Master at Using Social Media for Recruiting
Written by Jim Conti on July 06, 2017