Why Your Business Needs a Word of Mouth Marketing Strategy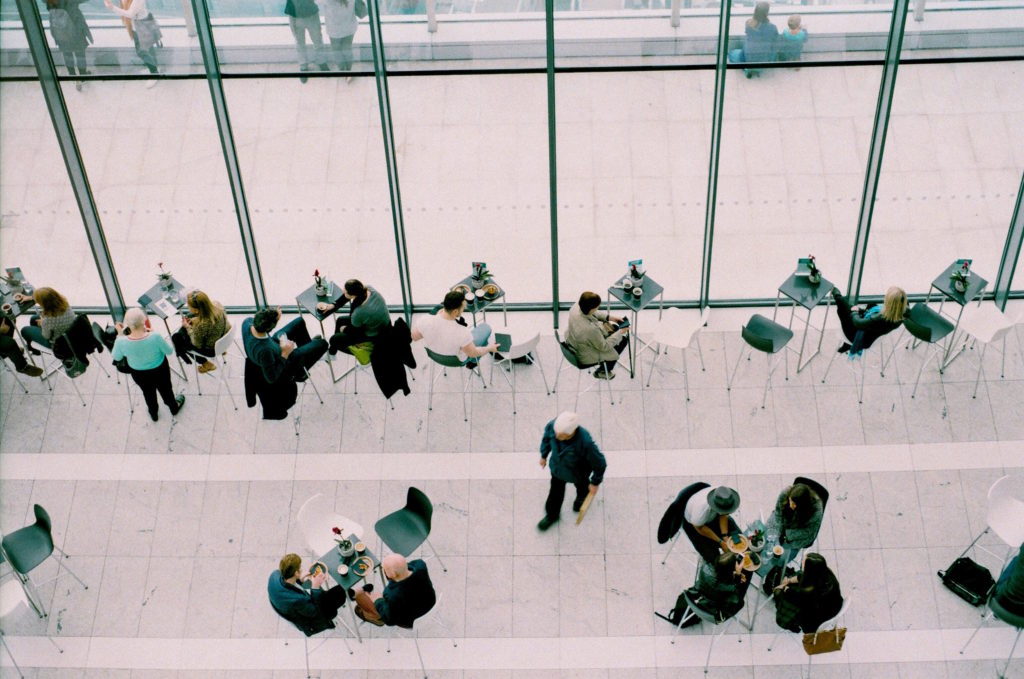 With the explosive growth of new digital media channels, the advertising landscape has experienced a drastic shift toward word of mouth marketing. Brands are no longer the only voice to be heard through channels such as TV, radio, newspapers and digital media. They don't have exclusive control over what messages are being broadcast about their business.
Now there are review sites, social media networks, blogs and video platforms like YouTube that give everyone with an internet connection a platform to be heard. And people listen to what they're are saying.
It's crucial to understand that people trust friends, family and other customers they know over any other form of advertising. By taking advantage of this through the use of a word of mouth marketing strategy, you can build your brand exposure, increase referrals and have a direct impact on your bottom line.
In this article, we will discuss what word of mouth marketing is, why it's essential for your business and some easy tactics you can implement to get your word of mouth marketing strategy off the ground.
What Is Word of Mouth Marketing?
Word of mouth marketing is the use of satisfied customers to advocate for and promote your business. The end goal of such a strategy is to provide your clients with more than just a great product or service, but an immersive experience that is so amazing that they can't help but share it with their friends and family. This strategy often relies on digital media channels such as:
Social media networks like Facebook, Instagram, Twitter, LinkedIn and Google+
Review sites such as Yelp, Angie's List, HealthGrades and Amazon
Other brand mentions
Messaging platforms like WhatsApp, Facebook Messenger and SnapChat
Blog posts
Word of mouth marketing is some of the most powerful advertising your company can get. Not only is it practically free, but your customers are doing the work for you. Better yet, if you can identify the individuals who are actively participating in word of mouth marketing for your brand, you can reach out to them and ask them to become formal brand ambassadors for your company.
Your Company Size Shouldn't Limit You
Smaller companies tend to have an advantage over large enterprises. Since smaller businesses have a better opportunities consumers personalized attention, it allows for the development of trust and stronger consumer-employee relationships.These are the types of things that compel consumers to advocate on behalf of your brand through word of mouth marketing.
While smaller companies may have an advantage over large enterprises, it is still very possible that bigger companies formulate and implement a word of mouth marketing strategy. This can be done through your employees, who should already be your biggest advocates.
Implementing an employee advocacy platform like Bambu can help you easily distribute content to your employees who may be spread across offices around the country or even the world. These employee advocates can then customize the content to fit within their own social feeds and talk positively about your company or a new product you may be offering.
By providing your customers with an amazing, memorable experience, you stand out from the crowd and position yourself in the best place possible for that consumer to go out and tell their own social circles about you. With any word of mouth marketing strategy, you are encouraging consumer engagement, conversations and ultimately consumer recommendations.
Word of Mouth Marketing Statistics You Should Know
Word of mouth marketing was around well before social media or reviews sites like Yelp or G2Crowd ever existed. This strategy allows people to make big decisions and identify preferences based on the recommendation of another. It's only recently that statistics have helped showcase the power of recommendations and referrals to your overall marketing strategy. This is why we've compiled a list of word of mouth marketing statistics for you and your team.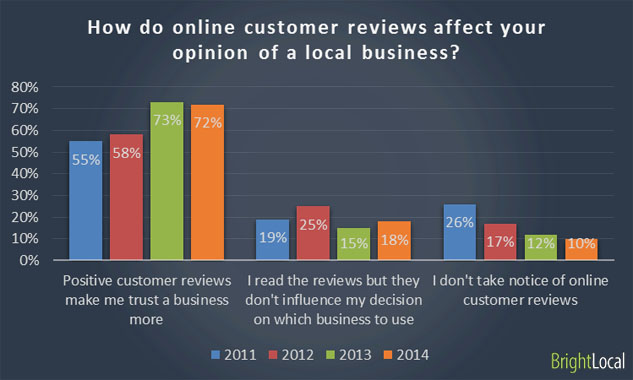 Word of Mouth Marketing Plays a Large Role in the B2B Landscape
56% of B2B purchasers look to offline word of mouth as a source of information. This number raises to 88% when online word of mouth sources are included. (BaseOne)
61% of IT buyers report that colleague recommendations are the most influential factor when making a buying decision. (B to B Magazine)
91% of B2B buyers making buying decisions are influenced by word of mouth marketing. (USM)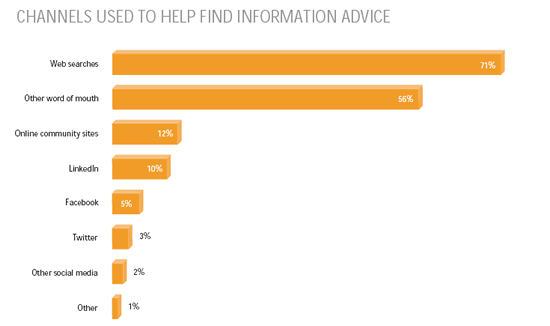 Effective Word of Mouth Marketing Tactics
To make sure you have a good word of mouth marketing strategy in place, there are some important tips to follow to see success.
1. Utilize Your Employees
Your employees have an average of 846 social connections and can achieve eight times the amount of social engagement than your brand page can. Since your employees are already your biggest fans, they can give honest recommendations of your products and services to those in their social circles.
Another great way to utilize your employees is to let them show their social networks what your company culture is all about. This establishes a personal connection with your brand and makes you more relatable, and people are more willing to recommend brands that they can relate to.
The most effective way to involve your employees is through the use of an employee advocacy platform like Bambu. This allows them to share curated content about your products, services or company culture across their own social networks through an easy-to-use platform which works across all device types.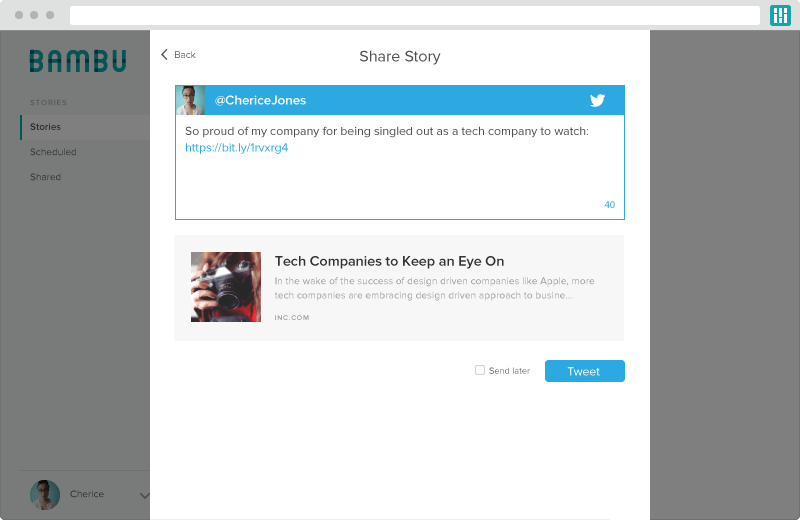 2. Have Amazing Employees Who Provide Exceptional Customer Service
If you give consumers a reason to rave about you, they generally will. Nowadays, the people who stand behind the product are just as important as the product itself.
Have your employees think about customer service as a way to foster genuine and sincere connections with your consumers. Make sure they know to always talk with the customer and not at them. This builds relationships on the foundation of trust and makes customers more likely to recommend your product and become brand advocates themselves.
@pebble has THE best customer service and after sales care #TopClass 👏👏👏 pic.twitter.com/IuJJW6vYD2

— Upgrade My Tech (@upgrademytech) March 27, 2016
3. Identify & Utilize Your Influencers
Influencer marketing has become one of the most popular forms of digital marketing, and for good reason. They're very effective at standing out in an ever-crowded digital landscape where brands are always vying for consumers' attention. Pair that with the fact 92% of people trust recommendations from family and friends, and you have a recipe for success.
Once you identify the right influencers, you need first to form a relationship with them before asking them to vouch for your brand. Once that relationship is established, give your influencers a story about your brand that is relevant, authentic and interesting. By giving them something that will inspire consumer-to-consumer conversation, you ensure that people will be talking about your brand in a positive light.
4. Reward Consumer Loyalty
A very effective word of mouth marketing tactic is to turn consumers into brand advocates. This can be done through offering incentives like special offers, early access to new products, free swag or access to exclusive content. By identifying and reaching out to consumers who are already live and breathe your brand, you make them feel privileged and special. By capitalizing on their loyalty, you can not only turn them into brand ambassadors but also get them to talk about your business to their friends, family and social circles.
5. Sponsor Events
By hosting or sponsoring events that align with your company values, you can quickly create buzz around your brand and foster a sense of community among those who join. Red Bull does a fantastic job at this by continually hosting events and fostering initiatives that keep people talking about their brand. Some of these initiatives include:
A student-brand manager program that sponsors students to help build awareness around the Red Bull brand at events near their campus.
A Red Bull reporter program which sponsors film and journalism and film students to create stories for their brand.
A Red Bull Wings Team, which drives around in Mini Coopers with giant Red Bull Cans secured to the roof. These teams distribute samples of Red Bull and generate a significant amount of brand exposure.
The @redbull team is here! Making sure are runners have the energy and wings to take on the #5k #H4HKC pic.twitter.com/pAmDGBTvSN

— Heroes for Hospice (@Heroes4Hospice) June 11, 2016
6. Referral Programs
A great word of mouth marketing tactic is through referral programs because they foster sharing while providing an incentive for the consumer. People share what they like, and if they like your product or service and your provide them with an incentive, your customers are very likely to share within their personal networks. Make sure your referral program is incredibly easy to use. Many brands launch these types of programs only to find out they fall flat because the user experience is not conducive to people participating.
Make sure to give customers an on-brand experience that features straightforward CTA's like "Earn Credits For Your Account When People Subscribe" or "Share With a Friend and Get A Free Ride Up To $30." By making your referral program extremely easy to use, you ensure higher rates of participation and can easily generate buzz around your brand by word of mouth.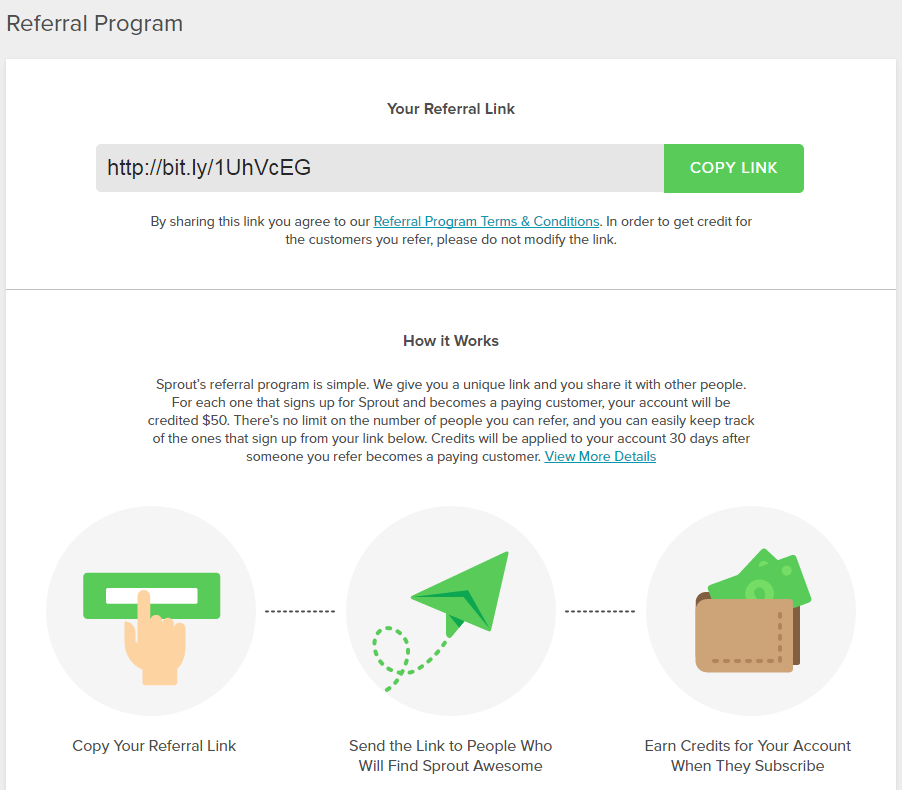 Word of mouth marketing is something that has been coveted by brands for a very long time. It is by far the most effective form of marketing, yet the hardest to grasp. The sheer potential of well-executed word of mouth marketing strategies is enormous. Everyone is connected now more than ever, and to capitalize on this can help you scale your business, increase your bottom line and can truly set your business apart from your competition.
Does your company have a word of mouth marketing strategy? Have you found other word of mouth marketing tactics that have worked for your business? Let us know in the comments below!
Andrew Wasyluk is a social media expert, developer, Twitter fanatic, and founder of Socialeyze, a social media consulting firm based in Boulder, CO. When he isn't scrolling through his Twitter feed he can be found playing guitar, exploring Colorado, and laughing at his own jokes.
Find Andrew Wasyluk on Twitter
@socialeyze
.
Why Your Business Needs a Word of Mouth Marketing Strategy
Written by Andrew Wasyluk on June 28, 2016